COX, Nellie Mae (Stonnell), 75, of Goochland, Virginia, died peacefully on February 24, 2015, surrounded by loved ones. Born January 2, 1941, in Richmond, she was the daughter of the late Clayton Anderson and Nellie Sheldon Stonnell. She was preceded in death by her son, Michael Wray Cox; and sister, Carolyn Stonnell Baber. She is survived by her husband, Sidney B. Cox Jr.; children, Sidney Barbee Cox III, Robin Cox Petrine; and son-in-law, Dave Petrine and Lisa Cary Cox; sister, Janet Stonnell Gray and her husband, Cameron Gray; and brother-in-law, Penny Baber; seven grandchildren, Brandi Cox, Lindsay Cox, Brigitte Petrine Fanelli and her husband, Michael Fanelli, Marc Petrine, Caroline Petrine, Scout Towell, Sheldon Towell; and two great-grandchildren, Gabrielle Fanelli and Tess Fanelli.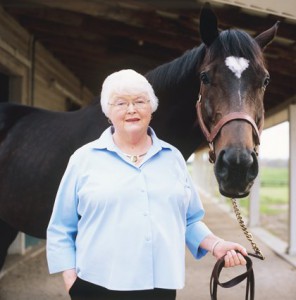 Nellie grew up on Greenfield Farm in Cumberland, Virginia. She commented recently that visiting the farm in Cumberland "was always beautiful and did my heart and soul so much good." Nellie and her husband, Bobby, founded S.B. Cox Inc., which has been in business for 53 years. Nellie continued to be active in the business throughout the years. Nellie bred, raised and raced thoroughbred horses. She was the breeder of Showing Up, who finished sixth in the 2006 Kentucky Derby. In the same year, she was ranked as the sport's second leading breeder in North America. Featured in Virginia Living, she said, "You can't help but fall in love with them all." Nellie lived at historic Rose Retreat Farm in Goochland for 50 years, surrounded by her precious dogs and beautiful horses and cattle. There, she raised her children, in whom she took great pride. She took an active role in her grandchildren's lives and activities. She always said that one of her favorite quotes was, "Grandchildren furnish me great resources and happiness." (Thomas Jefferson)
The family will receive friends Friday, February 26, from 5 to 8 p.m. at the West Chapel of Bennett Funeral Home, 11020 West Broad Street, Glen Allen, Va. 23060. A funeral service will be held Saturday, February 27, at 10 a.m., at All Saints Episcopal Church, 8787 River Road, Richmond, Va. 23229. In lieu of flowers, please consider contributing to one of the following in Nellie's honor: Goochland County Fire-Rescue Department, 2938 River Road W, Bldg 1, P.O. Box 247, Goochland, Va. 23063 or Goochland Free Clinic and Family Services, P.O. Box 116, Goochland, Va. 23063.