The following is an article from Bloodhorse.com that previews the $2,000,000 Breeders' Cup Distaff, which will be held Friday November 4th at Santa Anita. Virginia-bred Stellar Wind will compete in what should be a spectacular race, scheduled for 7:35 PM.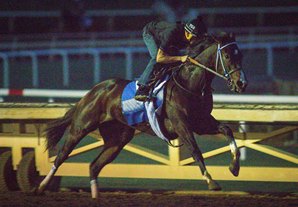 There will certainly be many bigger fields in the 2016 World Championships, but you'd be hard-pressed to find a better line-up than that of the Nov. 4 Longines Breeders' Cup Distaff (gr. I). In fact, it seems a shame this race doesn't have a Saturday slot for maximum viewership, because it may well be the most exciting race on the Breeders' Cup roster.
Three champions grace the eight-horse roster for this $2-million event for fillies and mares 3 and up going nine furlongs.
One must begin with the undefeated superstar 3-year-old Songbird, simply because no one knows how good she really might be. Although no other horse has finished closer than 3 ¾ lengths behind her in any of her 11 races, she has been geared-down in most of her efforts. While she possesses a high cruising speed that usually sees her on the front, she has also shown the ability to sit just off the pace and attack at will. The lone time she has been challenged was when Carina Mia came to her on the turn of the Coaching Club American Oaks (gr. I), and Songbird shrugged off that challenge to win by 5 ¼ lengths.
Installed as the 6-5 morning-line favorite in the eight-horse Distaff field, Songbird will have to begin her run from the rail — a post position she has overcome before in both the Santa Anita Oaks (gr. I) and Coaching Club American Oaks.
"You certainly want to get out of the gate and, good lord willing, she jumps well and you just go on about your way which is how we've been doing," said Hall of Famer Mike Smith, regular rider for Songbird. "I think she'll be forwardly placed on the lead and let her do what she does best, and that's run and run fast."
Rick Porter, who owns Songbird in the name of his Fox Hill Farms, reported the week before the Distaff that Songbird continues to train beautifully at Santa Anita Park for Hall of Famer Jerry Hollendorfer. There is no fear in facing older foes, as Porter said that Songbird has filled out and "already looks like a 4-year-old." This will be the best field Songbird has faced, but every indication the 6-5 morning-line favorite who will break from the rail is equal to the task of winning her second Breeders' Cup event in two years.
One would never have thought a couple of months ago that Beholder would be the likely third choice in the Distaff, but Stellar Wind, the champion 3-year-old filly of a year ago, has forced herself into the conversation as the most likely to topple Songbird. After a fine second in last year's Distaff, Stellar Wind was given plenty of time and didn't resurface until June, when she was defeated by Beholder in the Vanity Mile (gr. I). But Hronis Racing's Stellar Wind has turned the tables on the multiple champion since then, besting her in the Clement L. Hirsch and the Zenyatta (both gr. I). In each of those two races, she also showed the ability to lay just off the lead and not let Beholder get too far out in front of her, a new dimension for her that will come in handy if nobody else decides to take it to Songbird early.
Beholder is already a two-time Breeders' Cup winner, having earned championships after winning the Juvenile Fillies (gr. I) in 2012 and the Distaff a year later. She missed last year's World Championships after spiking a fever upon her arrival at Keeneland, and shipping has been a problem for her throughout her career, although no issue at Santa Anita, where she will run out of her home barn. She has won 13 of 15 in Arcadia as part of an overall 17 of 25, with six seconds. She will go down as one of the great fillies of her time, and was being pointed by owner Spendthrift Farm to the Classic (gr. I) against boys until this summer, when she was defeated in three races in a row, including in her defense of the Pacific Classic (gr. I), in which she finished five lengths behind a dominant California Chrome.
That loss, sandwiched between the two defeats to Stellar Wind, has still barely taken the sheen off the 6-year-old mare, likely to be retired after the Distaff. All of her back class could rise to the fore, as she wants to be on the lead or sit just off it. Trainer Richard Mandella knows quite a bit about winning Breeders' Cup races at Santa Anita—his four victories on one card at the 2003 World Championships has never been matched, and he won an additional pair 10 years earlier there. But the question must be asked whether this current version of Beholder is the same as the one we've become accustomed to seeing, and the answer to that question adds yet another layer of mystery and excitement to this race.
One intangible in Beholder's favor for the Distaff is that she drew outside in post 8, allowing jockey Gary Stevens the abilitly to watch others instead of being forced to gun to the front. She was installed as the 5-2 co-second choice on the morning line along with Stellar Wind.
"It will be nice to get her off the rail," Mandella said of the draw. "But no matter what post you have, you have to have good luck. I'm a bigger believer in good luck than good posts. But I'm happy to be out there."