The following piece appeared in The Racing Biz, and was written by Nick Hahn
Whether run at Colonial Downs or Laurel, repeat Virginia-bred stakes winners are common, which is why year after year, past stakes winners come back to compete.
Not so today, however.
On Saturday afternoon as part of Laurel Park's "Class on the Grass," defending stakes winners found it difficult to find their way back to the winner's circle.
Opening the Virginia-bred portion of stakes races at Laurel was the most popular horse, wagering-wise, on the card. Rose Brier went off as an overwhelming 3-10 favorite in the one-mile Edward P. Evans Stakes for Virginia-bred or -sired horses.
The eight-year-old appeared to be the only dry horse in the Laurel paddock prior to the $75,000 Edward P. Evans Stakes for older males.
Special Envoy was quite the opposite. On the way to the paddock, trainer Arnaud Delacour splashed his pupil with a cool-down prior to entering Laurel's paddock, which can get warm under the dome. After the post parade and a lap around the track with Daniel Centeno aboard, Special Envoy appeared to have run herself dry in the moderate Maryland breezes.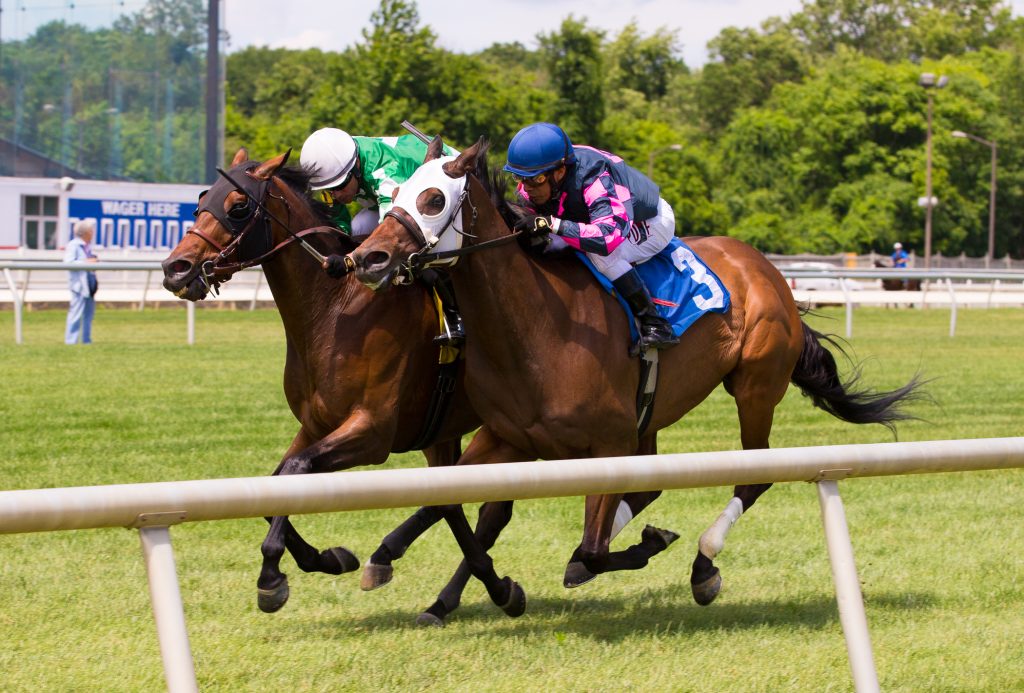 After surrendering no more than a length to Rose Brier on the lead, jockey Daniel Centeno and Special Envoy moved ahead inside the sixteenth and stymied any lengthy bob of Rose Brier. The victory was special to the connections of Special Envoy, who had finished second to Rose Brier the last two time they went head-to-head.
"Very rewarding, she tries hard. She dug in when the time counted," said owner Diana Firestone after the race. "Very rewarding, especially in the heat."
Those connections had another opportunity to play spoiler in the 5th race, the second running of the $75,000 Nellie Mae Cox Stakes, for Virginia-bred or -sired fillies and mares, also at a mile. Their interest, Armoire, was looking to spoil Queen Caroline's return to the Cox castle, the latter having won the same stake at Pimlico last year.
Queen Caroline took three stakes in 2016 as part of a four-race winning streak, but a late season foray into Grade 1 company didn't go so well, and QueenM Caroline entered this race on a three-race losing streak. This edition of the Nellie Mae Cox may turn out to be a nice confidence-builder for Queen Caroline, who may make future graded ventures.
On the track, Queen Caroline broke from eight-hole and went straight to the lead. She took advantage of easy fractions — 25.16 for the quarter and 49.75 for the half-mile — and was never really threatened winning by a length-plus. She would be the only Virginia-bred to defend her stakes trophy on the day.
"We're looking to move up into graded stakes company," said owner Amy Moore about the feat of the first thoroughbred she's ever owned. "We tried that a few times and got close. We're not scared, so were going to keep trying. One day we'll get there. We hope that gets her confidence and that'll come on and do well in her next outing."
In the $75,000 White Oak Farm stakes, Two Notch Road's effort to repeat was defeated by one time or another: either Father Time, or, more specifically, Tiz Our Time in the 5 1/2 furlong test. Despite being cross entered in the $75,000 Tyson Gilpin for fillies and mares later in the card, trainer Pete Twisdale and owner Sam English decided to face the males with Tiz Our Time, a five-year-old Tiz Wonderful mare.
Jockey Jevian Toledo broke well aboard Tiz Our Time, generated a length lead after running the first quarter in a modest 22.98 seconds, and won by four lengths.
English owns a small farm in Dinwiddie County, VA, outside Petersburg, with a smaller foaling operation in neighboring Goochland County.
"We've been working for years, little guy trying to do it," said English. "So we did it today. We're running in the next (with Awake the Day, who finished sixth) and hope to do it again."
Rapid Rhythm rolled off a win in the $75,000 Oakley Stakes win for Virginia-breds at Laurel last fall into two stakes wins at The Fairgrounds over the winter. Prior to today' inaugural running of the M. Tyson Gilpin, Rapid Rhythm was sent back to the paddock to repair her bridle. Maybe it was an omen; she never really got started.
Trainer Michael Trombetta winced when he saw Do What I Say in a familiar spot at the start of the race: in trouble. However, when jockey Alex Cintron found some racing room, Do What I Say finally did what her owner, R. Larry Johnson, thought she could do. Finding space on the outside, she found another gear and won by a length, rewarding backers at 12-1.
"The race at Pimlico last year, she came out with cuts all over and chipped a sesamoid," explained Johnson. "It was serious injuries and we gave her a year. Brought her back at Pimlico and she had another bad trip. Then today she gets checked and I'm thinking there's a black cloud following this horse. But she can run. When she doesn't have to contend with issues she can run."
Another longshot won in the finale, for Virginia-bred maidens on the turf going five and a half furlongs, Trustifarian, with Steve Hamilton, won by 1 1/4 lengths for owner Run Aweigh Stables and trainer Patrick Neusch.