SARATOGA SPRINGS, N.Y. >> A dozen Pillars of the Turf including three Whitney family members, Saratoga Race Course founder John Morrissey and Secretariat owner Penny Chenery were among 15 inductees enshrined in the National Racing and Hall of Fame on Friday.
Ceremonies, held at the Fasig Tipton Sales Pavilion on East Avenue, coincided with the 155th anniversary of the first thoroughbred races ever held at Saratoga on Aug. 3, 1863.
The Class of 2018 is the largest since 1955 when the Hall of Fame opened.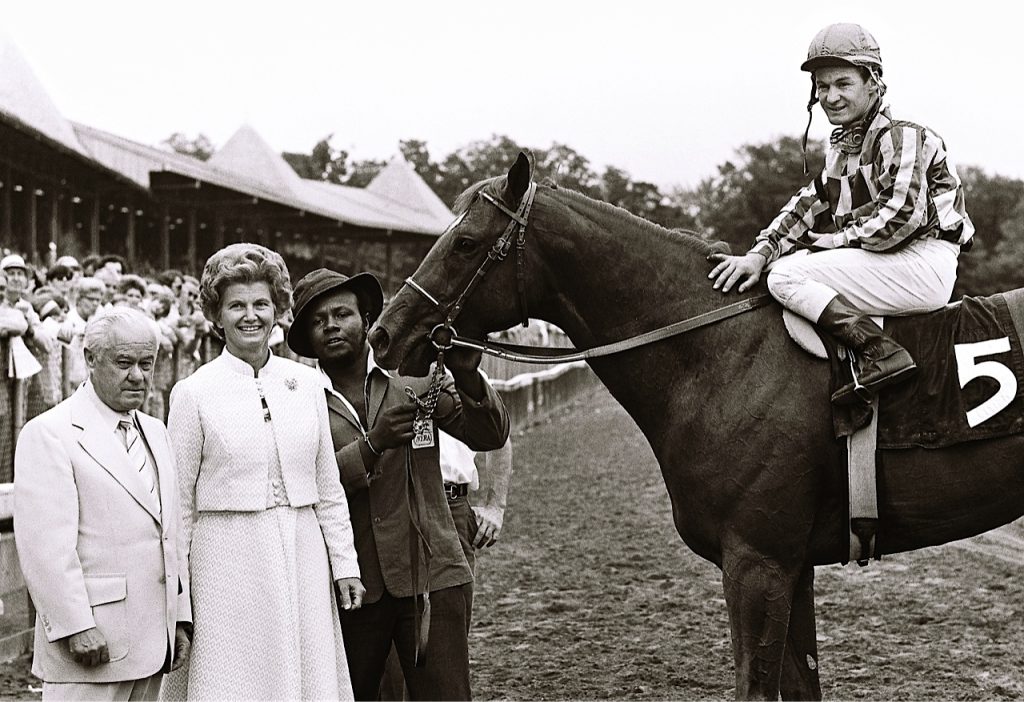 "Yesterday there were 12 Pillars of the Turf. Now there are 24. The only one that's alive is me!" said 90-year-old Cot Campbell, a new inductee. "You may not be very interested in that, but I am."
As owner of Dogwood Stable in Aiken, S.C., Campbell revolutionized the industry by pioneering the concept of syndicated race horse ownerships, making it possible for people of more modest means to join the "Sport of Kings" by purchasing shares in a horse.
"You see before you the poster boy for the slogan, 'Energy and enthusiasm overcome stupidity and bad judgment,'" he joked.
Campbell said some prominent racing leaders urged him to abandon the concept.
"But my blood was up and I pushed on," he said.
As a youth, Campbell recalled seeing Man o' War, considered by many the greatest race horse ever.
"I thank Man o' War because he lit the fuse that caused me to pursue a wonderful life," he said.
Dogwood Stable has produced two Triple Crown race winners, Summer Squall and Palace Malice, who captured the 1990 Preakness and 2013 Belmont Stakes, respectively.
Campbell credited his wife, Anne — they've been married 59 years — for being a constant source of strength and support, and "as always, I thank the horses, the horses, the horses."
Other Pillars of the Turf are Dr. Charles H. Strub, founder of Santa Anita Park, which opened in 1934; Elias J. "Lucky" Baldwin, a prominent late 19th century owner, breeder and track developer in California; and long-time Pittsburgh Pirates owner John W. Galbreath, whose firm built Aqueduct Race Track and renovated Belmont Park. His horse, Roberto, named for the great Roberto Clemente, won the Epsom Derby, and another horse, Chateaugay, won the 1963 Belmont Stakes.
Newly-inducted Pillars also include August Belmont I, who helped found Jerome Park and Monmouth Park; Hal Price Headley, Keeneland's first president from 1936-51; and Claiborne Farm founder Arthur B. Hancock who was once described as "the most influential breeder in the history of the American turf."
The Pillars of the Turf category was created five years ago. At first, plans called for inducting two such people each year. But Hall of Fame officials decided it was time to catch up and induct a larger number of racing greats this year and next.
This year's members feature some of the industry's most legendary names.
Marylou Whitney's late husband, Cornelius C.V. "Sonny" Whitney, continued the legacy begun by his father and grandfather, fellow 2018 Hall of Fame inductees Harry Payne Whitney and William Collins Whitney. As an owner, "Sonny" Whitney won two Belmont Stakes and three Travers.
He co-founded and was the Racing Museum's first president, was a director at Churchill Downs and in 1984 was honored with an Eclipse Award of Merit.
"He loved the sport and people in it," Marylou Whitney said. "Thank you for honoring Sonny's memory."
An owner-breeder, Harry Payne Whitney won the Kentucky Derby twice and the Preakness and Belmont four times each. He was America's leading breeder by earnings 11 times and leading owner by earnings eight times.
William Collins Whitney purchased Saratoga Race Course in 1900 and led its revitalization, and also led the creation of Belmont Park with August Belmont II.
One contemporary horse, Heavenly Prize, was inducted to the Hall of Fame. She broke her maiden at Belmont on Sept. 15, 1993 and went on to win more than $1.8 million, which included wins in eight of the nine Grade 1 stakes she raced in such as the Alabama, Go for Wand and Apple Blossom Handicap.
"It was the privilege to have a filly like that in the barn," said her Hall of Fame trainer Shug McGaughey.
Two new inductees were named to the Hall of Fame by the Historic Review Committee. They are the horse, Preakness, and trainer William Lakeland.
Preakness, a bay colt foaled in 1867, won 18 of 39 starts during a seven-year racing career from 1870-76
Lakeland trained Hall of Fame horses Domino and Hamburg, and won the 1894 Preakness with Asignee.