The third annual harness racing season at Shenandoah Downs in Woodstock, Virginia kicks off September 15th and continues every Saturday and Sunday through October 14th. Special cards will be offered on Monday October 8th and Friday October 12th.
One big difference fans will notice this year is a new post time. The first race will be pushed back an hour to 2 PM as opposed to last year's 1 PM start time. "We felt the later start time would give fans more of a chance to complete their regular weekend errands and rituals and as a result, have a better chance to come out and enjoy an afternoon at the races," said Virginia Equine Alliance Executive Director Jeb Hannum.
Parking and admission remain free, and wagering will be offered in the main grandstand area at both manned teller stations and at self betting terminals. Win, place, show, exacta and trifecta betting will be available. Past performance programs can be purchased for $1, and that price includes a tip sheet.
Prior to the pari-mutuel meet itself, four days of County Fair racing will take place on the same half mile oval at the Shenandoah County Fair from August 29th – September 1st. On the following Saturday, September 8th, the Harness Horse Youth Foundation will present a family themed Open House at the track in conjunction with the Virginia Harness Horse Association (VHHA). Tickets are $8 for a single participant or $15 per family, and can be purchased at www.scpr.info. The deadline to purchase tickets is September 1st. The camp runs from 10 AM – 2 PM and a picnic lunch is included for all attendees. More details are available at www.vhha.net.
Various promotions and special events will complement the races each day. Key events include a commemorative t-shirt giveaway on opening day, a new Breast Cancer Awareness weekend on October 6th and 7th, an "After-Work Hops 'n Hooves" event with one dollar draft beer on October 12th, and the Shenandoah Valley Autumnfest celebration on October 13th.
Fans will also have a chance to enjoy "one of a kind" experiences, like owning a horse for a day, taking a ride in the starter's car during an actual race, and even riding in a double-seated sulky behind the horse an an exhibition race. On several occasions during the meet, fans will be drawn at random to "own" a horse competing in a $3,000 race. They will get to meet their horse, trainer and driver, take pictures of the occasion,  enjoy complimentary lunch, and most importantly, keep the amount of purse money their horse wins in that race. The winning horse gets 50% of the purse — $1,500 in a $3,000 race. Details of these events are at www.shenandoahdowns.com and at the Shenandoah Dowens facebook page.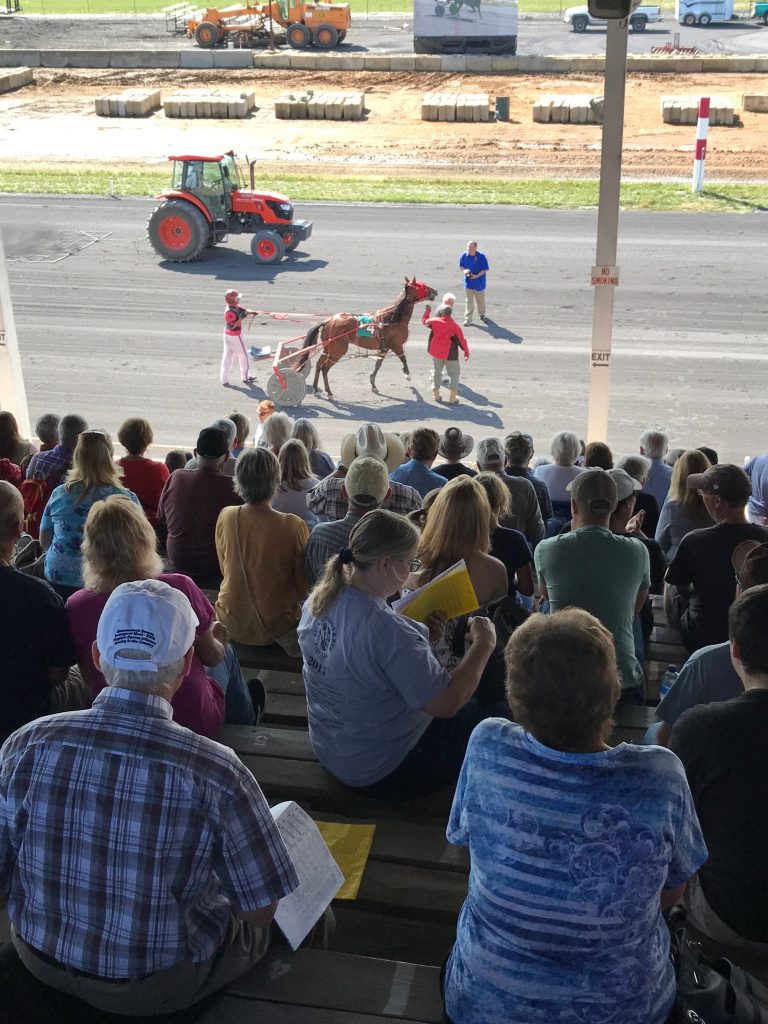 The season's highlight will take place on Saturday September 29th when harness racing's top money earning horse ever will appear for a Meet & Greet session with fans, then compete in a pari-mutuel race. Foiled Again is the star attraction — a 14 year old pacer who has bankrolled over $7.5 million in his spectacular career. He won his 100th race on July 6th this year and he has made 317 starts. He is a three time "Older Pacer of the Year" honoree and he will will be retiring at the end of 2018. "This is such a great and unique opportunity for racing fans in the area ," said Shenandoah Dowens Race Secretary, Dee Lineweaver. "Foiled Again is a racing legend. Fans can get their pitcture taken with him, then see him compete in one of his final races ever. We expect a full house that afternoon."
Shenandoah Downs is located in Woodstock, Virginia, halfway between Winchester and Harrisonburg on I-81 at Exit 283. The track itself is located at the Shenandoah County Fairgrounds. A number of hotels and restaurants are located within a half mile of the exit and Fairgrounds.