The following appeared Bloodhorse.com August 26th. Trainer Jonathan Thomas will judge the annual Virginia Breeder's Yearling Futurity Wednesday August 29th at the Warrenton Horse Show Grounds from 9 AM – 12 Noon.
Jonathan Thomas'  barn is tucked away in one of the more bucolic areas of the Saratoga Race Course backstretch. Located a stone's throw from Clare Court, Barn 9 is off the beaten backside path, one that takes a bit of trekking or driving for newcomers to locate.
On the morning of Aug. 26, it was easier than ever to find the upstart trainer's mission control. The string of visitors and laughter coming from the area was a hint, as was the sawhorse draped with the red and white blanket of flowers given to the winner of the Runhappy Travers Stakes (G1).
The Thomas shedrow could have doubled as the newest Saratoga hot spot on a picturesque Sunday morning. As newly minted Travers winner Catholic Boy took turns around the barn and stopped periodically to give onlookers just the right pose, his conditioner went from conversation to conversation in an attempt to explain his remarkable day at the races less than 24 hours earlier.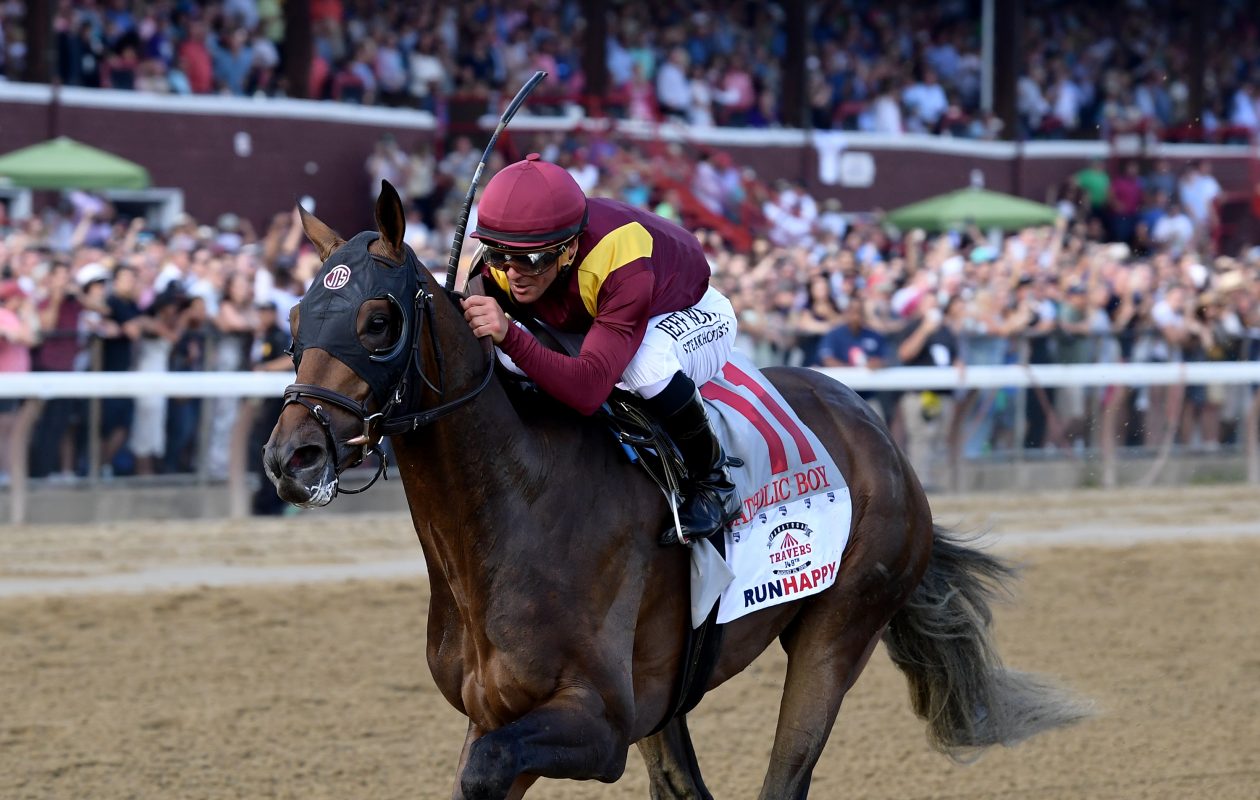 In winning Saturday's $1.25 million Midsummer Derby by four lengths over Mendelssohn, Catholic Boy not only gave Thomas a milestone achievement on his still burgeoning résumé, he put to bed some queries that had been lingering in recent months. Already a grade 1 winner on turf, the ridgling son of More Than Ready  now has the distinction of being a top-level victor on dirt as well—a fact that is sure to have co-owner Robert LaPenta's phone burning up in the coming days from interested stud farms.
EHALT: Versatile Catholic Boy Soars Clear in Travers
There may not be an Eclipse Award for most versatile member of the sophomore male division, but when he put a field that included champion Good Magic, graded stakes winner Bravazo, and classic-placed Gronkowski in their collective place, Catholic Boy can pretty much lay claim to that title. And just days out from the one-year anniversary of becoming Thomas' first graded stakes winner as a head trainer, the bay runner allowed his conditioner to celebrate an achievement many of his established contemporaries are still chasing.
"It's not lost on us the gravity of a race like this. And (at) a special place like Saratoga, especially. I can't say that it's soaked in yet," said Thomas, a former assistant to Christophe Clement and Todd Pletcher. "But, you know, I think as a team, we're just so proud of the horse and of what he's accomplished.
"He has proven himself at the highest level on turf, and we thought it was time to at least allow him the opportunity to prove himself at the highest level on the dirt."
It took some measure of gumption to take a train that was traveling so well on its current tracks and alter course.
While Catholic Boy did capture the Remsen Stakes (G2) on dirt in December, it was his form on turf that was producing his best runs before Saturday, including a win in the With Anticipation Stakes (G3T) at Saratoga last summer. When his time on the Road to the Kentucky Derby came to end, after he bled while finishing fourth in the March 31 Xpressbet Florida Derby (G1), he returned to the lawn and stamped himself a star on the rise by defeating graded stakes winner Analyze It in a pair of stirring battles in the Pennine Ridge Stakes (G3T) and Belmont Derby Invitational Stakes (G1T).
Having proven his aptitude over 10 furlongs in the Belmont Derby, Catholic Boy was given the opportunity to reaffirm his main-track talent when his team sent him to the Travers. Now that he's answered that bell, Thomas has a new round of questions to answer on his charge's behalf— namely, whether they would point for the Breeders' Cup Classic (G1) or Longines Breeders' Cup Turf (G1T) at Churchill Downs in November.
"I think (the Classic) is the most logical plan right now because of the distance," Thomas said. "The 1 1/4 miles is what he does best, and the 1 1/2 miles in the Breeders' Cup Turf—I'm not saying it's beyond him, but you don't want to face older horses, especially Europeans, at that distance. The (Breeders' Cup) Mile (G1T)—I think he can handle it, but it's the same thing. At the end of the day, for him, it's the same, where if he was to pull (a Classic win) off, it's another huge feather in his cap."
Had Catholic Boy not prevailed in the Travers, there likely would have been some second guessing behind the decision to pull him off the grass at a point when he was peaking. One thing Thomas said he doesn't let roll around in the back of his mind is any nagging question of what might have been had his charge been able to start in the first leg of the Triple Crown.
"The Kentucky Derby (Presented by Woodford Reserve, G1) is an important race, but it's not the only race. I think sometimes this industry gets too caught up in that one race at the peril of a lot of horses," Thomas said. "For me, to get the horse to the Derby in less than ideal shape and not have him perform at his best is not good for anybody. That race is never going to be more important to me than a horse, ever—ever.
"If we can get there at some stage, that's great. But I love New York and New York racing, and at this point in my life, I'd rather win the Travers than the Kentucky Derby."
Mission accomplished on that front.
While Catholic Boy was handling things with aplomb Saturday, Good Magic and stablemate Gronkowski, the top two betting choices in the Travers, were having a most unfortunate time of things over the speed-favoring track. After they got away slowly, Good Magic never got his multiple grade 1-winning self comfortable en route to a ninth-place finish, with Gronkowski a non-factor throughout his eighth-place run.
Trainer Chad Brown said both colts appeared in good order physically Sunday and added the plan was just to regroup before determining next starts for each.
"We'll evaluate them over the next few days, but initially, no major issues," Brown said.
Gary Barber's multiple graded stakes-winning filly Wonder Gadot was also none the worse for wear after she finished last of 10 in the Travers, in her attempt to become the first female runner since 1915 to take Saratoga's classic test.