(WOODSTOCK, VA. — 10/10/18) —- The 2018 harness racing season at Shenandoah Downs in Woodstock is in the homestretch and a number of closing weekend activities are planned to usher out meet from October 12th thru 14th.
The weekend kicks off with Shenandoah's first ever Friday program ever on October 12th. Billed as a "Hops 'n Hooves" after-work dollar draft beer event, a ten race card will run from 3-6 PM. Hot dogs will also be one dollar, and Maryland's Surf Jaguars band will perform yacht rock music in the party tent. Gates open at 2 PM and admission is free.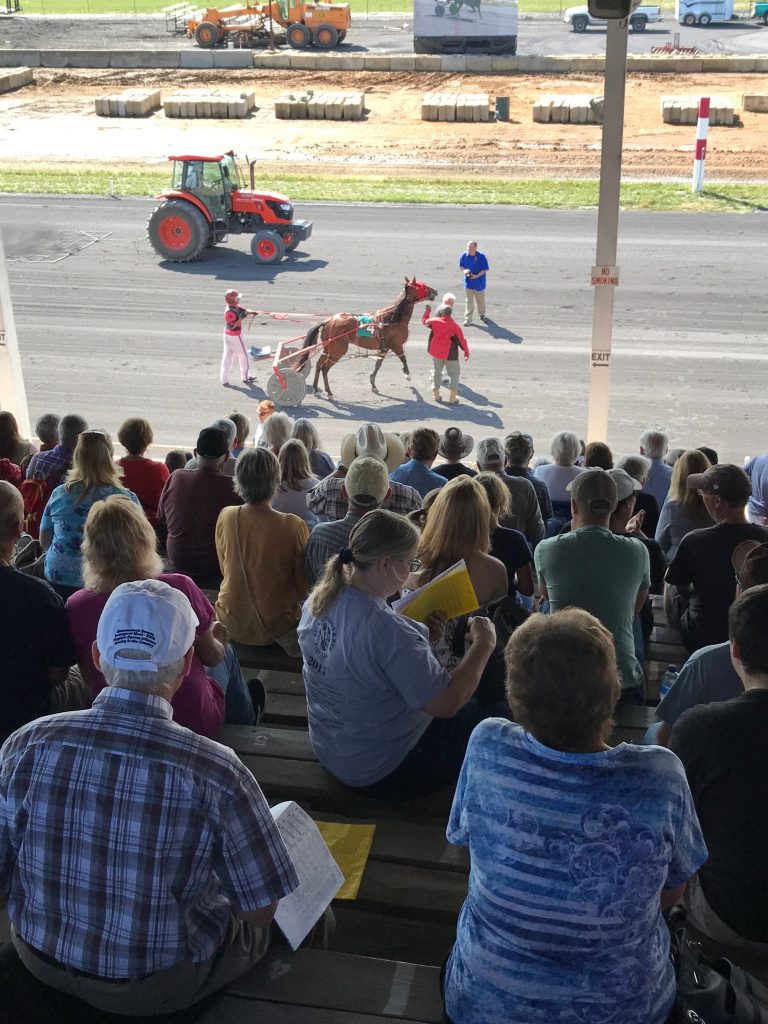 On Saturday, The Shenandoah Valley Chamber of Commerce presents its annual Autumnfest event in conjunction with the harness races. Designated by the Travel Channel as one of the Top 10 amazing fall festivals worth a road trip, the event will feature barbecue, craft beer and wine tastings, live music, a log splitting competition, classic car show, crafters and harness racing. The festival runs from 11:30 AM – 5 PM and harness races will be held from 2 – 5 PM. Advance tickets are $8 for all activities except the beer and wine tastings, or $20 to include the tastings. Tickets can be purchased at shenandoahcountychamber.com/autumnfest or day-of at the gate. Admission to just the harness races is free. Horse race wagers can be placed at the regular grandstand stations or at a new trackside betting pavilion in the festival area.
Sunday's final race day features the $320,000 Virginia Breeder's Championships, an eight race showcase event with two and three-year-old pacers and trotters of both sexes. Each race will have a purse of $40,000 or more. A series of $4,000 prep races was held this past Monday. Two-year-old division winners included Hillbillycamtastic (Filly Pace), Flaming Trix (Filly Trot), Rusty's Houdini (Colt Pace) and Great Am I (Colt Trot). Three-year-old category winners were Baddabingbaddabang (Filly Pace), Shez In Orbit (Filly Trot), Lemonaideshine (Colt Pace) and Freddie K (Colt Trot). This event, which will be held from 2-4 PM, is a non-betting card; betting however will be available on all races both Friday and Saturday.
On the track itself, three trainers enter the final weekend tied for the standings lead with seven wins apiece. Arlene Cameron, Marna Shehan and Jimmy Viars all share the top spot. Cameron's horses have earned $39,593 from 53 starts. Shehan's have bankrolled $28,542 from 31 starts while Viars horses have won $19,040 from just 19 outings. Gerry Longo and Chuck Perry have five wins each. Perry is atop the driver standings with 20 heading into the final three race days. Billy Carter and Chris Shaw are tied for second with ten each and Tyler Shehan is third with eight.
A pair of 14-year old horses will be recognized in the winner's circle Saturday in a retirement ceremony. B Blissful and Go Easy On Me both will officially retire January 1st and will get a final moment in front of the Woodstock fans before they move on.
Shenandoah Downs races take place on the Shenandoah County Fairgrounds in Woodstock. The half mile oval is located off I-81 at Exit 283, halfway between Harrisonburg and Winchester. For more information, visit shenandoahdowns.com or the track's facebook page.