The following piece was written by Don Clippinger and appeared at www.nationalsteeplechase.com. Wagering will be available on Saturday's combined steeplechase and flat card at Great Meadow itself (both manned teller stations and self bet terminals available), at the four Virginia Bets OTBs and nationally via www.XpressBet.com.
Rosbrian Farm's Optimus Prime, a Grade 1 winner and Grade 1-placed in his two American starts, heads the field for Saturday's $75,000 David L. "Zeke" Ferguson Memorial (Gr. 2), the featured hurdle race of the 35th annual International Gold Cup.
First post time is noon for the eight-race program featuring flat, hurdle, and timber races, including the $75,000 International Gold Cup over timber at Great Meadow Race Course in The Plains, Va.
Pari-mutuel wagering will be available on all races and will be available through the popular Xpressbet advance-deposit wagering platform. Wagering on the card also will be conducted in Australia.
Tornado Watch, second in the Far Hills Races' Grand National (Gr. 1) was entered Monday for the 2 1/8-mile Ferguson but was subsequently withdrawn by owner-trainer Emmet Mullins.
Trained by Ricky Hendriks, Optimus Prime opened his American career with a victory in Saratoga Race Course's New York Turf Writers Handicap (Gr. 1) on Aug. 23. The six-year-old French-bred subsequently finished third in Belmont Park's Lonesome Glory Handicap (Gr. 1) behind stablemate Zanjabeel on Sept. 20.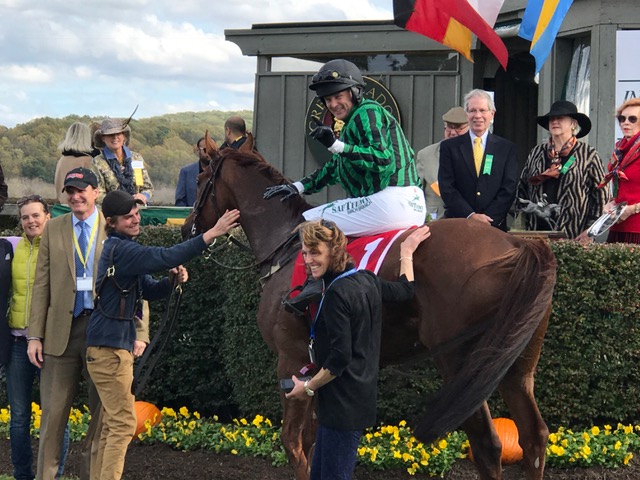 Ross Geraghty, currently atop the jockey standings by purse earnings, has the mount on Optimus Prime.
Another 2018 Grade 1 winner, Mark W. Buyck's Show Court, will be ridden by Michael Mitchell, who was in the saddle for his victory in Saratoga's A. P. Smithwick Memorial (Gr. 1) on July 30. Trained by Arch Kingsley Jr., Show Court finished fourth in the New York Turf Writers and fell in the Lonesome Glory.
Jack Fisher, who is in a head-to-head battle with Hendriks for the trainer title, entered Edith Dixon's Schoodic and Woodslane Farm's Overwhelming for the Ferguson. Schoodic, who won over the Great Meadow course in the 2017 David Semmes Memorial (Gr. 2), finished fifth in the Lonesome Glory and will be ridden by Willie McCarthy.
Sean McDermott rides Overwhelming, who finished fifth in the New York Turf Writers.
The Plains-based trainer Richard Valentine will saddle Magalen O. Bryant's Personal Start, who sparkled at Great Meadow in winning this spring's Semmes by eight lengths. He most recently finished seventh in the Lonesome Glory. Barry Foley will ride.
Prominent owner Irv Naylor will be represented by Sempre Medici, who had two fifth-place finishes in the spring, in the Semmes Memorial and the Calvin Houghland Iroquois (Gr. 1). Trainer Cyril Murphy named Darren Nagle to ride.
Jack Doyle, currently leading the jockey standings by wins, will be aboard Robert A. Kinsley's No Wunder, who finished fourth in the William Entenmann Memorial Novice Stakes for trainer Elizabeth Voss on Sept. 20.
Here is the field for the $75,000 David L. "Zeke" Ferguson Memorial (Gr. 2). The horses' National Steeplechase Association ratings are in parentheses at the end of their profiles.
Overwhelming. 2010 b. g., Hard Spun—Oh What a Windfall, by Seeking the Gold. Owner: Woodslane Farm. Trainer: Jack Fisher. Jockey: Sean McDermott. Breeder: Phipps Stable (Ky.) 2018 NSA record: 4-1-0-1, $41,000. Finished third in Saratoga's 2018 A. P. Smithwick Memorial (Gr. 1), then was fifth in New York Turf Writers Cup (Gr. 1). Returned to the races after missing 2017 season and won Tryon Block House allowance hurdle before sixth in Fair Hill's Valentine Memorial ratings handicap. Finished fifth in Saratoga's 2016 A. P. Smithwick Memorial (Gr. 1). Won Steeplechase at Callaway's 2015 AFLAC Supreme Hurdle and Belmont's William Entenmann Memorial Novice Stakes. (123)
Show Court (Ire). 2009 b. g., Vinnie Roe—Sparking Gem, by Revoque. Owner: Mark W. Buyck Jr. Trainer: Arch Kingsley Jr. Jockey: Michael Mitchell. Breeder: Grange Stud (Ire). 2018 record: 4-1-0-0, $118,250. 2017 NSA record: 5-2-1-0, $112,000. Won Saratoga's 2018 A. P. Smithwick Memorial (Gr. 1) by a length, then was fourth in New York Turf Writers Cup Handicap (Gr. 1) and fell in Lonesome Glory Handicap (Gr. 1). Finished sixth in Marion duPont Scott Colonial Cup (Gr. 1).  Won 2017 Carolina Cup by seven lengths. (133)
Personal Start. 2011 dk. b. or br. g., Jump Start—Personal Doreen, by Personal Flag. Owner: Magalen O. Bryant. Trainer: Richard Valentine. Jockey: Barry Foley. Breeder: Magalen O. Bryant (Ky.) 2018 record: 4-2-0-0, $98,750. 2017 record: 6-1-1-2, $46,750. Finished fourth in Saratoga's 2018 A. P. Smithwick Memorial (Gr. 1), then was seventh in New York Turf Writers Cup (Gr. 1). Won Virginia Gold Cup's 2018 David Semmes Memorial (Gr. 2) by eight lengths after victory in Carolina Cup novice stakes. Won 2017 International Gold Cup allowance hurdle by eight lengths. (130)
Optimus Prime (Fr). 2012 b. g., Deportivo—Diluvienne, by Kaldoun. Owner: Rosbrian Farm. Trainer: Ricky Hendriks. Jockey: Ross Geraghty. Breeder: Haras de Plasence (Fr). 2018 NSA record: 2-1-0-1, $120,000. In his U.S. debut, won Saratoga Race Course's 2018 New York Turf Writers Cup Handicap (Gr. 1), then was third in Belmont Park's Lonesome Glory Handicap (Gr. 1). In final overseas start, finished fourth in Pertemps Swindon Hurdle Handicap at Haydock in May. Began 2018 with an allowance steeplechase win and then was second at 25-to-1 in €115,000 Ryanair Novice Steeplechase at Ireland's Punchestown Racecourse in April. Previously trained by Dan Skelton. (148)
No Wunder (GB). 2011 b. g., Rock of Gibraltar (Ire)—Iwunder, by King's Best. Owner: Robert A. Kinsley. Trainer: Elizabeth Voss. Breeder: Executors of the late J. Ellis (GB). 2018 NSA record: 5-0-2-0, $42,500. 2017 NSA record: 8-2-1-1, $67,150. Finished fourth in Belmont Park's William Entenmann Memorial Novice Stakes. Finished close second in Saratoga's Michael G. Walsh Novice Stakes after similar close second in Fair Hill's Valentine Memorial ratings handicap. Opened 2018 campaign with second in Carolina Cup for novices, then was fifth in Queen's Cup MPC 'Chase. Drew away impressively to win 2017 Saratoga handicap after good second in similar race. Finished seventh in Far Hills' Foxbrook Champion Hurdle. (126)
Sempre Medici (Fr). 2010 b. g., Medicean—Sambala, by Danehill Dancer. Owner: Irvin S. Naylor. Trainer: Cyril Murphy. Jockey: Darren Nagle. Breeders: Myriam Bollack, Noel Forgeard, and E.A.R.L. du Haras de Pierrepont (Fr). 2018 record: 3-0-0-0, $11,000. 2017 NSA record: No starts. Finished fifth in 2018 Calvin Houghland Iroquois (Gr. 1) and David Semmes Memorial (Gr. 2). Tired and was pulled up in 2018 Temple Gwathmey Handicap (Gr. 2), his first U.S. start. Competed at top level in England and Ireland for trainer Willie Mullins before being imported. Female-line descendant of foundation mare Best in Show, by Traffic Judge. (137)
Schoodic. 2010 b. g., Tiznow—Aunt Henny, by Hennessy. Owner: Edith R. Dixon. Trainer: Jack Fisher. Jockey: Willie McCarthy. Breeder: Edith R. Dixon (Ky.) 2018 record: 4-0-1-1, $28,300. 2017 record: 5-1-0-0, $50,750. Finished fifth in Belmont Park's 2018 Lonesome Glory Handicap (Gr. 1). Just missed when second by a neck in 2018 Iroquois Steeplechase ratings handicap. Opened 2018 campaign with closing third in Marion duPont Scott Colonial Cup (Gr. 1), then was ninth in Temple Gwathmey Handicap (Gr. 2). Won 2017 David Semmes Memorial (Gr. 2) at Virginia Gold Cup, then was a dull fifth in Radnor's National Hunt Cup (Gr. 3), a race he won in 2016. (130)