The following was written by Don Clippinger and appeared on the National Steeplechase Association's website. There are 5 races set for Saturday April 27th — a trio of hurdle races, one timber and one flat race. First post is at 1 PM. For more details, visit www.foxfieldraces.com or call 434-293-9501.
A large and well-matched field will be line up Saturday for the $25,000 Daniel Van Clief Memorial, the traditional feature race of the 42nd annual Foxfield Spring Races in Charlottesville, Va. First post time is 1 p.m. for the five-race program.
The Van Clief is a ratings handicap for horses ranked at 115 and below, and trainers filled the entry box for the 2 1/8-mile race over National Fences.
Sharing the 115-pound rating are Ann Jackson's homebred Flash Jackson and Straylight Racing's L'Aigle Royal. Flash Jackson, trained by Todd Wyatt, won a Shawan Downs maiden hurdle last fall and most recently was fifth in an International Gold Cup allowance hurdle. Archie Macauley will ride.
German-bred L'Aigle Royal will have owner Alexander Leventhal in the saddle. Trained by Billy Santoro, L'Aigle Royal was pulled up in his only start this season in Aiken Spring's Budweiser Imperial Cup.
Ross Geraghty, last year's champion jockey by earnings, will be aboard Rosbrian Farm's Barhanpour, who started the year with a second-place finish in the Imperial Cup and then was fourth in a ratings handicap at The Cup Runneth Over meet in Camden, S.C., on April 6. The French-bred is rated at 113.
Owner-trainer Bethany Baumgardner will ride Mavourneen, who is next in the ratings at 111. The Langfuhr mare closed her 2018 campaign with victories in a Foxfield Fall maiden hurdle and a Montpelier Hunt Races allowance hurdle.
Here is the field for the $25,000 Daniel Van Clief Memorial in post-position order. The horses' National Steeplechase Association ratings are in parentheses at the end of their profiles.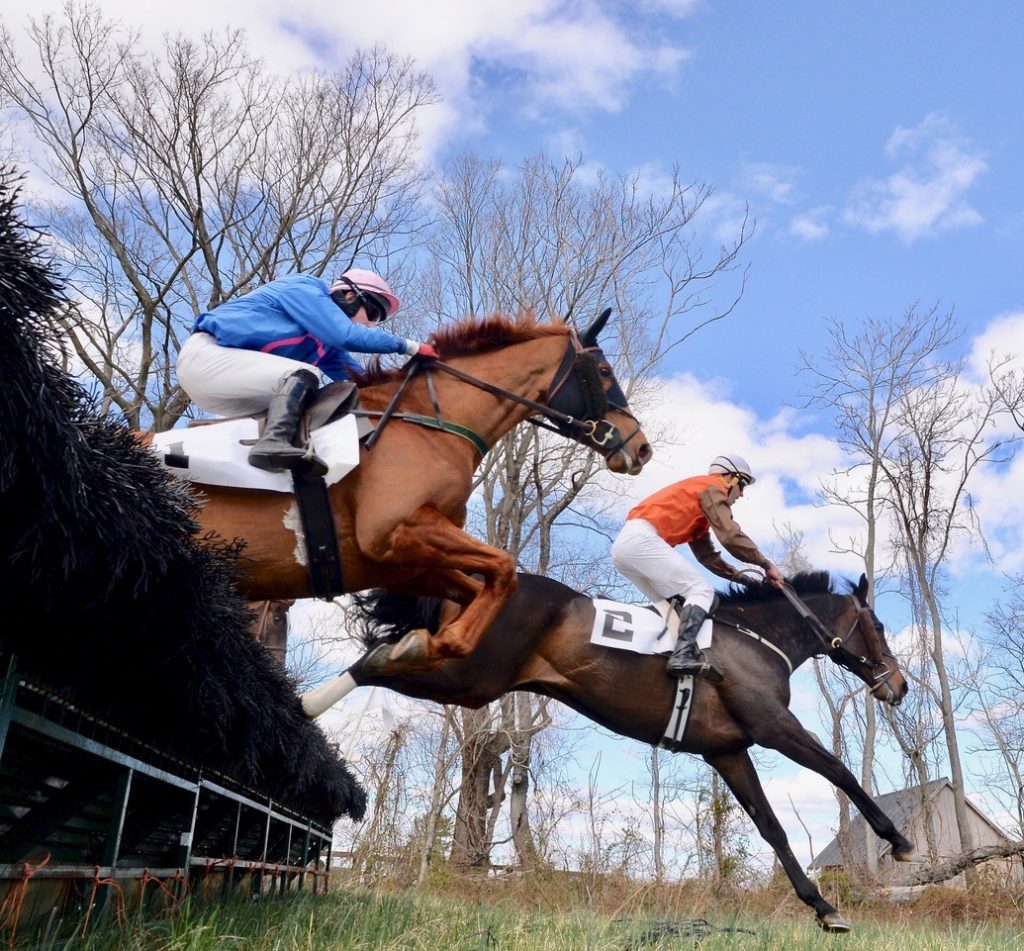 Shamsaan. 2014 b. g., Bernardini—Ensejaam, by Dynaformer. Owner: Beverly R. Steinman. Trainer: Doug Fout. Jockey: Bryan Cullinane. Breeder: Shadwell Farm (Ky.) 2018 NSA record: 1-1-0-0, $9,000. In first start over fences, won a Virginia Fall maiden claimer. Also had a maiden win on the flat before switch to jump racing. (105)
L'Aigle Royal (Ger). 2011 dk. b. or b. g., Sholokhov—Laren, by Monsun (Ger). Owner: Straylight Racing. Trainer: William B. Santoro. Jockey: Alexander Leventhal. Breeder: Westminster Race Horses (Ger). 2019 record: 1-0-0-0, $0. 2018 record: 3-0-0-1, $2,700. 2017 NSA record: 3-1-0-1, $10,300. Pulled up in his 2019 debut, Aiken Spring's Budweiser Imperial Cup ratings handicap. Finished distant third in 2018 Fair Hill allowance hurdle after losing rider in Foxfield Spring optional claiming hurdle. Fell in High Hope ratings handicap. Won 2017 Charleston allowance hurdle after fifth at International Gold Cup and distant third in Foxfield optional allowance hurdle. (115)
Maccabee. 2013 b. g., Street Hero—Sawgrass Express, by Roman Diplomat. Owner: Mason Hardaway Lampton. Trainer: Lilith Boucher. Jockey: Richard Boucher. Breeder: Hartwell Farm (Ky.). 2019 record: 2-1-0-0, $9,000. 2018 record: 7-1-0-1, $15,041. Won Aiken Spring 2019 maiden claimer on a disqualification and then finished seventh in The Cup Runneth Over ratings handicap. (104)
Zeppelin Ride. 2014 dk. b. or br. g., Tiznow—Gold Dust, by Forest Wildcat. Owner: Jonathan Sheppard and Vincent Bonnani. Trainer: Jonathan Sheppard. Jockey: Aaron Sinnott. Breeder: Doug and Felicia Branham (Ky.) 2019 record: 1-0-0-0, $0. 2018 record: 8-1-1-0, $26,570. In first 2019 start, pulled up in Carolina Cup allowance hurdle. Scored maiden victory at 2018 Montpelier Hunt Races. (114)
Jarir (GB). 2013 b. g., Oasis Dream (GB)—Generous Lady (GB), by Generous (Ire). Owner: Irvin S. Naylor. Trainer: Cyril Murphy. Jockey: Graham Watters. Breeder: Deerfield Farm (GB). 2019 record: 1-0-0-0, $0. 2018 record: 5-1-1-3, $30,600. In 2019 debut, finished 10th in The Cup Runneth Over handicap at this level. Finished good second in tough 2018 Queen's Cup maiden hurdle and then won over another quality field in an Iroquois Steeplechase maiden hurdle. (110)
Barhanpour (Fr). 2013 dk. b. or br. g., Raven's Pass—Balankiya (Ire), by Darshaan (GB). Owner: Rosbrian Farm. Trainer: Ricky Hendriks. Jockey: Ross Geraghty. Breeder: The Aga Khan's Stud (Fr). 2019 record: 2-0-1-0, $6,650. 2018 NSA record: 8-2-0-1, $33,400. Finished fourth in The Cup Runneth Over ratings handicap after second in Aiken Spring handicap. Claimed from victory in 2018 Foxfield Fall maiden claiming hurdle and then won Aiken Fall claimer before fourth in Charleston ratings handicap. (113).
Flash Jackson. 2014 b. g., Get Stormy—Riveting, by Petionville. Owner: Ann Jackson. Trainer: Todd Wyatt. Jockey: Archie Macauley. Breeder: Ann Biggs Jackson (Md.) 2018 record: 4-1-1-0, $26,100. Won Shawan Downs 2018 maiden hurdle, then was fifth in International Gold Cup allowance hurdle. Opened 2018 with second in Middleburg Spring allowance hurdle, then was sixth in Fair Hill maiden hurdle. (115)
Balistes. 2012 b. g., Xenedon—Jordani, by Two Smart. Owner: Sara E. Collette. Trainer: Julie Gomena. Jockey: Shane Crimin. Breeder: Sara E. Collette (Va.) 2019 record: No starts. 2018 record: 1-0-1-0, $3,600. In only 2018 start, finished second in Foxfield Spring claiming hurdle. (102)
Change Maker. 2012 b. g., Divine Park—Divine Honor, by Honor Grades. Owner: Stephany W. S. Harper. Trainer: Alicia Murphy. Jockey: Sean McDermott. Breeder: Somewhere Stable Kentucky LLC (Ky.) 2019 record: 1-1-0-0, $9,000. 2018 NSA record: 3-0-1-0, $3,040. Won 2019 The Cup Runneth Over maiden claimer in first start for new connections. Ended 2018 with second in Charleston maiden claimer. (105)
Motivational. 2012 b. g., Afleet Express—Twinkler, by Benny the Dip. Owner: Tantivy Racing. Trainer: Ted Thompson. Jockey: Open. Breeder: Gainesway Thoroughbreds (Ky.) 2019 record: 1-0-0-0, $0. 2018 record: 8-1-2-1, $31,830. In 2019 debut, finished 12th in The Cup Runneth Over ratings handicap. Claimed from his maiden victory at the Steeplechase at Callaway in November 2018. (108)
Bullet Star. 2014 dk. b. or br. m., Bullet Train (GB)—Ptarmigan, by Unbridled Jet. Owner: Beverly R. Steinman. Trainer: Doug Fout. Jockey: Barry Foley. Breeder: Magalen O. Bryant (Ky.). 2018 record: 3-1-0-0, $14,000. 2017 record: 1-0-0-0, $1,200. Finished fifth in Fair Hill's 2018 Iris Coggins Memorial. Began 2018 with maiden victory at Georgia Steeplechase, then was pulled up in Margaret Currey Henley at the Iroquois Steeplechase. Finished fifth in career debut on flat at 2017 International Gold Cup. Her dam was champion steeplechase female in 2010. (102)
Ack Feisty. 2012 dk. b. or br. g., Birdstone—Patagonia Tango, by Storm Boot. Owner: Gillian Johnston. Trainer: Neil R. Morris. Jockey: Martin McIntyre. Breeder: Robert Hahn (N.Y.) 2018 NSA record: 7-0-1-0, $13,200. Opened 2019 with third in The Cup Runneth Over's ratings handicap. Finished fifth in Montpelier ratings handicap. Won maiden victory at Tryon in 2016. (107)
Mavorneen. 2019 ch. m., Langfuhr—Rowdy, by Malibu Moon. Owner-trainer: Bethany Baumgardner. Jockey: Bethany Baumgardner. Breeder: Mimi Voss (Md.) 2018 record: 3-2-0-0, $27,000. Closed 2018 season with back-to-back wins in Foxfield Fall maiden hurdle and Montpelier allowance hurdle. (111)