The following appeared in The Racing Biz and was written by Frank Vespe
It took the Royal Academy mare Embarr two tries to break her maiden, which she did at Colonial Downs back in 2011 at odds of 31-1.
In that respect, at least, Fionnbharr looks like a chip off the old block. The three-year-old Exchange Rate filly, Embarr's first foal to make the races, broke her maiden Saturday afternoon at Laurel Park, also in her second career start, and also at long odds. She paid $40.20 to win.
"I'm shaking," trainer Susan Cooney said in the winner's circle after the race, adding, "There's a lot of time and money into it before you actually see results. We had her almost ready to run last fall , but with the wet weather and the turf courses all chewed up, we decided just to put her away and wait for the spring."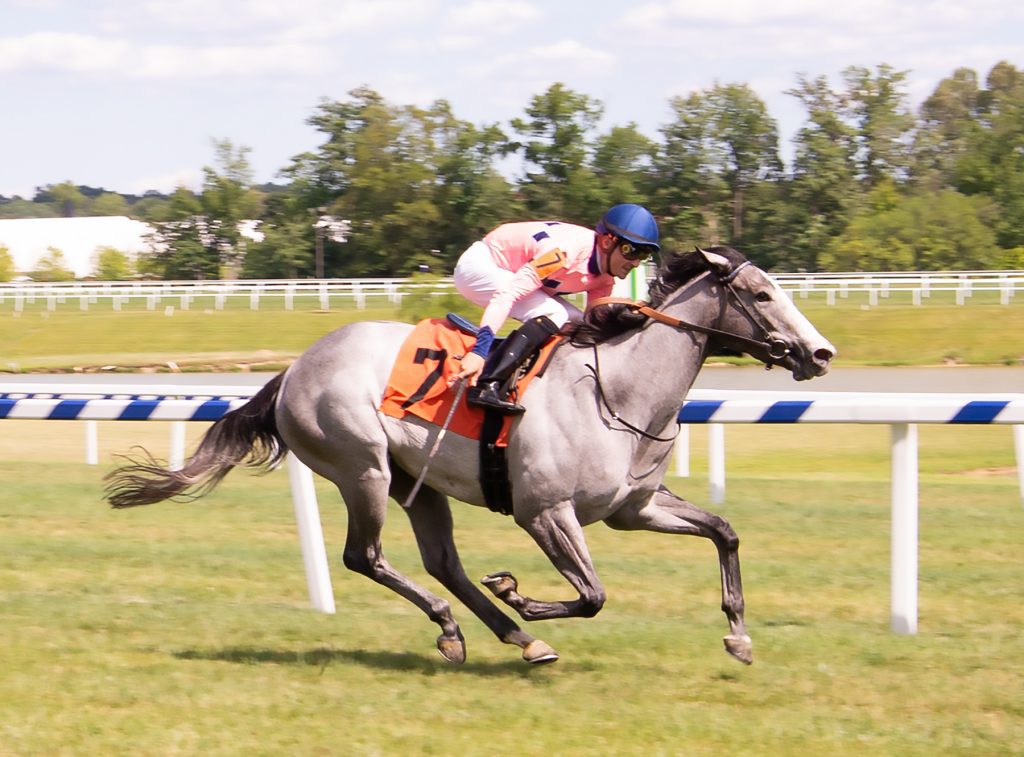 Patience, of course, is one of the most important tools in the trainer's tool box, and so Cooney started Fionnbharr out at five furlongs and followed up with today's tilt, in a $40,000 maiden special weight race, at six. Both, she figured would be too short to showcase Fionnbharr's talent to optimum effect.
"We were [expecting a good effort today]," she explained. "I thought it was still going to be a little short for her. I think she's going to be like her mother, a mile a mile-and-a-sixteenth is gong to be her best distance."
But under an astute ride by Sheldon Russell, the six-furlong distance proved to be just what the doctor ordered. Fionnbharr covered it on a firm turf course in 1:09.92 to post a 2 3/4-length victory.
The sophomore broke alertly before settling in a cozy spot along the rail a couple of lengths behind the 2-5 favorite Little Skiff, who was joined on the lead early by first-timer Shikaka. Little Skiff, with bug boy Avery Whisman up, took over rounding the turn, went clear in upper stretch, but began to wander towards the outside, finishing the race well out in the middle of the class.
Given an inviting seam, Russell and Fionnbharr shot through it and went on to the victory. Little Skiff held second, while Alleria rallied for third.
"She broke really well," Cooney explained. "She was in a good position [in her first race at Delaware Park] — she also broke well — but she was a little green and when horses were around her, [Russell] said she backed off just a little bit, so she wasn't as forwardly placed last time. When the gap opened up, and Sheldon said go, she went."
Fionnbharr now has a win from two starts — just like Mom did eight years ago — with earnings of $26,540.
Of course, if Fionnbharr could go on to anything like the career of her dam, that would be wonderful news for Cooney, who is the trainer, owner, and breeder of the Virginia-bred. Embarr won five stakes, earned just shy of $360,000, and was graded stakes-placed in her career, which ended in 2014.
"She's very much like her mother except she's not nervous," Cooney said of Fionnbharr. "She's really determined. She's aggressive with other horses and wants her own way. It's her world and we're living in it. She lets us hang around with her."
The whole family is something of a labor of love for Cooney. She also owned and trained Embarr's dam, In Too Deep, by The Deep, and bred, owned, and trained Embarr. So she knew what to look for when it came time to send Embarr to the breeding shed four years ago.
"At the time I was looking for a stallion that wasn't too big because that was going to be her first foal, and she's a small mare," she explained. "I was looking for turf or synthetic, and on paper [Exchange Rate] matched really well."
Cooney said that, if all goes to plan, Fionnbharr will make her next start in her home state, at the new Colonial Downs. The track offers four stakes for Virginia-bred or -sired runners on August 10, including a pair for older fillies and mares, the one-mile Nellie Mae Cox and the 5 1/2-furlong M. Tyson Gilpin.
"We're thrilled [with Colonial's rebirth]. We're really happy," Cooney said. "The new owners, the management and everybody, really seem like they want to make it a success, which is a nice change. I'm really excited. With the purses we're offering, I think we're gonna get good horses and good racing, and everybody's going to stand up and notice."