The following appeared in the "Gaming Today" publication.
August 14, 2019 3:01 AM
by Steve Carp share

NEW KENT, Virginia — If you're going to dream, why not dream big?
With the revival of thoroughbred racing at Colonial Downs, the new management envisions growing the product to where it can attain boutique status, similar to that of Saratoga and Del Mar.
"We think we have a unique opportunity," said John Marshall, Colonial's vice president of operations. "With our location, our facilities and our commitment to racing, we believe we can be a boutique meet."
After going without live racing for six years, Colonial Downs re-opened last Thursday. The 10-race card drew 3,200 people and had a handle of over $1.5 million. Granted, those are not exactly Saratoga-like numbers, but Marshall's vision is a long-term one.
Colonial is running a 15-day meet highlighted by the $250,000 Virginia Derby on Aug. 31. Next year, the plan is for 20 days of racing and maybe 30 days in 2021. If you're going to be a boutique-style meet, you can't be grinding it every day a la Laurel, Colonial Downs' closest competition for live racing.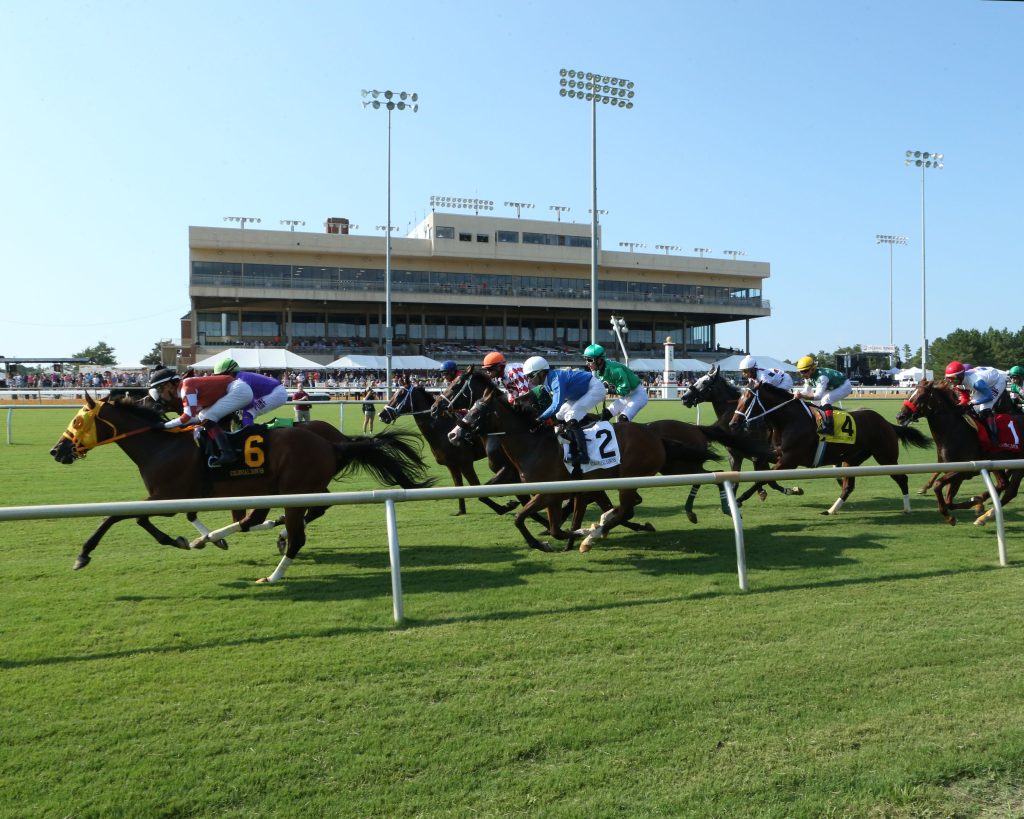 Check Out More Horse Racing Here
A more realistic goal? Try to be like Keeneland in the fall or Oaklawn Park in the spring.
"Right now, it's about racing again," Marshall said. "We had a great crowd and a great opening night. Virginians are very passionate to see this industry come back, You could see it was very emotional."
There are going to be a couple of keys to Colonial's long-term viability. One is the racing. Colonial has two turf courses that are immaculately maintained and are attractive to owners and trainers who are looking to run their horses on the grass. The main course is named after the great Secretariat and along with the inner turf course, Colonial can offer races from five furlongs to two miles along with steeplechase racing, a Virginia tradition that dates back centuries.
Trainers and jockeys are coming here from other tracks in the East and Midwest adding to the cachet of the racing. The hustle by Jill Byrne, the VP of racing operations and Allison DeLuca, the racing secretary, has paid off early on.
"We recruited a group of all-stars to run our racing office," Marshall said. "Everyone in racing knows Jill. Everyone knows Allison. It gives us instant credibility."
The second key component is generating income from the casino to hopefully boost purses and attract better horses and jockeys. Colonial Downs has an on-site casino, Rosie's, which has slot machines that are called Historic Horse Racing Terminals. That's merely semantics but the machines are gambling devices and they draw big crowds.
Marshall said Rosie's will help support the purse structure for racing and if more money is available to the horsemen, it theoretically should attract a higher quality of horses and jockeys.
"It's a very competitive market here in the Mid-Atlantic," Marshall said. "You've got horses running at Monmouth, at Laurel, at Delaware (Park), at Parx, in West Virginia. So getting horses to come here is a challenge."
Colonial, which is located off Interstate 64 between Richmond and Williamsburg, is on the way to Florida from the East Coast tracks. So when horses begin their migration to Gulfstream in the fall, some may come to Colonial in the future and race there prior to finishing the trip.
The Colonial meet may run into October down the road which could help in that endeavor. But the economics will likely dictate whether that happens.
Check Out Our Industry News Here
Those that do decide to come to Colonial to watch and wager will find a modern facility. Marshall said the new owners, Peninsula Pacific Entertainment, have invested more than $300 million in the track and casino. The daily purse distribution for this meet will average $500,000. The track has luxury suites, a turf club, an air-conditioned clubhouse and offers free grandstand admission and free parking. If you want an upscale experience, you can have it, as well as doing things inexpensively. There's also a Pick 5 with a 12 percent takeout that should prove popular.
Also key for Colonial Downs is its signal is being distributed in Nevada as well as tracks around the country. That exposure will help generate revenue from simulcasting and off-track betting facilities in Virginia and in other jurisdictions.
"We think we have a quality product and as people re-discover Colonial Downs, we think we'll keep them as customers," Marshall said.
As is the case with the opening of any business, there's excitement and some trepidation. That was the feeling for Marshall last Thursday as he went to the track and opened the doors.
"I woke up excited, I got here excited and when I left, I felt like I didn't get excited enough," Marshall said. "The time we put in together, the execution of the plan, the way things went smoothly for the most part, I was still excited.
"But when I woke up Friday, I was scared. We have to keep the momentum going. There's a heightened level of sincerity to deliver on our promise.
"We're the feel-good story in the (racing) industry and I don't want to see anything happen that will jeopardize that," he continued. "We're safety-first for the horses and the jockeys and we're committed to giving our customers a first-class experience when they visit us. So the bar is set pretty high."