The long four day holiday weekend holiday offers horseplayers a big platter of stakes races galore from tracks all over the country. Now that there are 8 OTBs in the state and 4 on-line betting partner companies, it is more convenient than ever to wager the action.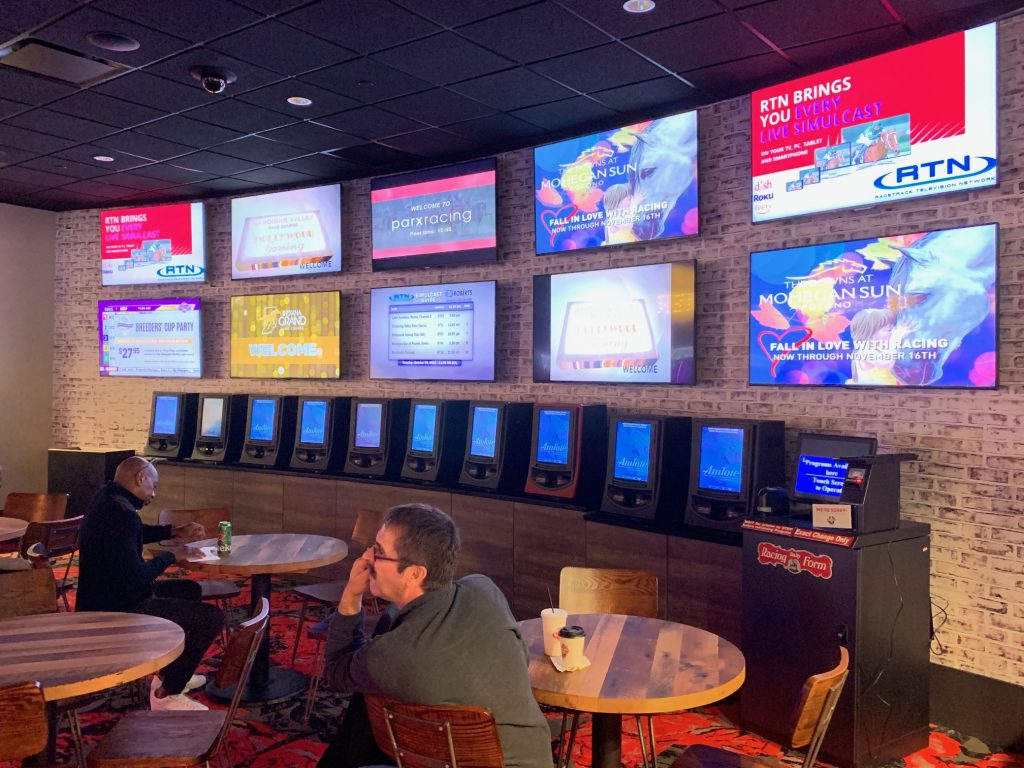 Fans can bet at VA-Horseplay OTBs located at Breakers Sports Grille (Henrico), Ponies & Pints (Richmond), Buckets Bar & Grill (Chesapeake) and The Windmill OTB Sports Grill (Collinsville), at Colonial Downs-Rosie's OTBs in New Kent, Richmond, Vinton and Hampton, and on line via four partner companies — TVG.com, Xpressbet.com, TwinSpires.com and NYRABets.com.
Here's a peek at some of the top races available over the stretch.
Wednesday Nov. 27 – $250,000 Zia Park Derby, $250 Zia Park Oaks & 6 additional stakes at Zia; $200,000 Fabulous Strike Stakes & 2 others at Penn National. Plus, popular track Tampa Bay Downs opens their annual winter season.
Thursday Nov. 28 – $300,000 Falls City Handicap (Gr. 2) at Churchill; $200,000 Fall Highweight Handicap (Gr. 3) at Aqueduct. Plus, Fair Grounds opens its annual season with the $100,000 Thanksgiving Classic.
Friday Nov. 29 – $600,000 Clark Handicap (Gr. I) and $300,000 Mrs. Revere Stakes (Gr. 3) at Churchill; $200,000 Hollywood Turf Cup (Gr. 2) at Del Mar; $200,000 Comely Stakes (Gr. 3) at Aqueduct.
Saturday Nov. 30 – $400,000 Long Island Stakes (Gr. 3) & 2 other stakes at Aqueduct; $300,000 Golden Rod Stakes (Gr. 2) & $300,000 Jockey Club Stakes (Gr. 2) at Churchill; $300,000 Hollywood Derby (Gr, I) at Del Mar; $100,000 Berkeley Stakes (Gr. 3) at Golden Gate and a trio of $100,000 stakes at Laurel.
Sunday Dec. 1 – $300,000 Matriarch Stakes (Gr. I) & 1 other stakes at Del Mar.
The first of four Kentucky Derby Future Wager pools is also available from Thursday thru Sunday. Racing fans can bet on potential contenders in the Derby before the races' final entrants are determined.
The traditional Kentucky Derby Future Wager is an opportunity for fans to bet early in the racing season on horses whom they think have the potential to earn a spot in the starting gate and go on to win the Kentucky Derby. Future Wager bets typically offer larger payouts than betting the same horse on race day because it is not yet known which horses will ultimately qualify to run in the Derby.
November 28th – 12 PM – December 1st, 2019 – 6PM
Kentucky Derby Future Wager Pool 1
November 28th – 12 PM – December 1st, 2019 – 6 PM
Kentucky Derby Sire Wager
The Kentucky Derby Sire Future Wager lets fans wager on world-class sires (a horse's father), winning if any one of their offspring wins the Kentucky Derby.