Below are pictures and details of some registered farms and training centers that participate in the Virginia Certified Residency program. They are located all over the state, in points north, south, east and west, but this focuses on some of those heading east.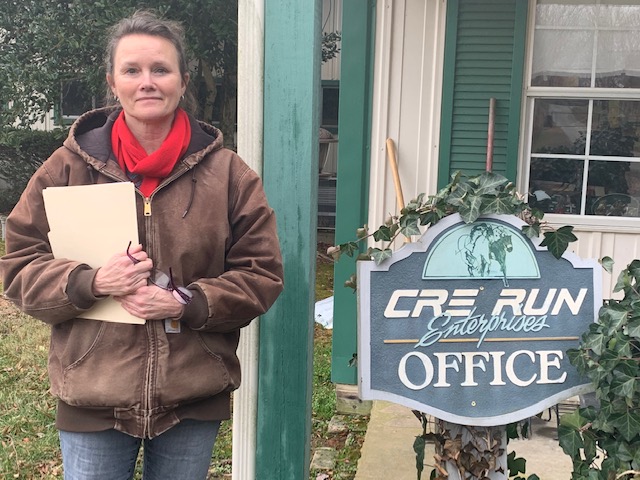 Donna Mallory is the farm manager at CRE Run Enterprises in Doswell.
The concept of the bonus program is straightforward — any horse that is conceived and foaled outside Virginia but maintains residency in the Commonwealth for a six consecutive month time frame (at a registered farm) prior to December 31 of its two-year-old year, will be eligible for bonus monies when they begin racing and win at a track located in any of the seven Mid-Atlantic states.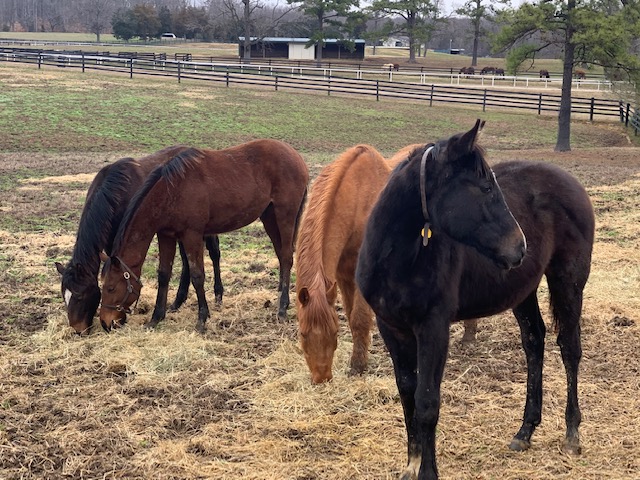 Three young Certtified thoroughbreds enjoy time at CRE, which is currently home to a mostly Arabian horses.
A recent trip east to check out several of the registered farms began in Doswell at CRE Run Enterprises on Campbell Lake Road. Long time farm manager Donna Mallory said 68 horses currently reside at the 280 acre property but most are Arabians. She does have three young thoroughbreds on site, all of which are in the Residency program — a 2019 Steady N Love colt along with Epic Luck and Epic Starter.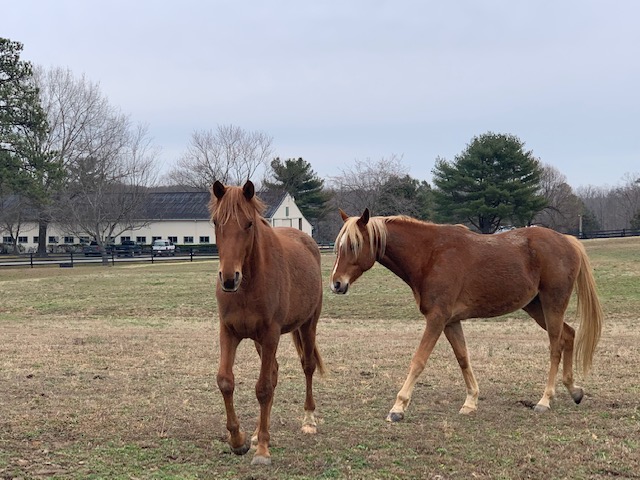 CRE Run Farm is within several miles of Ashland based Horseshoe Hill and Eagle Point Farms.
Mallory has seen changes at CRE in her 27 years. At one time, they had 168 Arabians on the grounds but since Delaware Park is the only east cast track that hosts those races, they are beginning to shift focus towards housing thoroughbreds given the success of the Virginia residency initiative. Other states that host Arabian races include Texas, California and Colorado.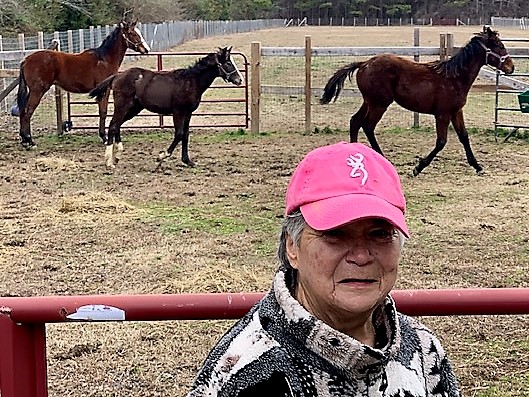 Margie Streiter is pictured at her North River Stables near Gloucester.
Farther east, Margie Streiter has ten horses on her property in North, Virginia, located between Gloucester and Matthews. She currently houses seven Certified horses, all of which are Maryland-breds. Colts Oleg The Mongol, Valenburg, Almost and Mr. Cowboy Brady are joined by fillies Carole Claudet, Loves Little Lady and My Sister Clurrie.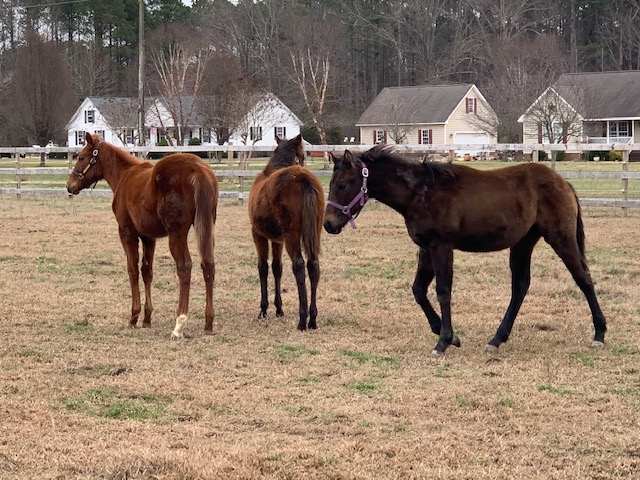 Three Virginia-Certified fillies enjoy time at North River Stables.
Margie's property is in the North End Estates, a low key neighborhood which is accessed by a dirt road off Route 14. In addition to the Certified horses, she has two broodmares and her daughter's horse.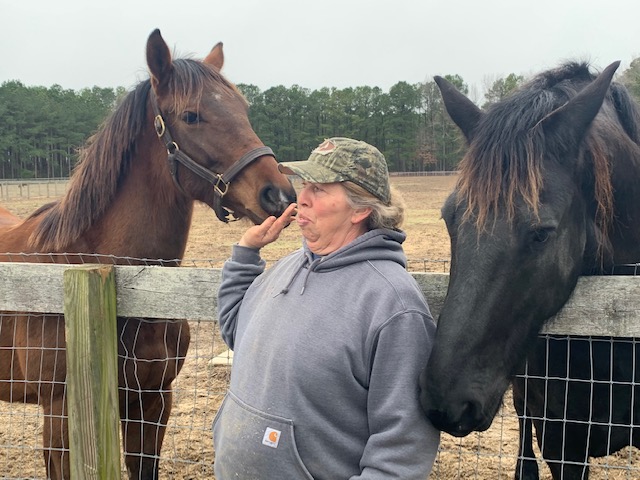 Kim Birdsall keeps Our Sweet Pea occupied at Windfall Farm in Onancock.
Onancock, Virginia is located in the Eastern Shore, between Cape Charles and Chincoteague, 50-acre Windfall Farm, temporary home to two Certified horses, is based there. A pair of 2018 fillies — New York-bred Our Sweet Pea and Pennsylvania-bred Our Strong Vows enjoy days playing with their 9-year-old companion horse.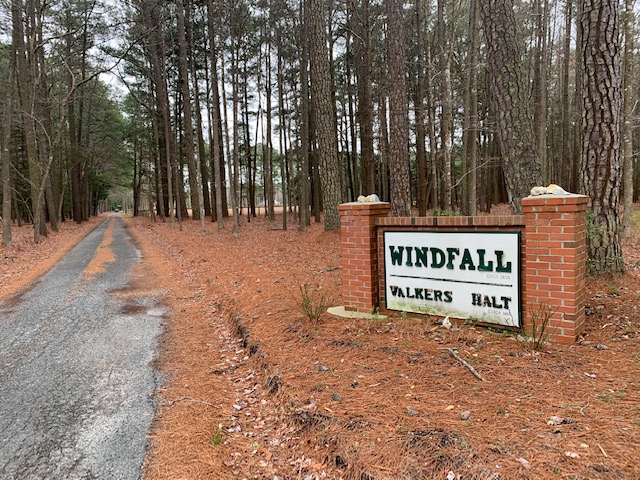 Windfall Farm is located between Cape Charles and Chincoteague.
Windfall is partially on the waterfront and has a mix of other animals there including cattle. Kim Birdsall, a friend of owner Christine Applegate, was tending to the horses on a recent visit. They, along with CRE Run and North River Stables, are accepting horses in the residency program. Contact information on these three and all farms/training centers around the Commonwealth can be found at vabred.org.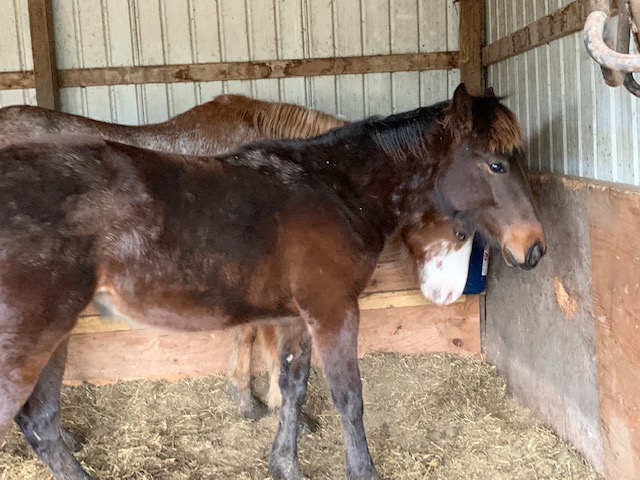 Standardbred Antares Star is shown with her companion hosre near the carnival grounds in Chincoteague.
The Virginia Harness Horse Association also has a new Certified program that is in its infancy. Antares Star, one of the newest program participants, is based in Chincoteague with his owner Rob White. The Maryland-bred is based at a paddock next to the carnival grounds, which plays host to the annual pony swim in July.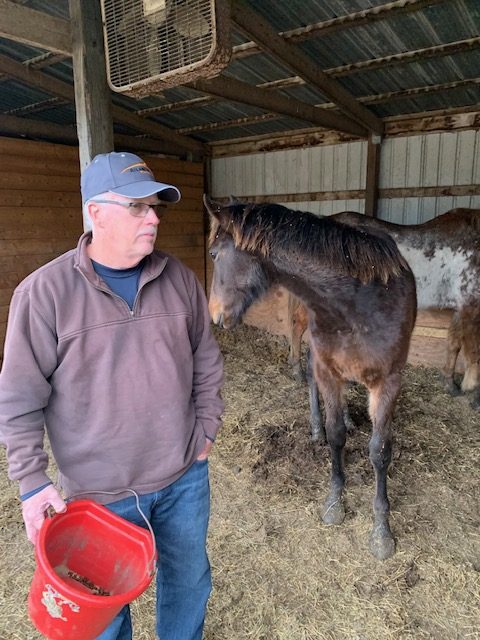 Harness horse owner, trainer and breeder Rob White is shown with Antares Star.
White hopes Antares Star will be competing at Shenandoah Downs in Woodstock in the near future.