In a sure sign that spring has arrived, Virginia's annual Point-to-Point season kicks off this Saturday March 7 with the Rappahannock Hunt at The Hill in Boston, Virginia. Five races are on tap including the feature — a 1 1/4 miles Open Flat with a field of 14.
Rosbrian Farm has four horses entered in the feature. Top money earner of the quartet is Good And Proper with $128,663, much of which came from four wins at Gulfstream Park. Veneer of Charm is next with $119,395 from four wins as well including a Delaware Park allowance score last July. Sixty Five, who has bankrolled $114,382, reached the winners circle at Great Meadow in 2018 during the Virginia Gold Cup's spring card. And Officer Sydney's four wins includes victories at Foxfield in 2018 and Middleburg's Glenwood Park in 2017.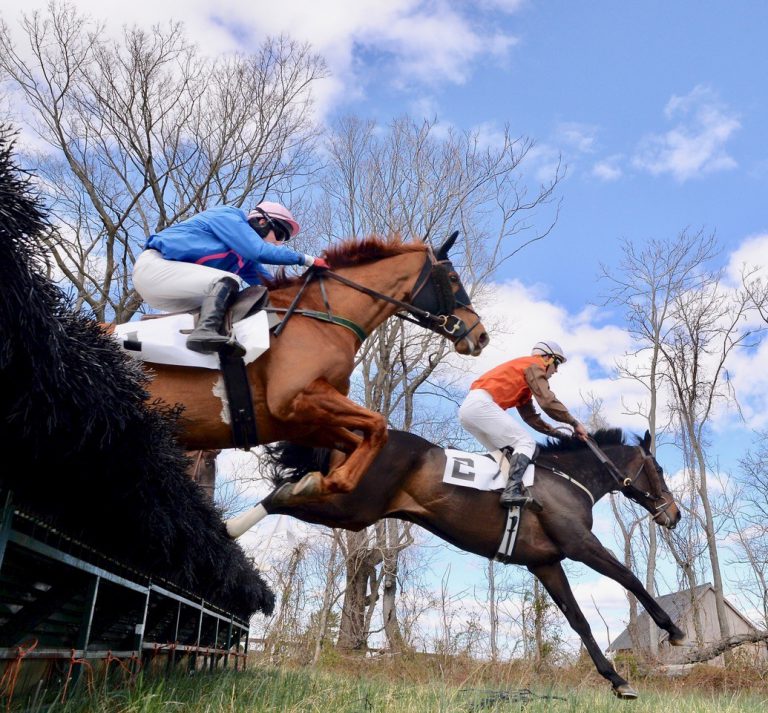 Menacing Dennis (ridden by Shane Crimin) and Feisty (ridden by Jacob Roberts) compete in the Orange County Point-to-Points's Open Hurdle in 2019. Photo by Douglas Lees.
Also in the field is Bodes Well, a 5-year-old Rock of Gibraltar gelding who won at Colonial Downs last summer. Rounding out the full field is Georgie Hyphen, Classical Art, Conquest Falcon, Noah And The Ark, Zarski, Salix, Benevolentdictator, Hishi Soar, and Emerald Rocket. This race is scheduled as the fourth on the card.
Action kicks off at 1 PM with a Maiden Timber, followed by a Lady Rider Timber and Amateur & Novice Rider Timber, all at the 2 1/2 miles distance. A Maiden Flat, with a field of 11 scheduled, will close out the afternoon festivities.
General admission is $7 and a book of ten tickets is $50. For ticket and parking space information, contact bartonhitchcock@gmail.com or call 540-229-7752. Food trucks and concessions will be on site. Exact address of The Hill is 13257 Durantes Curve, Boston, VA 22713.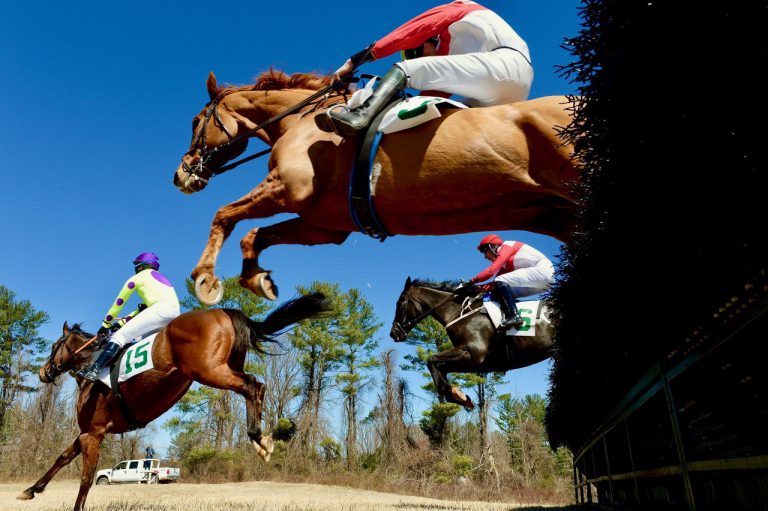 Orchestra Leader, Storm Team and Special Skills jump successfully in the Open Hurdle race March 16th, 2019 at the Warrenton Hunt. Photo by Douglas Lees.
The Point-to-Point season continues every weekend thru April and a schedule can be found at www.centralentryoffice.com. The Warrenton Hunt Point-to-Point follows next on March 14 and the Piedmont Fox Hounds event is on March 21.
In order to help stimulate entries, the Virginia Equine Alliance (VEA) implemented a Starter Rewards program in 2019 and based on its success, returns this year. Every time a Virginia-owned or Virginia-trained horse makes a start in any Point-to-Point race, the owner will receive a $200 starter reward bonus. In 2019, a total of $31,800 in rewards were paid out from 159 Virginia horses that participated in seven scheduled spring meets.
"The VEA recognizes that the Point-to-Point circuits are a vital element of steeplechase racing and we want to do everything we can to promote and support the Point-to-Points in Virginia," said VEA Executive Director Jeb Hannum. "The Point-to-Points are an important first step for many horses. They also give young riders an opportunity to compete before going to the sanctioned meets."