While tracks, OTBs and locally — Rosie's Gaming Emporiums — began shutting down throughout the month of March, Virginia-based horseplayers had only one wagering option left as effects from Covid-19 took a toll on the sport. Four on-line betting partner companies continued to operate and display available product, which diminished greatly though, as March rolled into April.
Despite less tracks to wager of late, first quarter handle from the four combined is up 9.3% over the same three month period a year ago. In March alone, handle was up 2.5% at $7,587,1275 compared with $7,430,656 in 2019. TVG was top performer for the month with $3,927,960 in handle while Twinspires was next with $2,217,722. Xpressbet took third spot with $1,126,698 and NYRABets, newest of the four, handled $314,793 from Virginia residents.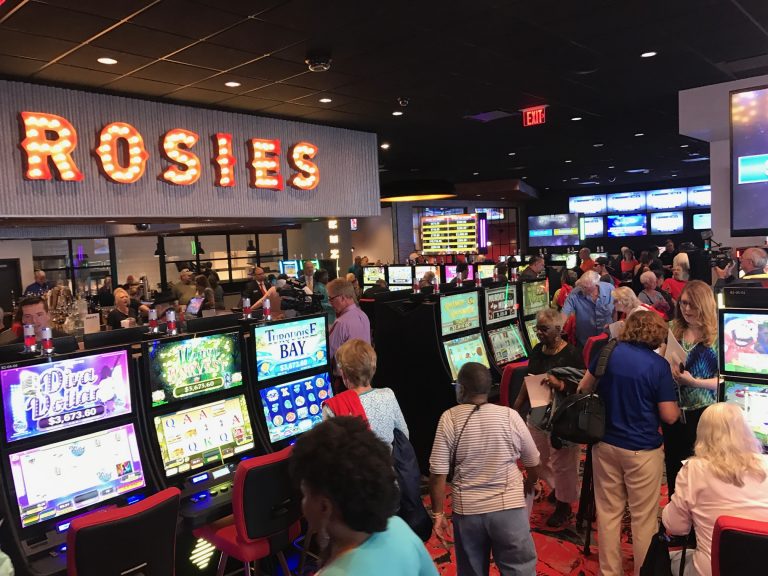 Rosie's Gaming Emporium in Vinton closed on March 16 due to Covid-19.
For the quarter, $21,735,026 was wagered versus $19,880,582 a year ago. And that 2019 figure was 5.34% over 2018's three month tally. TVG is trending highest of the four so far with handle up 17% over 2019. They have accepted $11,482,621 in bets in 2020 compared with $9,744,527 a year ago. NYRABets, lowest performer of the four, still is up 84% with a handle of $818,615 this year versus $445,004. Xpress Bet's numbers are up 4.5% while Twin Spires is off 6%.
"Derby" Bill Watson is a former Colonial Downs on-camera handicapper and his selections have been heard for 20 years on the weekly "Off To The Races" radio show, powered now by The Racing Biz. He is also an avid horseplayer. Watson finds the on line play can offer a similar experience as spending a day playing horses with his friends at an OTB. "Facebook allows small groups to enjoy sport in the same framework of a table at the track or OTB with a more focused limited wagering experience," he said. "A few friends of mine will all share text exchanges back and forth as we bet the day's races on line to see who likes which horses. We'll compare notes with each other that way."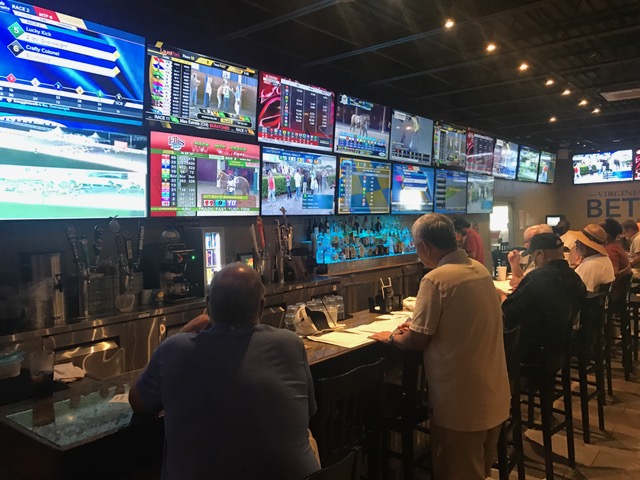 Buckets OTB in Chesapeake is one of four VA-Horseplay sites in the Commonwealth.
"I think the quarantine has driven some sports watchers & bettors to horse wagering," he added. "Oaklawn is the top track running thru Arkansas Derby Day on May 2. They have solid 10-12 race cards." All sources handle on Oaklawn's card April 11 was $16.9 million, a new record. Other U.S. tracks currently running include Tampa Bay Downs, Gulfstream Park, Will Rogers Downs and Fonner Park.
On line handle may up but Historical Horse Racing (HHR) wagering and horse race simulcasting (at four Rosie's sites and the four VA-Horseplay OTBs) is off dramatically due to Covid-19. Those sites shut down March 16 and comparison numbers to the month prior fall in line with expectations. HHR handle for February was $205,324,358 while in March with just half the days, it was $103,652,921. A total of 2,150 terminals are in operation at locations in New Kent, Richmond, Hampton and Vinton.
OTB handle in February was $3,216,482 while the March total was $1,637,297. The Buckets OTB site in Chesapeake was the top performer with $357,457 in handle while the Breakers OTB in Henrico was next with $332,885.