Stall applications for the 2020 Colonial Downs summer season are now available for download at colonialdowns.com and vabred.org plus, the Colonial condition book will be released shortly. This year's meet is scheduled to run July 23 – August 29. With a virtual running of the Kentucky Derby set for Saturday May 2 and an actual Arkansas Derby — in two $500,000 divisions — set for the same day, the time seems right to take a look back at the Colonial Downs "Racing Revival" season last summer.
Virginia's first partnership with horses began back in 1609 with the arrival of the first horse to the Virginia colonies. According to many historians, the first American horse races were held in Henrico County, near Richmond, in 1674 and the first racetrack in Virginia was a one mile oval that operated in Williamsburg in 1739. Now fast forward 279 years.
In 2018, the Virginia General Assembly passed House Bill 1609 which authorized expansion of the Commonwealth's pari-mutuel wagering laws to include betting on horse races that have already taken place (Historical Horse Racing). That legislation triggered thoroughbred racing's return to Colonial Downs last summer through the investment of the Colonial Downs Group — a division of Peninsula Pacific — for the first time since 2013.
With the call of "Riders Up" from Kate Tweedy, daughter of Secretariat's owner Penny Chenery, thoroughbred racing in Virginia began a new era August 8, 2019 as Colonial Downs conducted racing for the first time in six years. The five week meet was met with enthusiastic crowds and top flight racing that saw 1,229 horses compete over five weeks for $7.4 million in purse monies.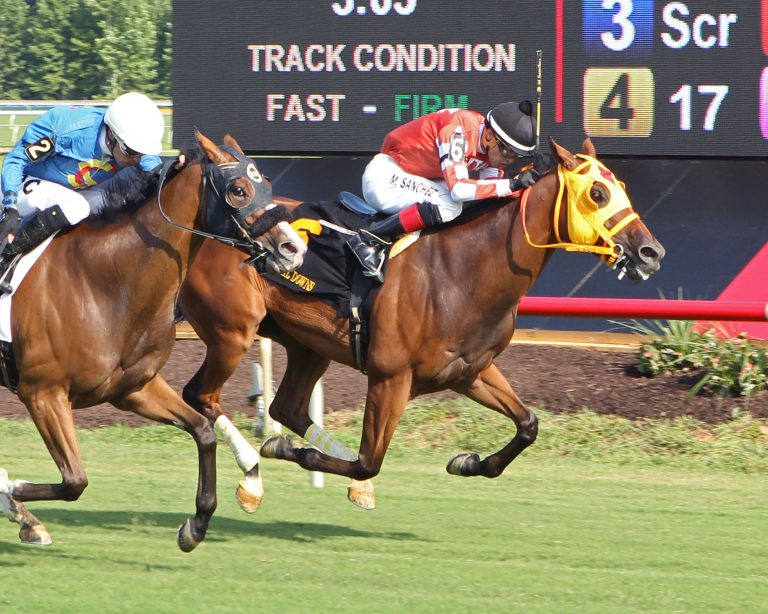 Charmn Charlie Ray held on to win the first race with Mychel Sanchez up top. Photo by Coady Photography.
Foxtale Racing Stable's Charmn Charlie Ray, ridden by Mychel Sanchez, went wire-to-wire in capturing the meet's first race by a head over Conquest Falcon. On his reaction to his winning the first race back at Colonial, Sanchez said, "It was pretty awesome. This was my first time here and it's a beautiful place. Happy for everyone to get it back going again. The turf is amazing."
A Glittering Night for the Virginia Derby
One of the season's top moments was the 17th running of the Virginia Derby, which along with a stellar under card of three additional stakes, highlighted a "Racing Revival Weekend". Top three-year-old turf horses like Eclipse award winning champions English Channel (2005), Gio Ponti (2008) and Kitten's Joy (2004) have reached the winner's circle in past Derbies. Other high profile winners include Go Between, Paddy O'Prado and Silver Max among others.
The 2019 edition, a Grade 3 stakes sponsored by New Kent County, was won by Calumet Farm's English Bee who held off a late rally from Jais's Solitude to prevail by a head. Jorge Vargas, Jr. was aboard the Graham Motion-trained son of 2005 Virginia Derby winner English Channel.
"I've had a couple of tough beats (in this race) over the years," said Motion after the race. "This is a tough little horse. He's really deserving because he always shows up and tries so hard. It's great to be here with a big crowd on an exciting night. Great racing." Virginia Governor Ralph Northam presented the Virginia Derby trophy in the winner's circle.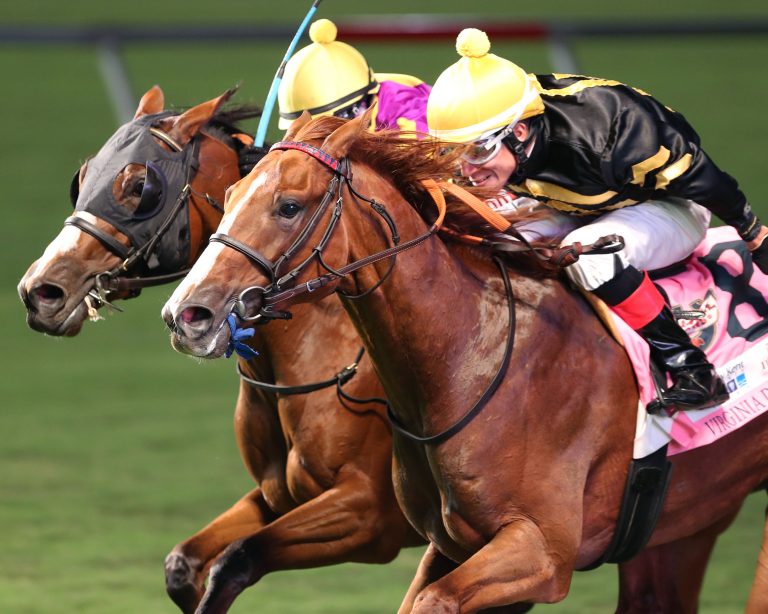 English Bee (inside) noses out Jais's Solitude to win the 2019 Virginia Derby.
In the evening's under card, Godolphin's Carnival Colors rallied three-wide in the stretch and drew off to a 1¼-length score in the $150,000 Fasig-Tipton Virginia Oaks to give trainer Mike Stidham his second stakes tally of the night (he also won the $100,000 Thoroughbred Aftercare Alliance Kitten's Joy Stakes with Doc Boy). Forest Boyce was in the irons for the Distorted Humor filly.
"I ran a few horses at Colonial years ago but never came here in person," Stidham said. "This is the first time we've had a major presence here. The purse money is great and both racing surfaces are fabulous. I couldn't be happier. I wish the meet would never end."
It's not often one sees a first-time starter in a $100,000 stakes race, let alone win it, but that's what happened when Breeze Easy's Four Wheel Drive was on cruise control in taking the Exacta Systems Rosie's Stakes by 3 ¼ length. Jorge Vargas, Jr. rode the Wesley Ward-trained son of Triple Crown winner American Pharoah to victory in a course-record time of 1:00.84 for the 5½ furlongs.
After the win, owner Mike Hall spoke of lofty ambitions he had in store for Four Wheel Drive. "We bought this horse as a yearling and we've trained him through the process," he said. "Wesley told us it was time for him to run. We made plans to run in this race several months ago and it really worked out well. We'll probably try to get to at least one more race and hope to get to the Breeders' Cup."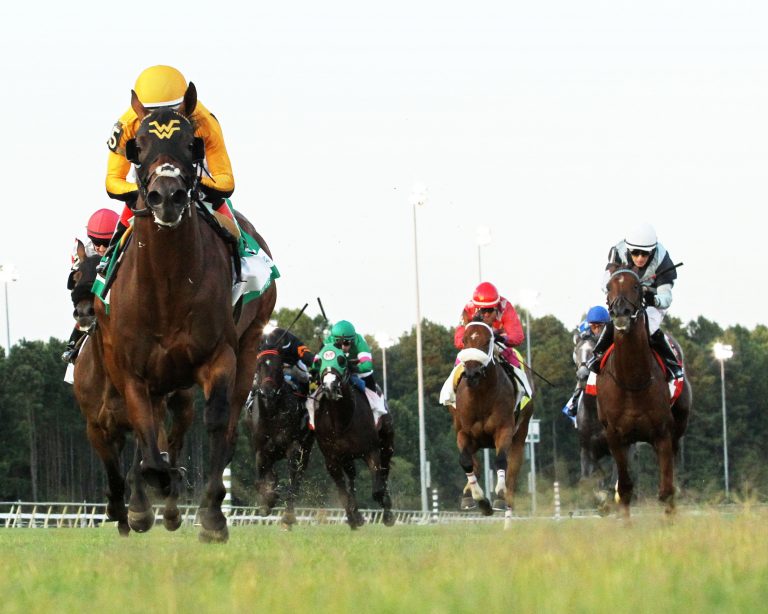 Four Wheel captures the inaugural running of the Rosie's Stakes in 2019.
Four Wheel Drive followed his owner's desires to a tee. The three-year-old Kentucky-bred colt went on to win the Grade 3 Futurity Stakes at Belmont and the $1 Million Breeders' Cup Juvenile Turf Sprint at Santa Anita.
Rick Kanter's Doc Boy overcame a tardy start and rallied wide in the second turn to capture the Kitten's Joy Stakes. "I'm pleased he was able to step right out of a maiden race and win a stakes," said trainer Stidham. "That's what we were all hoping for. He still has a lot to learn. He's a big powerful horse. He's got a big future I think."
Doc Boy kicked off 2020 with a win in the Columbia Stakes at Tampa Bay Downs and rolled into spring with $153,155 in purse monies.
Virginia-Bred/Sired Stakes Bookend The "Racing Revival"
Nine stakes for Virginia-Bred/Sired horses that each featured $100,000 purses created some memorable moments as well.
Eagle Point Farm's homebred filly What the Beep overtook longshot English Heiress in deep stretch to win the first of those, the M. Tyson Gilpin Stakes, by a length on opening weekend. Owner-trainer Godsey was both ecstatic and emotional afterwards. "My family fought so hard for Colonial Downs to get here originally, then fought so hard for it to come back (after a six-year hiatus). The mare's dam (Toccoa) was the first winner I had as a trainer and to win in front of this huge crowd was awesome. It's hard to put into words how I feel."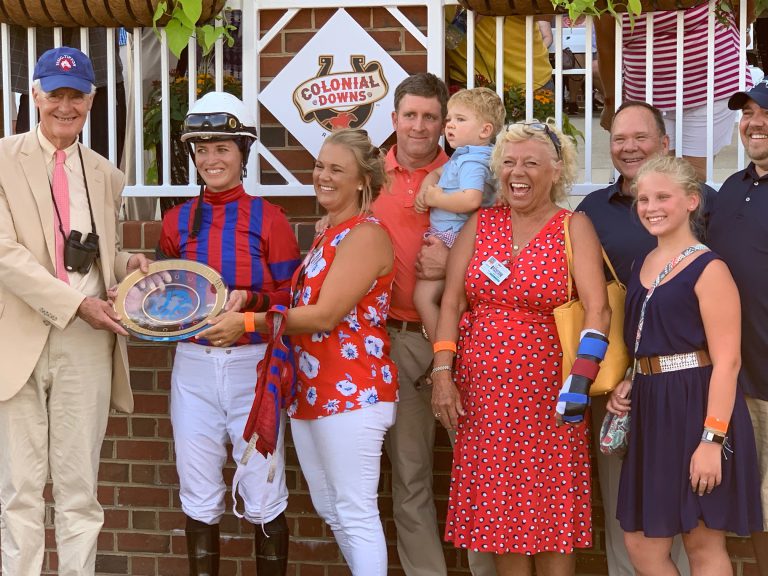 Trainer Karen Godsey, her mother Donna Dennehy, and jockey Forest Boyce are all smiles after What The Beep's win.
Later that evening, Morgan Ford Farm's River Deep was moved up to the top spot in the Edward P. Evans Stakes following the disqualification of original winner Speed Gracer who was placed fourth following a steward's inquiry. The adjudicated victory gave the Phil Schoenthal-trained son of Arch his third Virginia-Bred stakes triumph. He won the 2018 Hansel and Bert Allen Stakes at Laurel Park.
The meaning of that opening weekend event was not lost on Schoenthal, "What's special about this day is that it rewards all the breeders that hung in there for all those years (with no racing in Virginia) and kept on breeding Virginia-breds. It would have been very easy to ship their mares to Maryland, Pennsylvania, New York or anywhere else, so it was gratifying to see these people being rewarded with $100,000 purses in their home state, on a beautiful night, at a beautiful racetrack. It's a great night for Virginia racing and Virginia horse breeders."
On closing night, Holly and David Wilson's Yes It's True filly, Holly Hundy, invaded from California complete with her regular jockey, Hall of Famer Kent Desormeaux. She earned an easy three-plus length victory over Solarte in the Camptown Stakes and boosted her bankroll to $145,022. The resume enhancing victory helped propel Holly Hundy to be named 2019 Virginia-Bred 3-Year-Old Filly of the Year.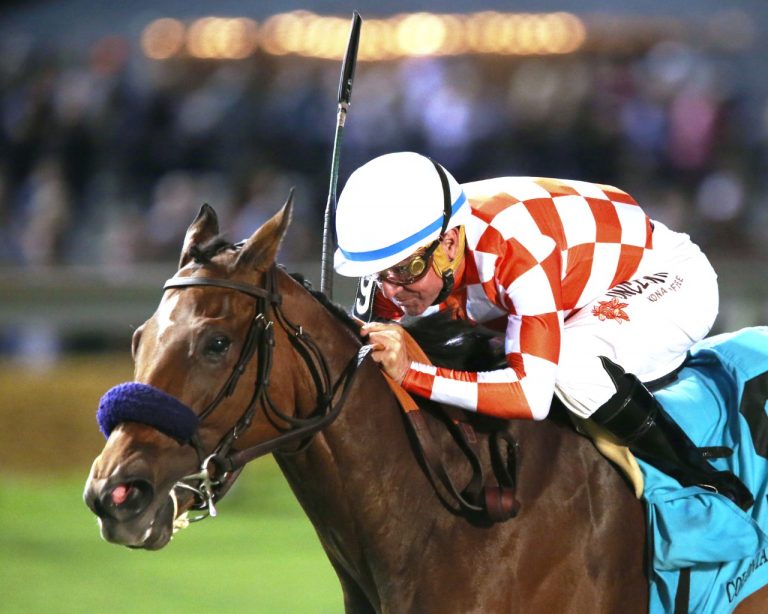 Holly Hundy, with Kent Desormeaux aboard, was best in the Camptown Stakes at Colonial Downs. closing night. Photo by Coady Photography.
Saratoga shipper Ferdinanda, who races in the silks of Ann Backer and is trained by Barclay Tagg, made easy work disposing of her rivals in coasting to a six-length victory in the Brookmeade Stakes. "I knew I was on a pretty nice horse when I looked in the program and saw the name Barclay Tagg," said winning rider Forest Boyce. "The first part of the race I just let her find her own position, find her own way. I just waited as long as I could before making a move to the lead."
Ferdinanda was recognized as Top 2019 Virginia-Bred Older Turf Mare while the Backer Stable earned Top Virginia Breeder honors.
Several Open stakes were contested during the meet. Extravagant Kid, owned by Northern Virginia businessman David Ross, invaded from Kentucky (via Toronto) to win the $75,000 Da Hoss Stakes. By year's end, the 7-year-old son of Kiss the Kid's career bankroll stood at $727,214 from 12 wins. The Da Hoss was one of four stakes triumphs he had in 2019. His others came at Gulfstream, Tampa and Churchill.
"It's just wonderful to see a great horse win a great race," Ross said after the victory. "He's just a terrific horse." Ross also spoke of racing's return to New Kent. "I can't tell you how impressed I am with the operation here. It's just been a step above anything I could ever have imagined. We've been supporting Colonial for years and it's so good to be back and so good to see the quality of the operation. It's only going to get better from here."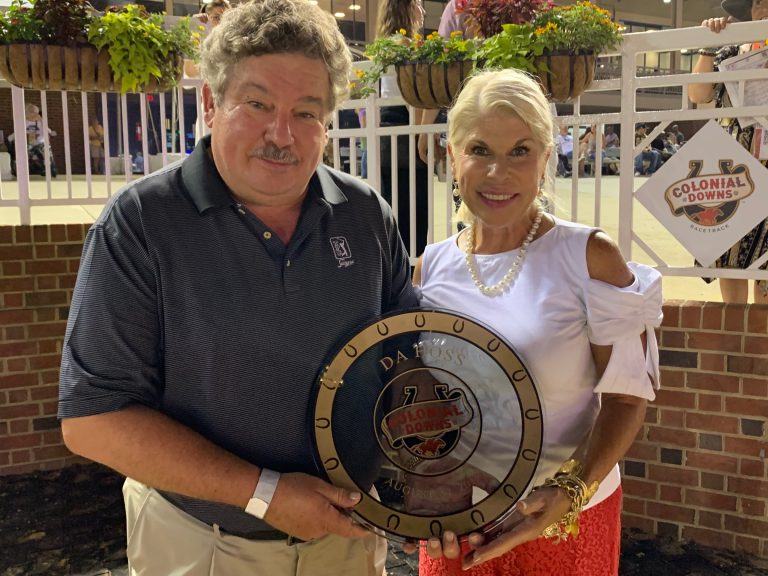 David and Dana Ross are shown with the Da Hoss trophy courtesy of Extravagant KId's win.
Reality Horse Racing's Redeemed Gentleman made a five-wide rally down the lane to win another Open stakes, the $75,000 Old Nelson Starter Handicap, at odds of 39-1. The Maryland-bred rewarded his backers with a $81.80 payoff. It was the first stakes win for both trainer Anthony Aguirre and owner Jerome Aiken.
"We've had a lot of setbacks getting to this point," said a jubilant Aguirre in the winners circle. "We knew he (Redeemed Gentlemen) would relish the distance. We don't often have this kind of opportunity to run 1 3/16ths in Maryland, let alone on turf," he added. "We knew the company would be tough and obviously the bettors thought so also at 39-1."
Season Ending Figures — "An Unqualified Success"
Sparked by outstanding participation from horsemen and racing fans, Colonial Downs concluded its 2019 race meeting punctuated by a lucrative daily purse structure, large fields and an emphasis on horse safety and welfare for its participants.
Total handle for the 15-day meet exceeded $17.5 million for the 144 races that were conducted. 895 different horses competed representing 17 states including the Northeast and Mid-Atlantic regions, and also from California, Kentucky, Minnesota, Louisiana and Florida. Average field size was 8.53 horses per race. There were no racing or training equine fatalities from the time the barn area opened on July 25.
As an incentive for horsemen, Colonial Downs introduced both owner and trainer participation programs. Each owner received $1000 per start for any of its horses which did not earn $1000 in that race, and each trainer received $300 for each time they started a horse. Colonial paid out $614,000 in owners incentive bonuses and $364,300 in trainer bonuses. Colonial also established a mount fee schedule with a minimum fee of $125 per ride, the highest in the Mid-Atlantic area.
Among sweeping improvements to the facility were upgrades to the racetrack, including a new irrigation system for its world-renowned Secretariat turf course, renovations to the 1 ¼-mile dirt track, stable area and paddock, receiving and test barns and dormitories and a new jockey's room kitchen.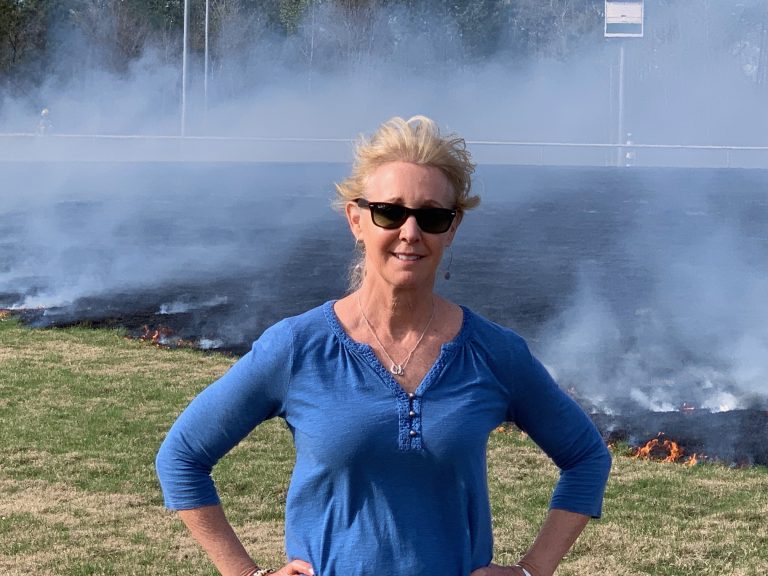 Colonial Downs VP of Racing Jill Byrne stands in front of a controlled burn of the turf course, which took place March 30th this year in preparation for the 2020 season.
90% of the races were held over Colonial's massive grass course which is the widest in the country at 180 feet across. It is 7 1/2 furlongs around at the inner most rail setting and 1 1/8 miles at its outermost. To recognize Secretariat's Virginia legacy, the Colonial Downs turf course was named in the champion's honor in 1998, and that relationship was renewed with the Secretariat Foundation in July, 2019.
Besides Derby Day's winning conditioners mentioned earlier, the meet drew top trainers from across the country including Shug McGaughey, Jonathan Sheppard, Arnaud Delacour, Jonathan Thomas, Tom Proctor, Ferris Allen, Steve Asmussen, Dallas Stewart, Ian Wilkes, Vladimir Cerin and Bob Hess.
Mike Stidham and Jamie Ness led all trainers with 10 wins apiece, with Ness topping the leader board in purses with $293,040. David A. Ross's DARRS, Inc., led the owner standings with five wins, followed by Endsley Oaks Farm with four. Trevor McCarthy led all jockeys with 15 wins and $777,590 in total purses. Horacio Karamanos, Daniel Centeno and Mychel Sanchez all tied for second, each with 13 victories. Karamanos led all riders in mounts with 101.
"By all accounts, our Racing Revival was an unqualified success," said Jill Byrne, Colonial Downs Vice President of Racing Operations. "The 2019 meet was an especially emotional and rewarding season for the hundreds of people who worked so hard over the last year to make the return of racing in Virginia become a reality. We thank our horseman who participated, to all of our fans who came out and enjoyed a tremendous experience, and to the dedication and support demonstrated by our racing department, officials and track maintenance team which worked long hours with great efficiency in conducting a safe and successful racing program."