The Covid-19 pandemic has played havoc with events around the globe, and Virginia's spring horse racing season has been no exception as postponements and cancellations have dotted the spring calendar. Virginia's oldest steeplechase meet — the Middleburg Spring Races — was set to have its 100th running April 18 at picturesque Glenwood Park. Due to the pandemic, the meet date has changed twice and is now scheduled for Saturday June 13, although the event could hinge on what virus-related Executive Orders Governor Ralph Northam may or may not have in place at that time. His current stay at home order is in effect until June 10.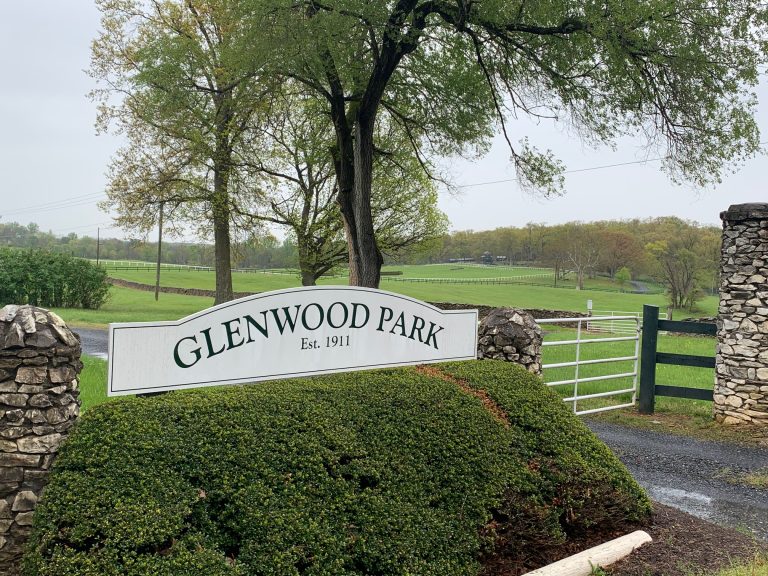 Glenwood Park is scheduled to host the 100th edition of the Middleburg Spring Races June 13.
Traditionally held the "Third Saturday in April", the Middleburg Spring Races are synonymous with hospitality, graceful country living and great sport. Signs in town promote that Middleburg IS Virginia horse country. The first steeplechase meet was held there in 1921 and its rich history dates back to 1911 when Daniel Cox Sands organized the first Middleburg Hunt meet.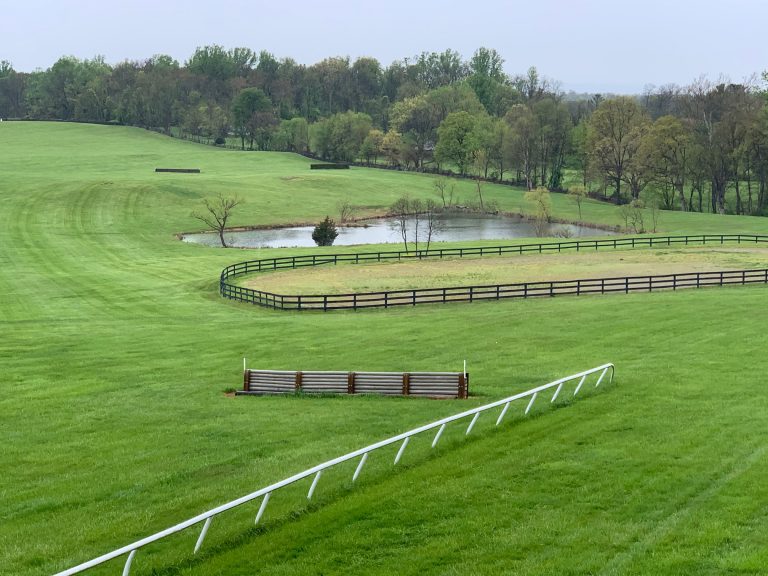 Middleburg's grass course is 1 1/4 miles around at its outermost point.
Doug Fout has been President of the Middleburg Spring Race Association for 17 years and is carrying on a legacy started by his late father Paul, who was Past President, Chairman and GM of the Spring Races. "I was born and raised on this course," he said. "When I was five or six years old, I ran up and down the bleachers, ran in the woods here and pretty much got lost in the woods."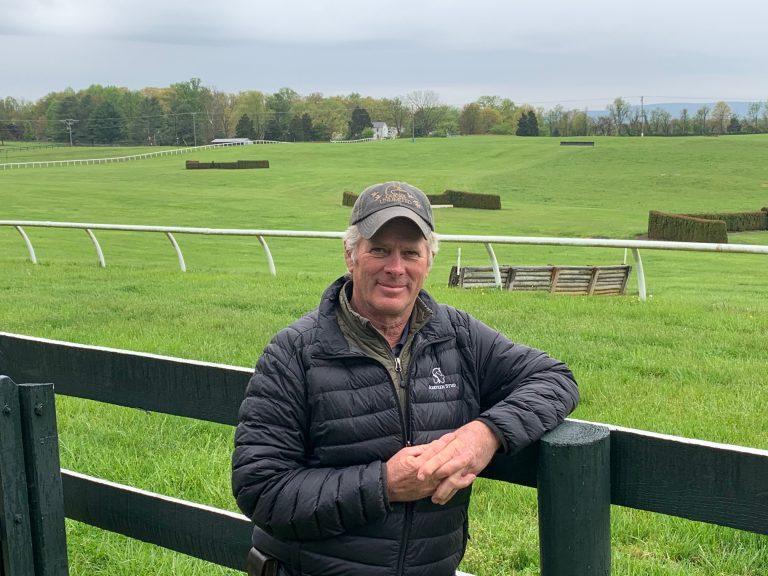 Middleburg Spring Race Association President Doug Fout is also Clerk of the Course for the Fall Races and Point-to-Points held at Glenwood Park.
The property encompasses 112 acres and the grass course is 1 1/4 miles around at its outermost lane. There are three barns and 88 stalls. Spectators enjoy a view of the Blue Ridge Mountains in the background. Under Fout's direction, Middleburg has gone from a Class D course to a Class A venue. "I've enjoyed the transition and am amazed how much it has changed over the years," he said. "At one time, the head trustee here used to have cattle on it and only moved them off the property ten days before the races so we could get a chance to mow the grass before horses arrived."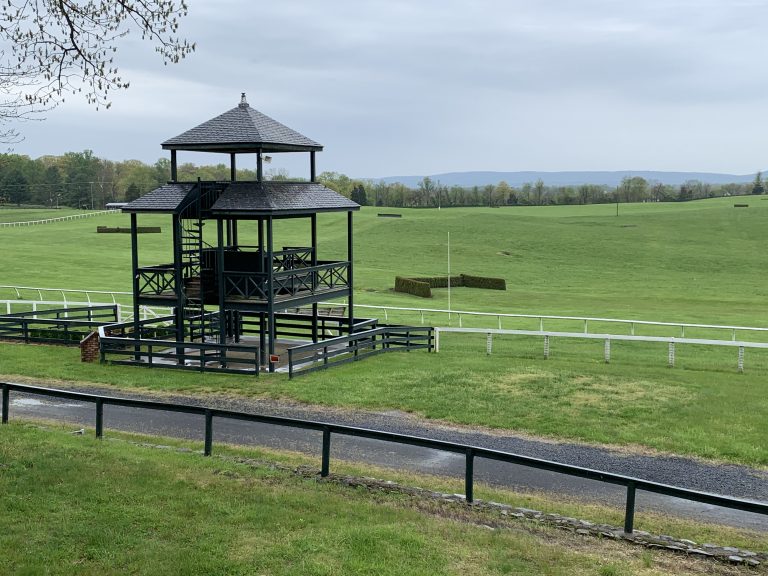 The Blue Ridge Mountains provide a scenic backdrop for spectators at Glenwood Park.
Over time, each sanctioned steeplechase meet in the Commonwealth — the Gold Cup, Montpelier and Foxfield — has developed its own niche. "Out meet is so different because we only have one road coming in and one going out, so we can only accommodate a certain amount of people," said Fout. "And it's an old country road that is so narrow and limited."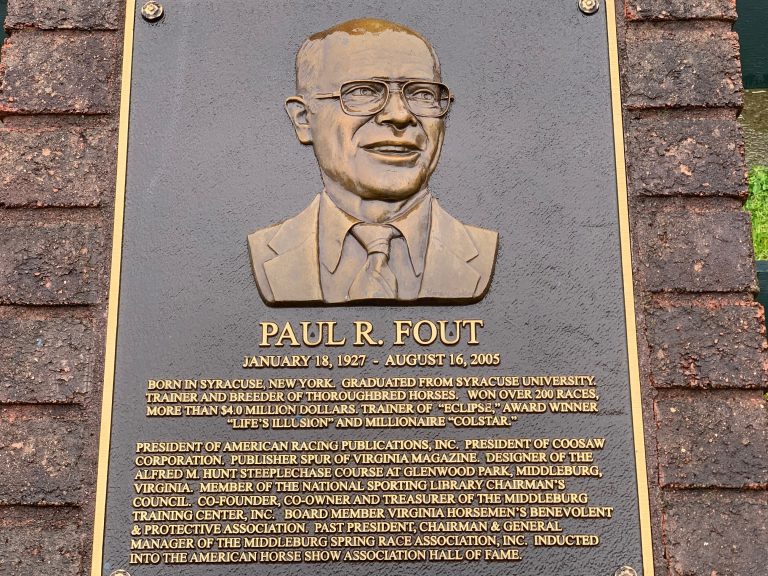 Paul Fout, Doug's father, started the process of elevating the Middleburg Spring Races to a Class A event.
Attendance averages between 6,800 and 7,200 by design. "It's a boutique meet and we don't cater to big crowds," said Fout. "We have a quality crowd that tends to come in smaller groups and actually enjoys watching the races while they tailgate. No matter where you stand or sit, you'll have a great view of the course all the way around. And that goes for people that pay $15 for a ticket as well as for major sponsors that might pay $10,000 of $15,000," he added. "We purposely don't park cars in the infield. If we did, we'd lose the beauty of the racecourse and don't want to lose that ambience. At Glenwood, you're in a bowl looking out at the Blue Ridge. We'd never want to jeopardize the value of that view."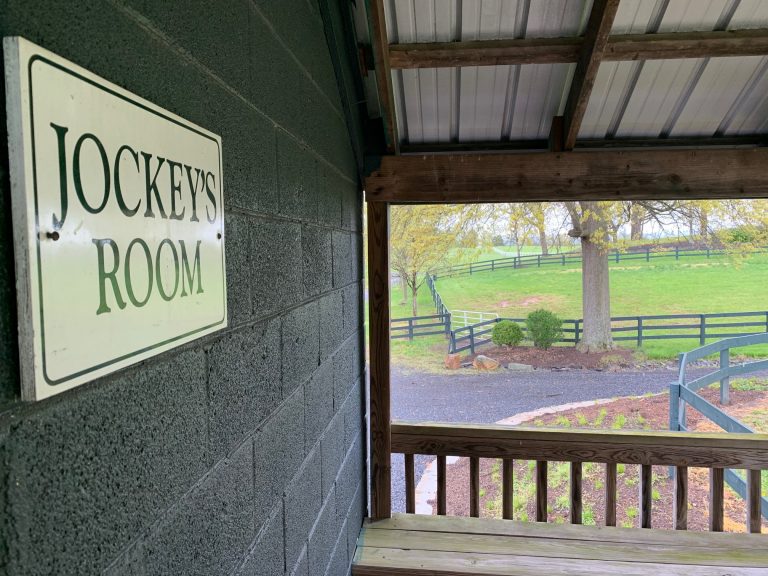 The Jockeys Room at Glenwood Park offers a pleasant view from its porch.
As far as the race program itself goes, Fout's goal is to stick with a similar event lineup each year. He dedicates around $190,000 for purses and come June 13 — assuming they are able to run with or even without spectators — anticipates carding as many as nine or ten races. Featured annual race is the $75,000 Temple Gwathmey, a Grade 2 hurdle stakes which has been contested at Glenwood since 1990 and features the best hurdle horses in the country. Another staple is the Alfred Hunt Steeplethon which is two miles, five furlongs in length and held over various fences and obstacles like ditches, banks, brush, timber, coops and water. The "fanciful" course was designed by Doug's father and Tommy Beach. Similar races are also held at Willowdale (Pennsylvania) and at the Gold Cup so horses have a series of sorts in this category.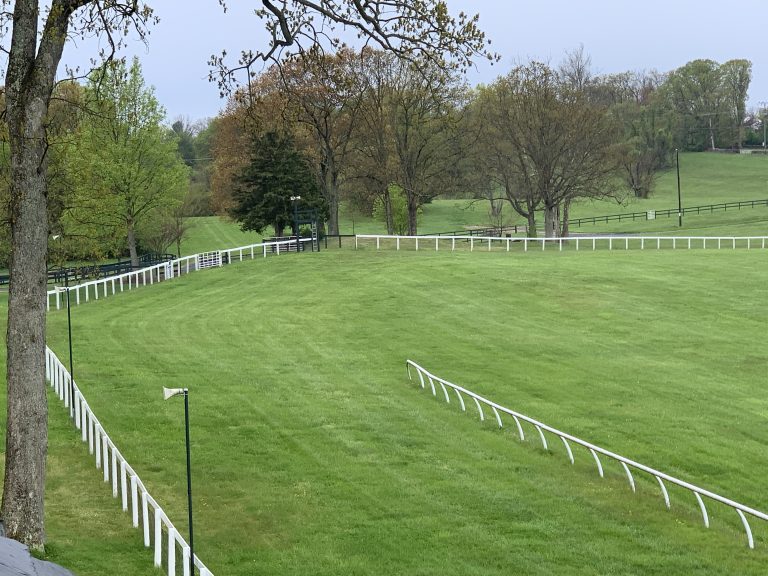 Glenwood Park's final turn before the finish line.
"Besides those two, I always schedule a straight non-winners of two (NW2), a timber stakes, and a maiden hurdle that is often split into two divisions," said Fout. "I like having a handicap race for older horses and a straight NW2 because it gives maiden horses another stepping stone to get more experience before they have to jump into the heavy hits."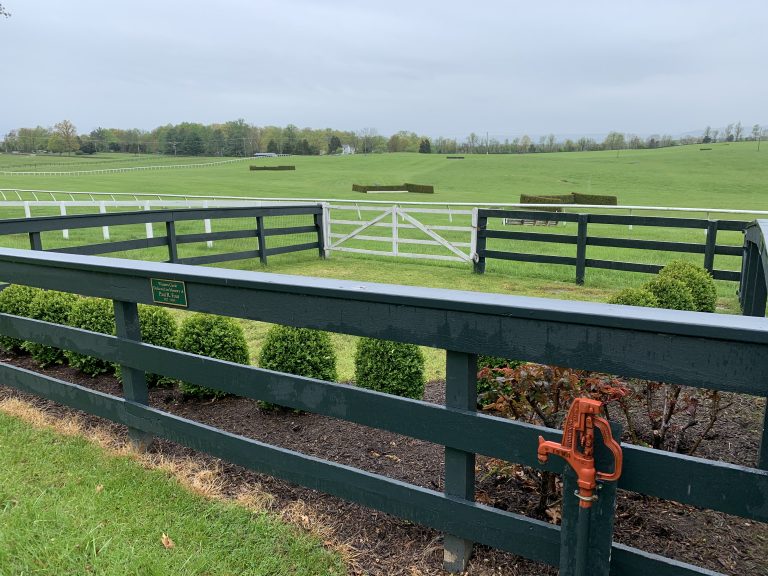 The winners circle at Glenwood Park is also named in Paul Fout's honor.
In order to ensure a solid future, the Middleburg Spring Races recently began an endowment campaign which coincided with the celebration of their Centennial Year launch. Fout said the return generated by a $3 million endowment will be used solely for annual purse meet distribution and no other expenses. The campaign has already generated $1.2 million toward that goal.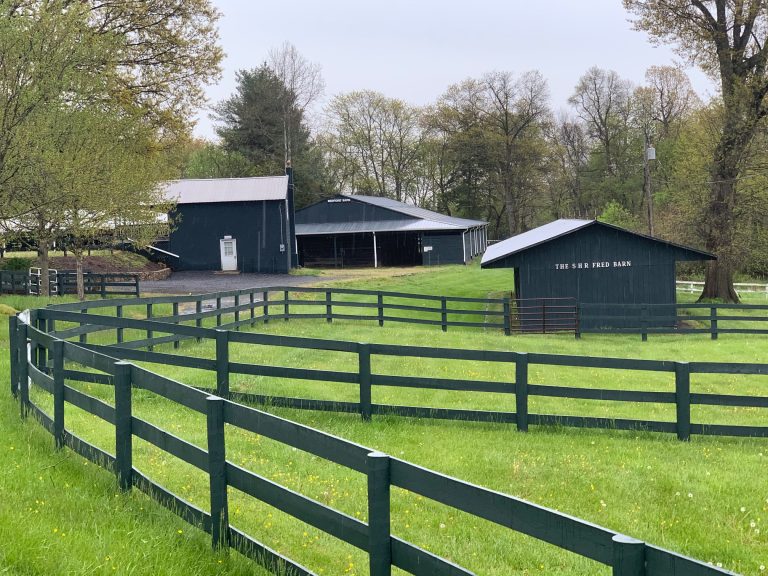 Glenwood Park has 3 barns that provide 88 stalls for competitors.
"We're different from other meets in that we don't have to count on all the spectator tailgates and general admission revenues to help with the purse structure," said Fout. "Of course those proceeds help to pay expenses but we can't get enough people in here to make a big difference with purse monies given our capacity. We have a Sports Council group that has been the long time backbone of our race meet along with a number of individuals that have been kind and supportive and have been a rock over the years." Members of those groups and other sponsors enjoy premier seating in VIP hospitality areas perched above the finish area behind the stewards stand.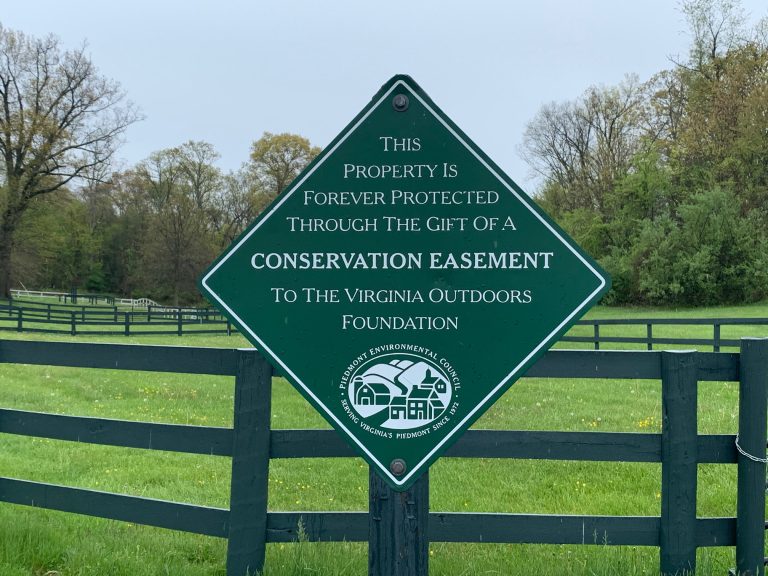 The Glenwood Park property is protected courtesy of a conservation easement.
Besides is passion fpr the Spring Races, Fout currently trains 24 horses at his farm in The Plains, conveniently located just ten minutes from Glenwood Park. His most accomplished horse was Hirapour, who won an Eclipse award and six Grade I stakes including a track record performance in the 2004 Colonial Cup at Springdale Race Course. Proximity between the farm and Glenwood is key. "I stay busy," he said. "I'm always running horses and still try to get up to Glenwood two or three times a week. Sometimes I'll even work there all weekend. I've got a great long time assistant there in Brian Pope who takes care of mowing, maintenance, roads, barns, fences and pretty much anything else. He's a blessing."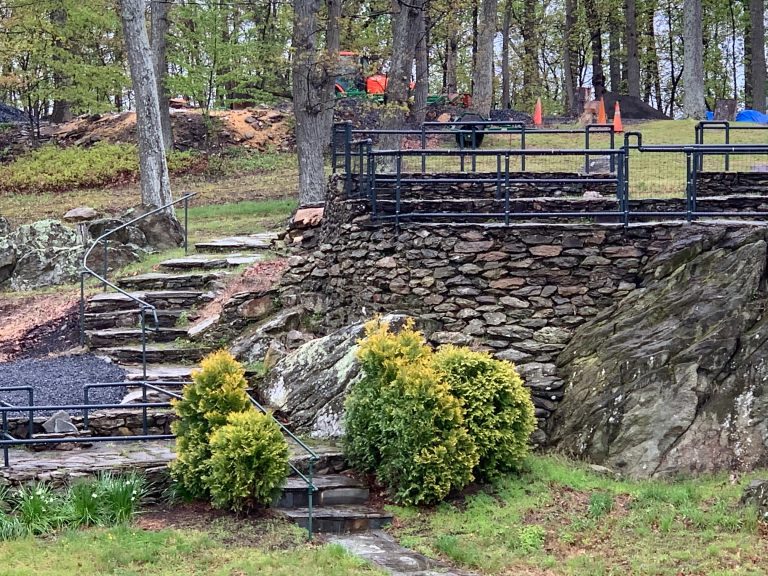 Steps lead to a VIP tailgate/tented area for race sponsors.
Fout gets emotional when he thinks about the effort his father put in to Glenwood Park and the efforts he continues to make to bring it to another level. "I just have a ton of pride in this place," he said. "I'm trying to follow in my father's footsteps to make the course better each year and have a bigger purse structure. My father's dream was to see this upgraded and he saw it 90 percent of the way through. I just wish he could see it today."