When Anne Tucker's prize horse Boltin Out won the Punch Line Stakes, two allowance races and Horse of the Meet honors at the 2013 Colonial Downs thoroughbred season — it's final one before a six year hiatus — it provided an exclamation point to a 15-plus year legacy as a breeder/owner.
Based at her Bowles Knob Farm in Western Hanover County, Tucker estimates she bred 30 or 40 horses over the years once she retired in 1996 from a career in immunotoxicology at the Medical College of Virginia and the National Institute of Environmental Health Sciences. From that point, she devoted all of her time to breeding and from a small band of mares, had 21 winners including two stakes winners.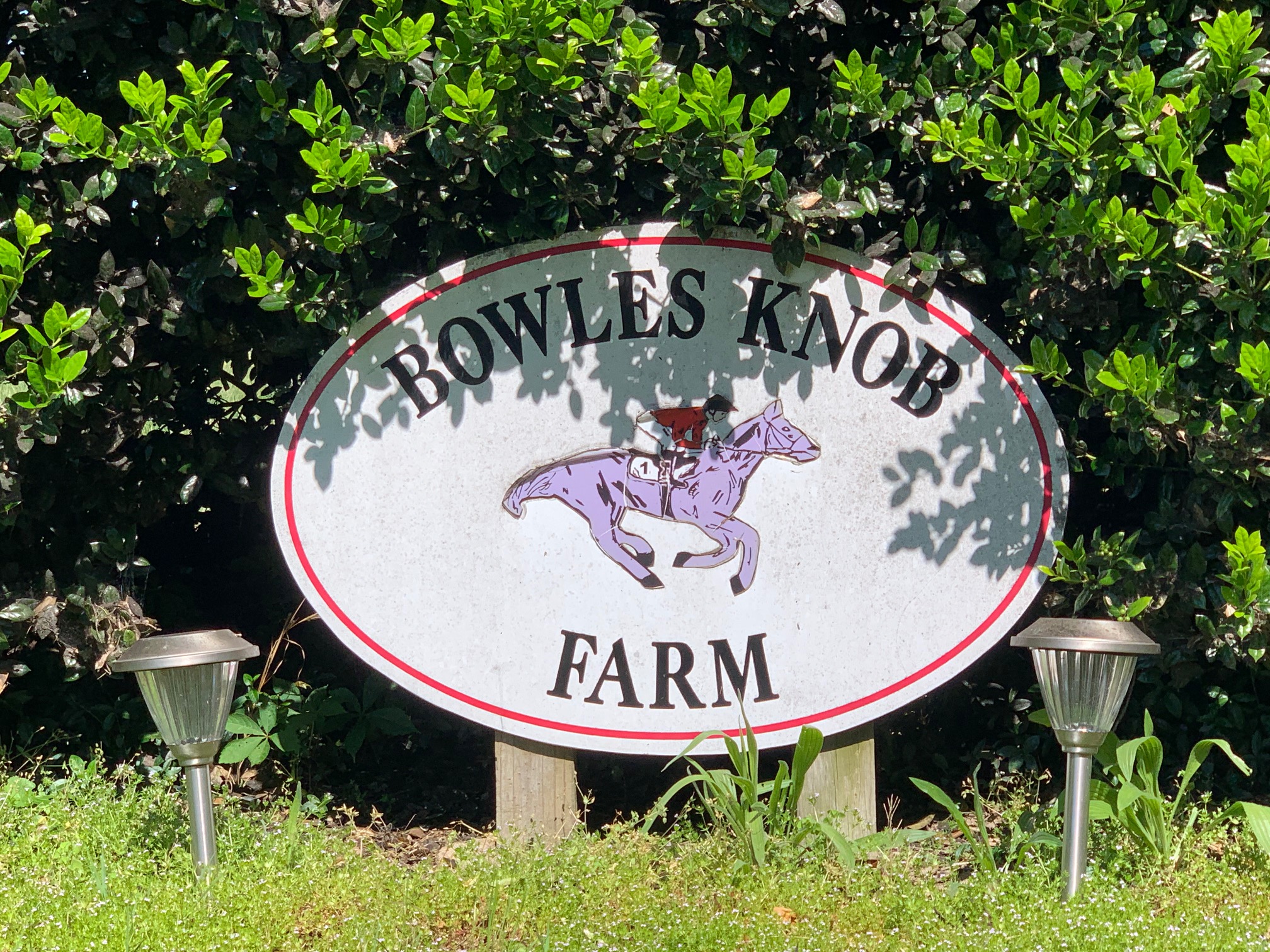 Anne Tucker's Bowles Knob Farm is located at the highest point in Hanover County.
Her great grandfather was the owner of Day Star, the fourth Kentucky Derby winner back in 1878. "He and my grandfather were noted breeders in Kentucky," she said. "My grandfather passed away at an early age from pneumonia and my Dad was a just a kid then so of course I never knew him. As a child, I used to go the track in Kentucky with my uncles and all of them were either trainers or bookies. They'd take me into a barn and introduce me as Kenny Nickols' granddaughter. I could do pretty much anything I wanted from that point. I could sit on a lead pony or do whatever. So yeah, racing's kind of in my blood."
Besides her breeding/racing involvement, Tucker is past president of the Deep Run Hunt Horse Show Association, a past board member of the Virginia Thoroughbred Association and was involved in founding the James River Chapter of the Thoroughbred Retirement Foundation —a Second Chances program offering unwanted race horses and inmates another chance — and is still active there.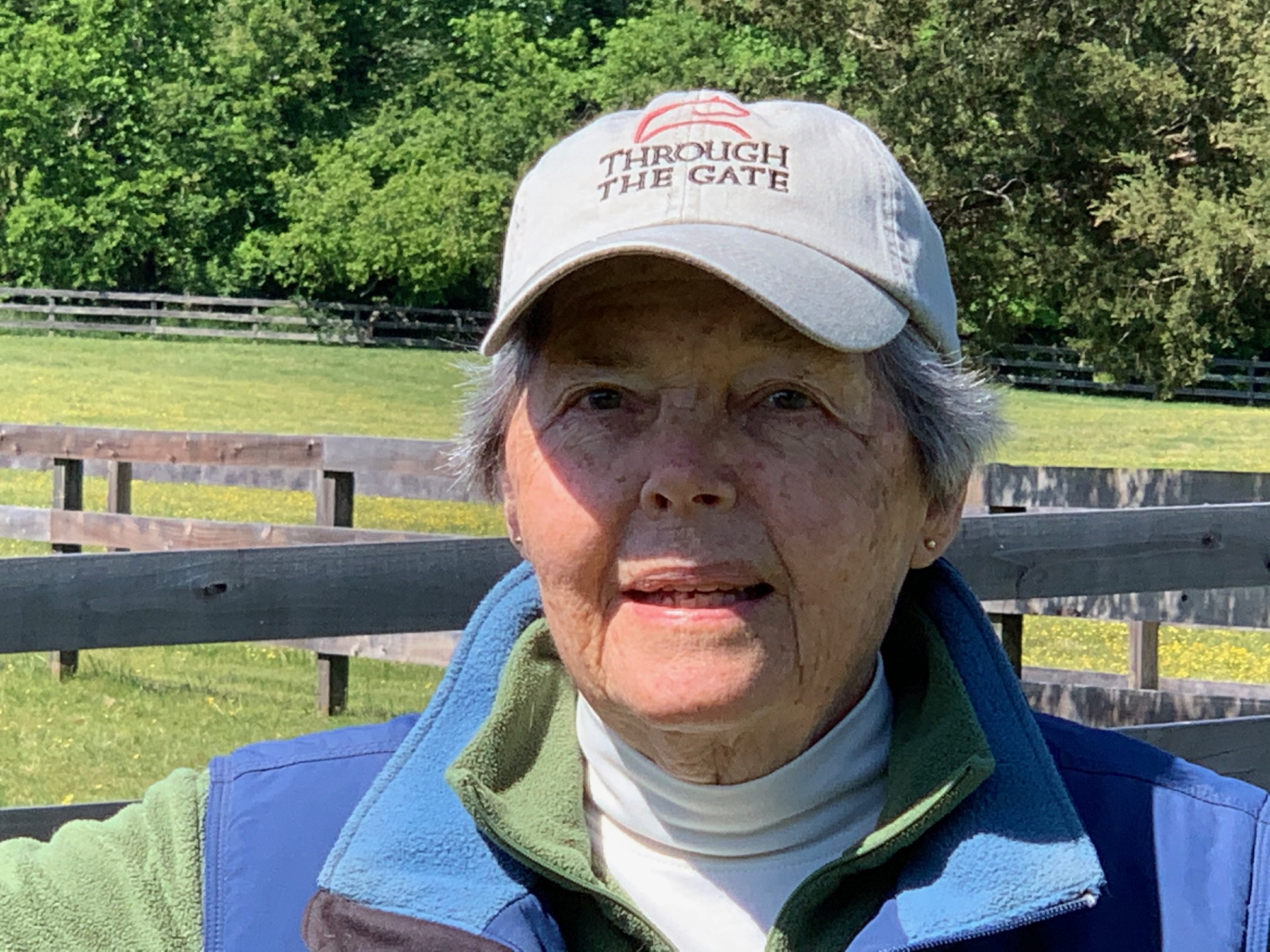 Anne Tucker, along with Mary Looman, conducts the "Through The Gate" program at Bowles Knob Farm.
Scootin Girl provided an early success story as a breeder/owner. She broke her maiden at Colonial in 2001 and went on to win a handful of races with purse earnings of $147,193. The Dumaani mare won the Jenny Wade Handicap (black-type) at Penn National, was second in the '02 Punch Line and '03 Somethingroyal Stakes and competed in seven other stakes. She is out of Boltin Bride by Runaway Groom.
If Scootin Girl offered an initial bookend, Boltin Out's success created a later one of sorts. The Outflanker gelding won a maiden race and a claimer at Colonial in June, 2012 then in 2013, won the trio noted earlier. In his first four starts at Colonial, he went gate to wire. In the first three, he won by at least four lengths. After a 2014 allowance win at Delaware and a runner-up finish in the Punch Line that year — held at Laurel at this point — he called it a career with $174,505 in earnings, six wins and 13 "top three" finishes. Tucker's second career, as a breeder, also reached the finish line.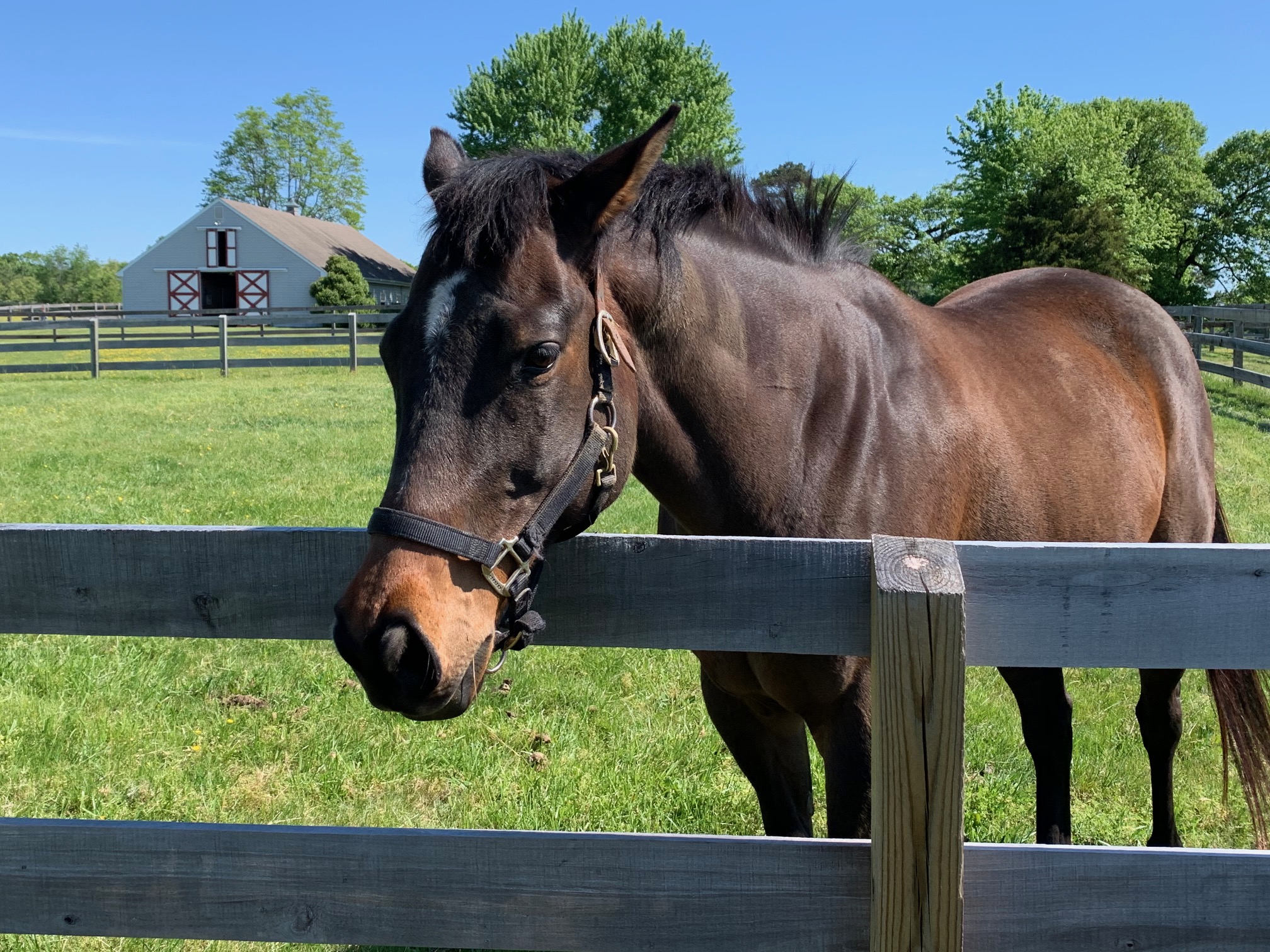 11-year-old Boltin Out enjoys his post-racing career at Tucker's farm.
"We had so much fun with him," she said. Half the fun was with his trainer, Stephanie Nixon. She would run down the steps from the box seat area at Colonial Downs when the horse won, screaming at the top of her lungs. One time the track announcer even called oen of his wins a "Stephanie Nixon scream race. She still comes out to the farm frequently to see him."
Tucker recalled a moment soon after she acquired him. "In 2012, before Boltin Out's first race, he did some work in the starting gate and was taught to go in, stand and walk out," said Tucker. "The day came he was supposed to break in company and I was standing on the hill with Stephanie. I said to her, 'I hope I'm not going to be a laughingstock for claiming this horse Boltin Out.' He didn't disappoint us."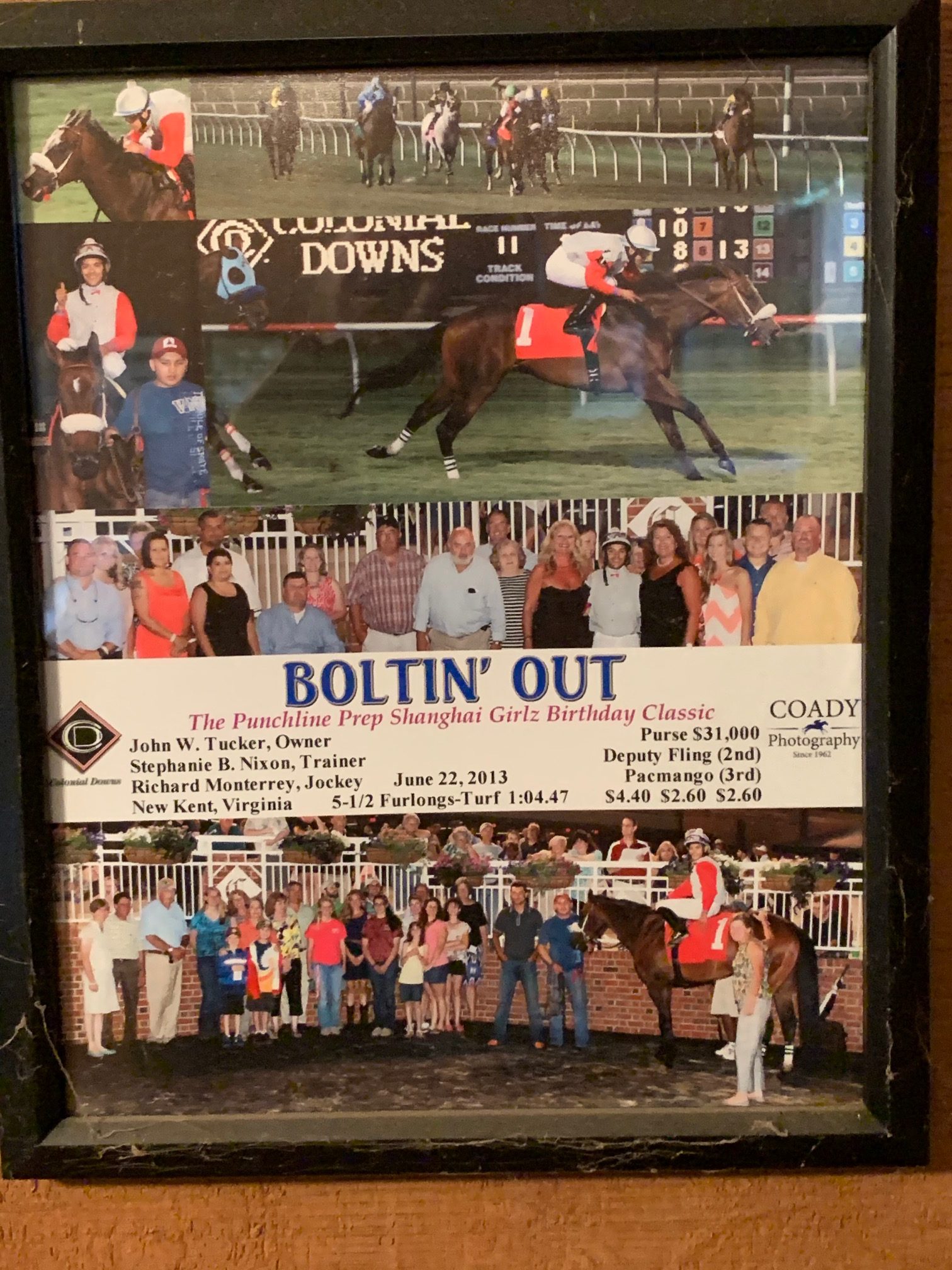 Boltin' Out won the Punch Line Stakes at Colonial Downs in 2013.
When thoroughbred racing returned to Colonial for the first time in six years last summer, Tucker attended but with mixed feelings. "It was tough," she said. "It was my first time at the track without Nellie Cox, who I had horses with over the years and was a great friend (she passed away in 2015). That was hard. And not being involved in the business or having a horse in training any more was tough. It felt weird. But that first part is over now and I'm anxious to go again. I know I can enjoy the races."
Boltin Out's story doesn't end with that 2014 retirement from racing, nor does Tucker's. The pair combine efforts these days at the same place "Bolt" was bred and raised — at Bowles Knob Farm. Tucker has become passionately involved in a program called "Through The Gate", which offers equine assisted personal development through a horse-human relationship model.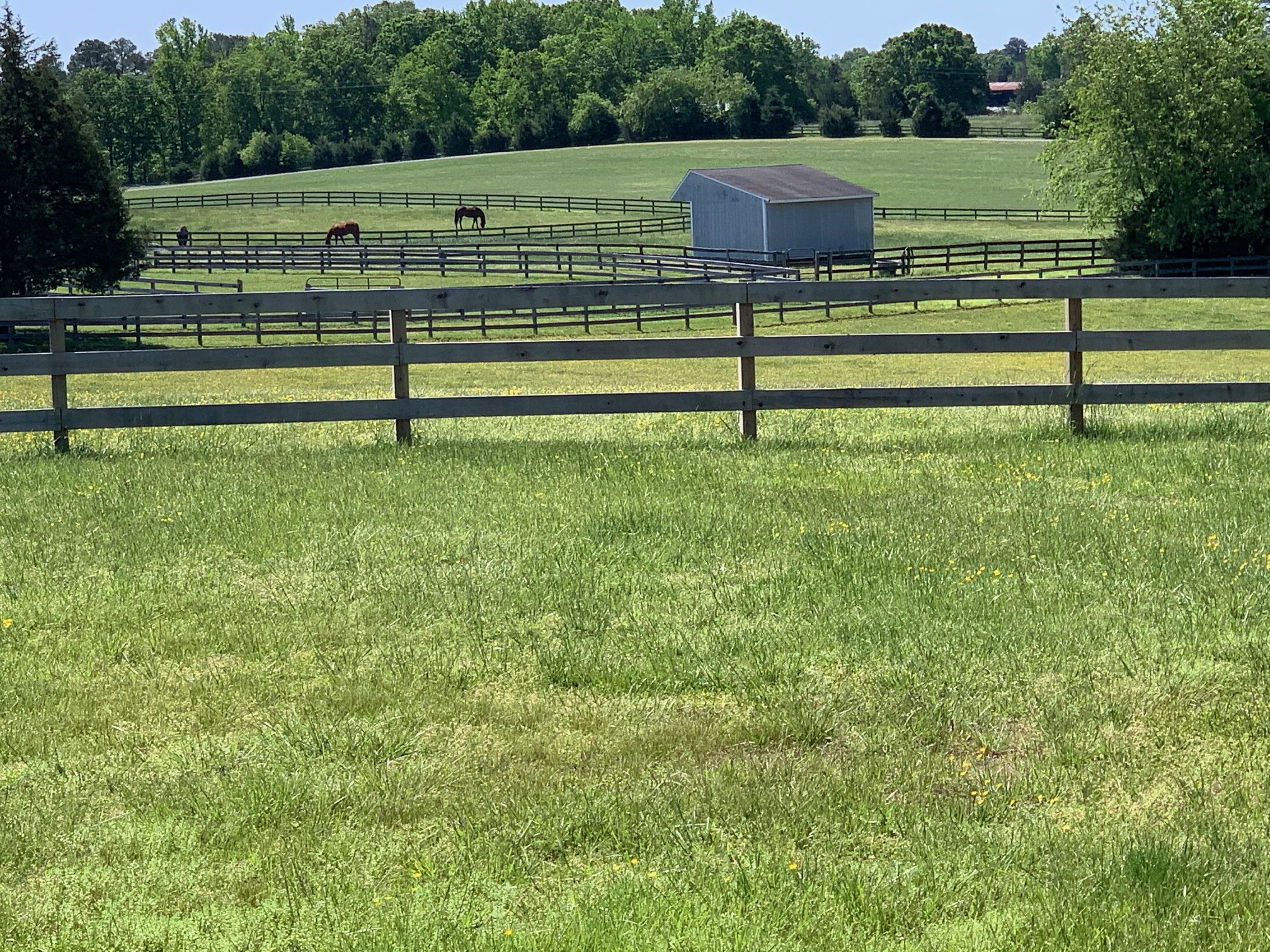 Anne Tucker's Bowles Knob Farm encompasses 42 acres and has 8 paddocks. 10 horses currently reside there.
Using a method called eagala (Equine Assisted Growth and Learning Association), a registered, credentialed mental health professional and a certified equine specialist work together collaboratively to assure clients get therapeutic attention they need as they make life changes. Clients can include those suffering from addictions, depression and trauma and at the same time, those looking to improve relationships in families and groups through team building. Eagala, which was founded in 1999, is a non-profit organization with over 2,500 certified members in 40 countries.
Tucker became interested in eagala soon after she stopped breeding horses and was certified as an equine specialist in July of 2017. She teamed with Dr. Mary Looman, who has a PhD in Clinical Psychology and has been a licensed mental health provider for over twenty years. Her career as a trauma psychologist has been spent working with marginalized people in prisons, psychiatric hospitals and in rural and inner-city communities.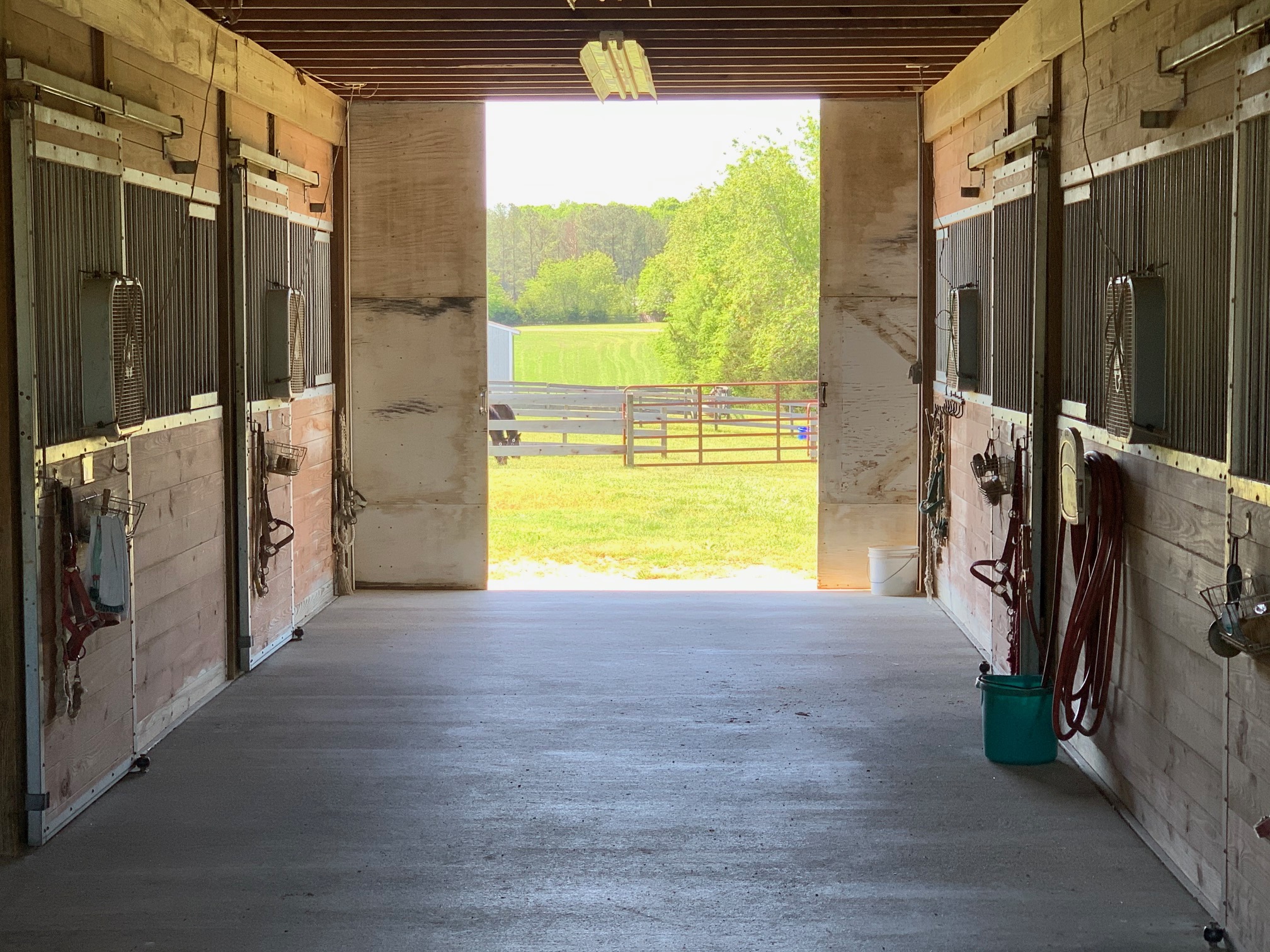 Tucker has owned Bowles Knob Farm for 23 years.
Tucker's farm is ideally suited for teams or clients to focus on their task without distraction. It is private and quiet. Some of her retired horses are living out their years peacefully at the farm where they were bred. A few of them as well as several newcomers participate in her eagala program. "I like to work with thoroughbreds because they are very sensitive, very smart and they engage with people so beautifully," she said. "And they pretty much have been there and done that in so many different scenarios."
"We worked with a nursing student a couple years ago who was having frequent panic attacks. When she first came to work with us, her anxiety level was totally off the charts. She gave off an aura of this anxiety. We worked with her for six weeks and saw a great turnaround. Bolt is sort of our barometer," Tucker added. "We brought her in with Bolt one day and he walked right up to her. When that happened, I just glowed. That showed me he's perfect for this program. He doesn't necessarily like for anybody to come and start fooling with him but he's got the attitude that, 'I've had a few tough days too so lets talk about it'. The student has now graduated, is working in a hospital emergency room, is engaged to be married and has a wonderful life. Success stories like that are very rewarding."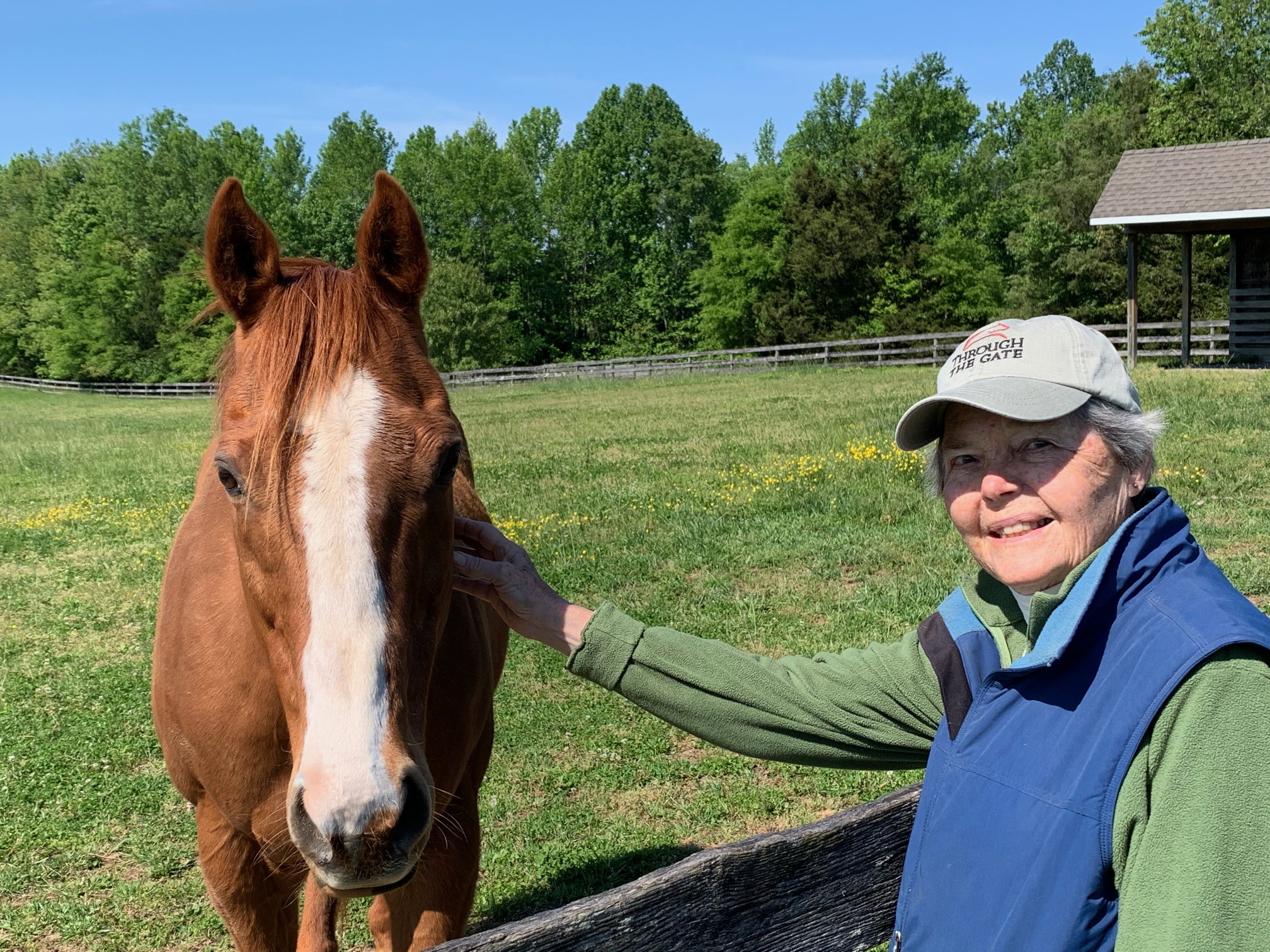 Super Doppler is one of three horses Tucker adopted from the James River's Second Chances program.
Tucker also adopted three horses from the Work Center program to use in Through The Gate too — Super Doppler, Timber Cruise and To Clem. They have all fit in nicely and are active in her eagala activities. Super Doppler is a 25-year-old grandson of Storm Cat and made 83 starts on the Suffolk Downs and Rockingham Park circuit during his racing career. "He had been suffering a bit at the Work Center. He had a lot of dental issues, wasn't finishing his grain and was dropping weight so I brought him here. He is doing lots better, is a wonderful companion for Bolt and has been a great addition to the eagala program."
Timber Cruise, another grandson of Storm Cat, was bred by Stuart Janney, III who also owned and bred 2011 Virginia Derby winner Air Support. Now 15, Timber Cruise competed in New York on the NYRA circuit first then at Finger Lakes and bankrolled $143,063 from 53 starts. "He had sort of an attitude issue initially but he's doing fine now," said Tucker. "He's been here since August and lives out in a far paddock. He is out the Secretariat line so I call him Red."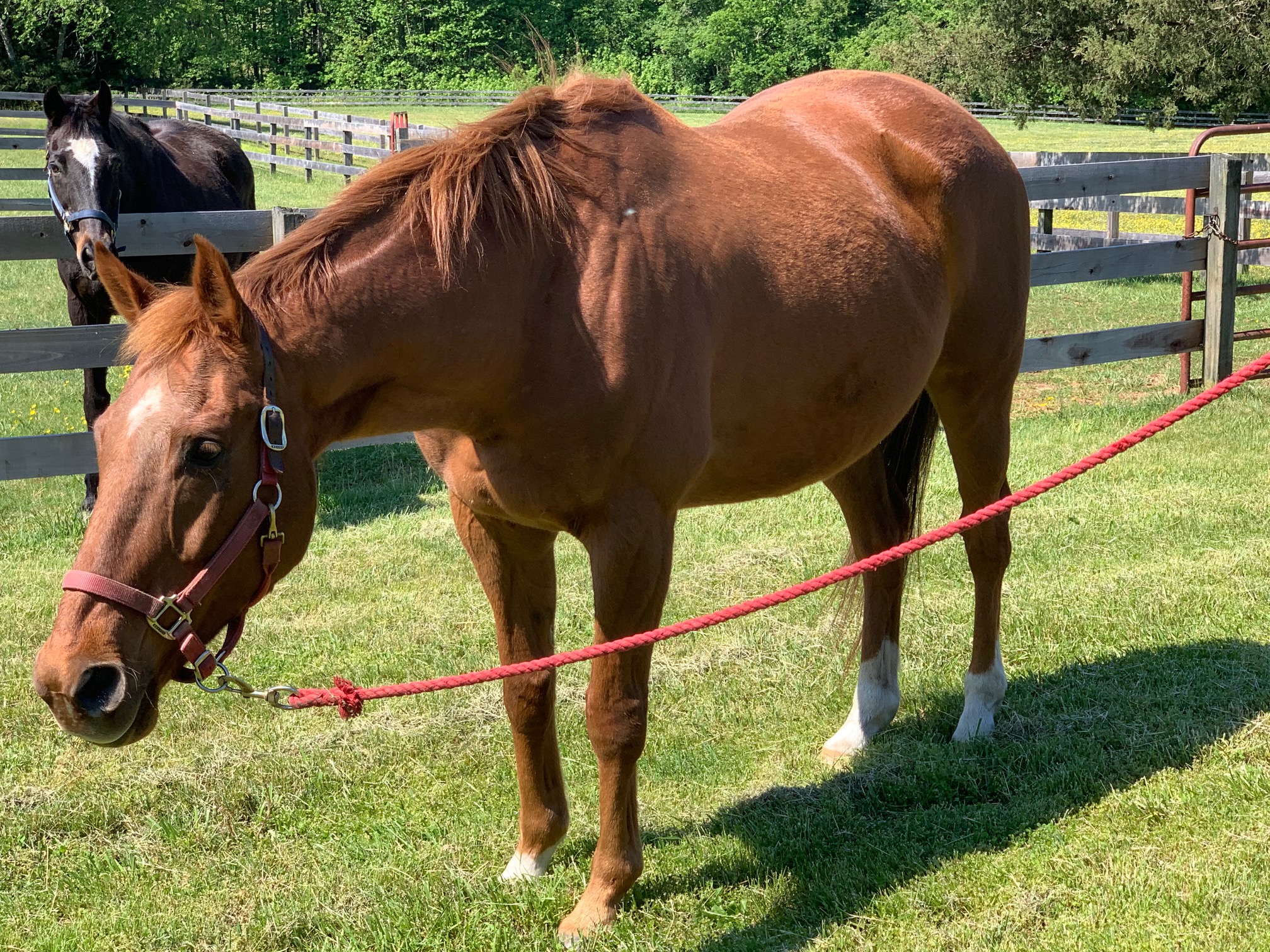 To Clem, who was also adopted from the Second Chances program, has been a star pupil in the eagala program.
Tucker noted that almost any horse can be involved in an eagala program but some horses just excel at it. To Clem is one who excels. He is 16 and only raced four times, back in 2008 at Penn National. When speaking about him, she beamed and inferred he was her best pupil. "I adopted him from the Work Center and he was just unbelievable from the start. He has a way to pick up what's going on with somebody and just relate to them, then help them work through it. It's really quite amazing. I knew from the get go he'd be a solid addition. You need to see how they react to a stranger."
Tucker hopes to recruit additional horses from the Work Center's 29 horse population. "We hope to evaluate some of those horses but right now only two can be ridden. The rest are pasture horses. One of them who would be great is Covert Action, yet another grandson of Secretariat. He likes people and I know he'd be good at it. And there are others."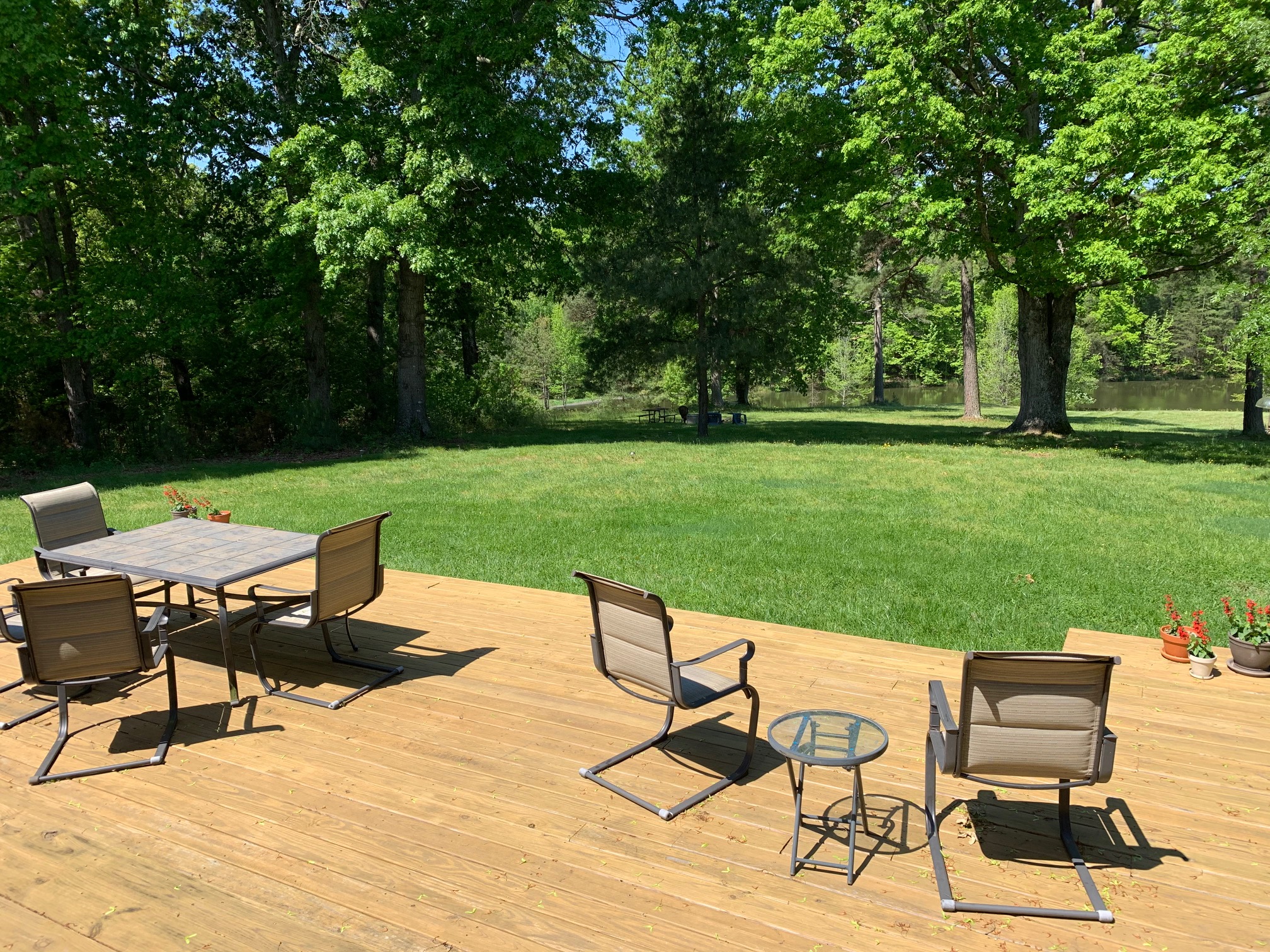 After a day's work, Tucker can relax on her back patio which overlooks a small lake.
In the current covid-19 pandemic, Tucker is not able to accommodate groups for team building at her Through The Gate initiative. But she will take individual clients since they are outdoors and can maintain social distancing at a six foot distance. For more information, visit www.throughthegateva.com or e-mail her at TTGEquine@gmail.com.