The 2020 Colonial Downs summer thoroughbred racing season will kick off Monday July 27 — four days later than originally planned — and continue through September 2 with racing every Monday, Tuesday and Wednesday at 5:30 PM. The 18-day season originally was scheduled to run July 23 – August 29 with race days of Thursday, Friday and Saturday at the same post time.
Track officials repositioned the race days to stay away from other major summer weekend simulcast signals like Saratoga and Del Mar. With the effort to maximize exposure to online horseplayers, Colonial Downs could be a very attractive signal to wager on weeknights.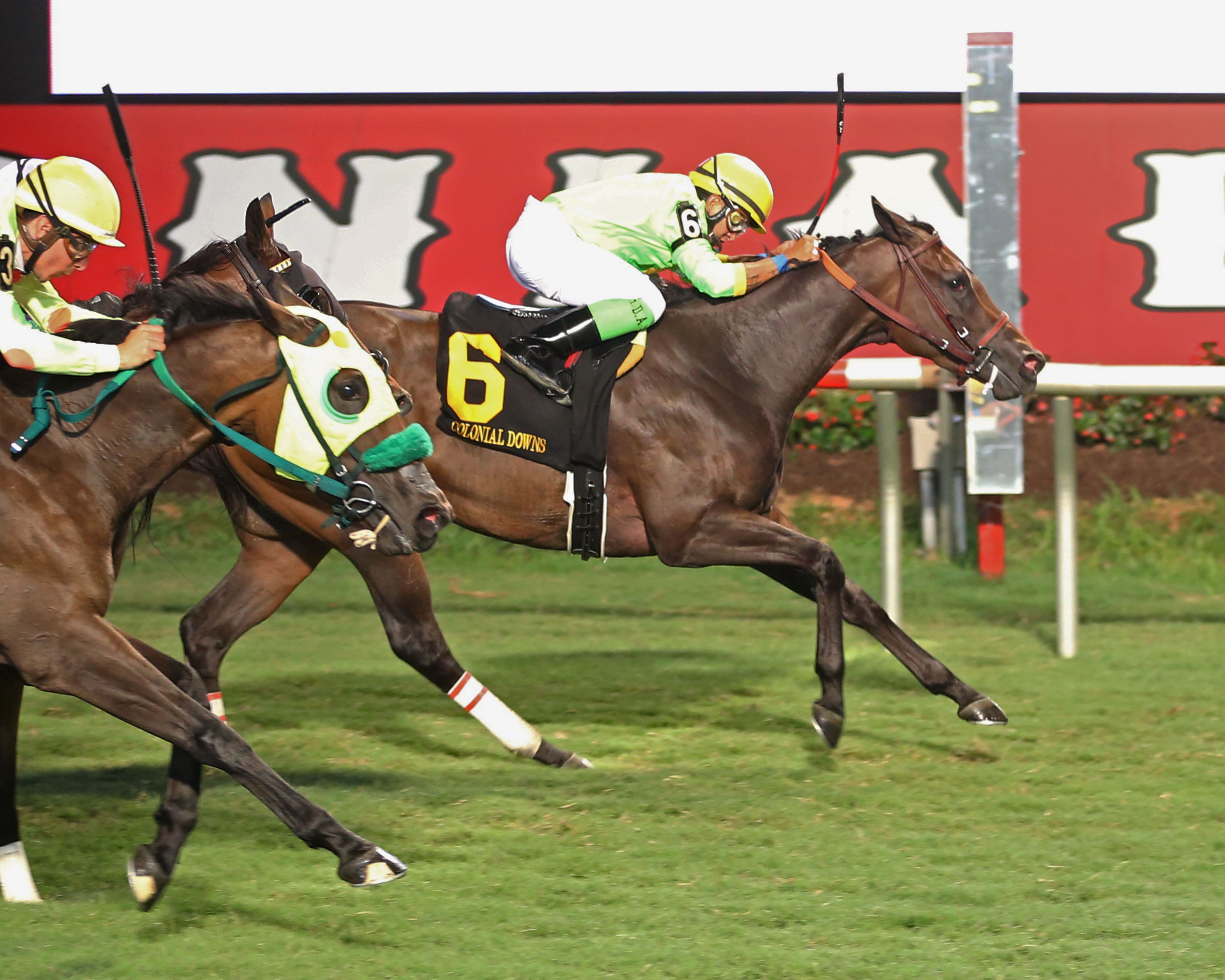 Tryon Summer (#6) beat Braxton to win the 2019 Nellie Mae Cox Stakes at Colonial Downs. Photo courtesy of Coady Photography.
Due to the temporary covid-19 related closure of the four Rosie's Gaming Emporiums and four VA-Horseplay OTBs since mid-March, the absence of recent historical horse racing and simulcast revenue has resulted in a daily purse distribution decrease from the planned $500,000 level, to $300,000.
Virginia Derby Night will be moved from its original date of Saturday August 29, to Tuesday September 1. The showcase evening will feature four stakes as planned with updated purses — the $200,000 Virginia Derby (Gr. 3), $100,000 Virginia Oaks, $60,000 Rosie's Stakes and $60,000 Kitten's Joy Stakes. Two additions — the $60,000 Old Nelson Stakes and $45,000 Old Dominion Overnight Handicap — will complement the Derby night program.
A total of eight stakes for Virginia-bred/sired horses will take place over two programs. The Camptown, Nellie Mae Cox and Edward P. Evans will all be contested Wednesday July 29 while the M. Tyson Gilpin, Brookmeade, Bert Allen, Jamestown and Punch Line will be held on closing night. Purses for each will be $60,000 except for the Punch Line's, which is $75,000.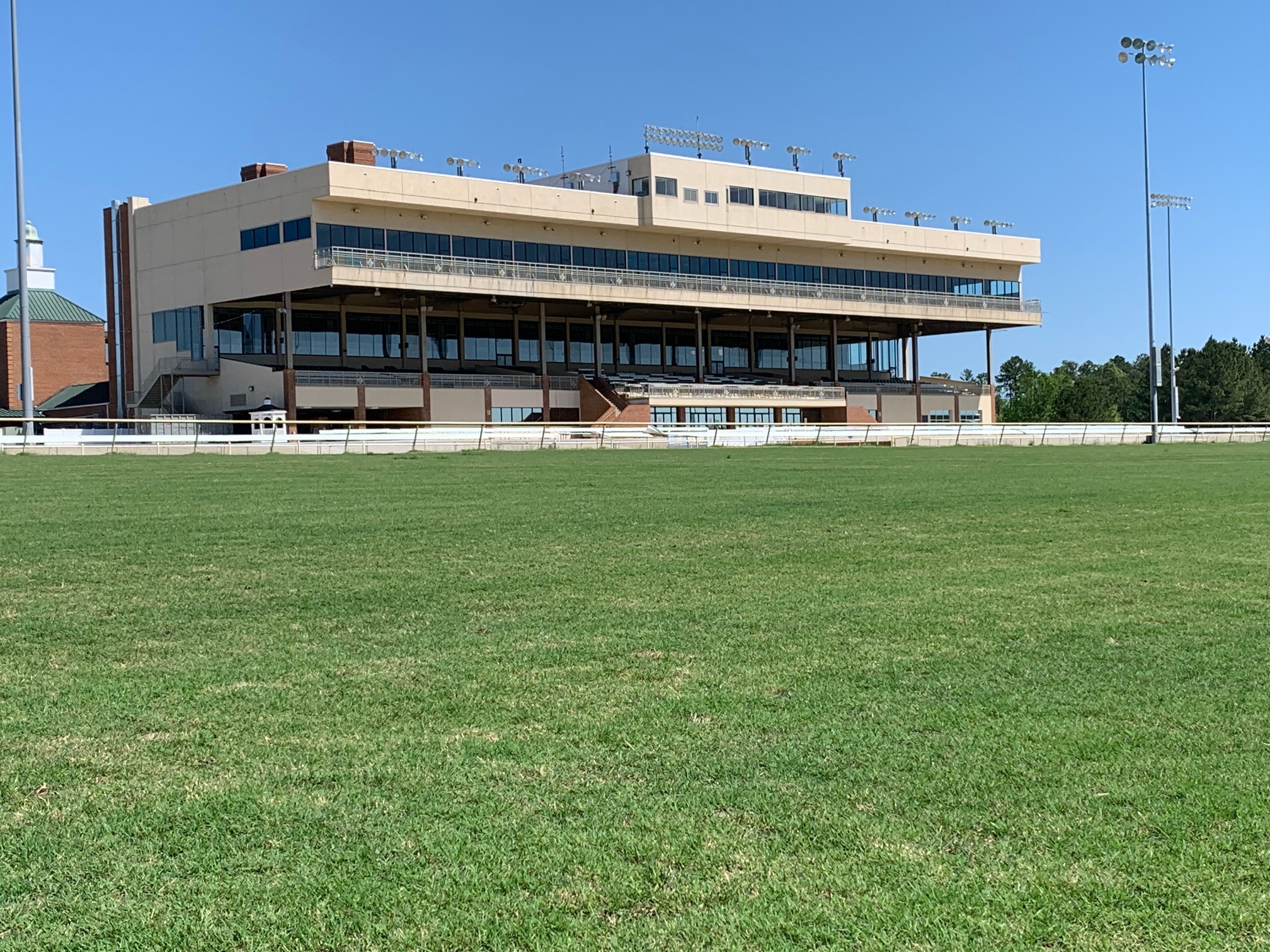 The Secretariat Turf Course, as seen several weeks after the 2020 controlled burn which took place in late March.
A total of 18 overnite races have been dedicated as Virginia restricted, which are open to horses that are either Virginia-bred, sired or certified. Another three restricted overnites are listed as substitute races throughout the meet. Additionally, a four pack of $40,000 restricted handicaps are scheduled — the Van Clief (July 27), Miss Oceana (August 5), William M. Backer (August 5), and Quarter Path Road (August 12). A pair of $40,000 restricted stakes — the White Oak Farms and Hansel — complete that program and will be held July 28.
Open stakes include the $45,000 Richmond Overnite Handicap (July 29) along with the $50,000 Da Hoss and $45,000 Williamsburg Overnite Handicap (both on August 26).
The $35,000 Randolph D. Rouse Stakes is the headlining steeplechase event of 11 that will be spread out over six Monday cards. The Rouse will be contested on August 31.
The MATCH Series, which had been slated for an August 15 tour stop at Colonial, has been cancelled.
Colonial's racing surfaces are both highly regarded. Its Secretariat Turf Course is the widest grass surface in the country at 180 feet across. Last year, 90% of the races were contested over the course. Colonial's 1 1/4 miles dirt track is the country's second largest next to Belmont's, which is 1 1/2 miles around.
The 2020 condition book along with stall applications are online at colonialdowns.com/horsemen.