The following appeared in Bloodhorse.com June 29 and was written by Ron Mitchell & Meredith Daugherty
Save for the social distancing protocols and the mandatory request for patrons to wear a mask while inside the sales pavilion, the first session of the Fasig-Tipton Midlantic 2-Year-Olds in Training Sale had the look and feel of last year's record auction when it was held in its normal May spot on the calendar.
Rescheduled this year due to the COVID-19 pandemic, the June 29 opener saw across-the-board vibrant trade highlighted by the $1.1 million paid by Michael Lund Petersen for an Uncle Mo colt.
FTMMAY, Hip 118: 2-year-old, c, 2018, Uncle Mo—Miss Ocean City, by Mineshaft; Breeder: William M. Backer Revocable Trust (VA)
Sale Price: $1.1 million
Buyer: Donato Lanni, agent for Michael Lund Petersen
Consignor: Pike Racing, agent
Sale History: 2019FTSAUG ($185,000).
From 274 horses cataloged for the session, Fasig-Tipton reported 152 head changed hands for $12,632,500, an average price of $83,109 and a $40,000 median. The 38 that went unsold represented an RNA rate of 20%.
While the sales company is not making comparisons with 2019 due to the novel coronavirus and upheaval in the schedule, this year's numbers exceed the $73,093 average for the 156 horses that grossed $11,402,500 last year. Last year's Day 1 median was $43,000 and RNA rate was 25.7%.
This year, there were 39 horses sold for prices of $100,000 or more, compared with 33 such individuals during last year's first session.
"I don't believe anybody knew what to expect," said Fasig-Tipton president Boyd Browning Jr. "We had positive vibes throughout the under tack show and there was good activity on the sales grounds this weekend. I thought today was tremendous, exceptional, and reassuring.
"If you didn't observe the activity in the pavilion with masks, seats marked off, and signage on the floors saying social distancing and so forth, it seemed very similar to what we experienced in 2019 and in past years. There was very competitive bidding and I'm astonished at the 20% RNA rate and we hope and pray it's in that range tomorrow. The middle was stronger than I would have anticipated coming into the sale. The resiliency of the participants in the Thoroughbred industry on the sales side and racing side never ceases to amaze me and today was an example of that."
Browning said incorporating internet bidding into the mix of live and telephone bidding went smoothly, with seven horses sold via the online network and internet bidding on some 40-50 horses.
The seven-figure Uncle Mo colt represented the second year in a row that Petersen has bought a seven-figure horse at the Fasig-Tipton Midlantic sale. Consigned as Hip 118 by Pike Racing, the Uncle Mo colt shared the fastest eighth-mile workout time of :10 during the under tack show. Agent Donato Lanni acted as agent in buying the colt.
"I'm happy for Michael because this is his sale. It's only a 10-minute drive for him to come here. I saw there was a bunch of outs and told him, 'You better hurry up,'" joked Lanni. "He (Hip 118) looks very similar to a horse we have now called Uncle Chuck," said Lanni. "He's a similar-looking Uncle Mo and he's a horse that we will take our time with. Bob (Baffert) will take his time.
"He's a good horse, everybody saw that, and that's what they cost. I'm never surprised for horses like that because they are so hard to find. It's very rare and you have to stretch a bit more to get them."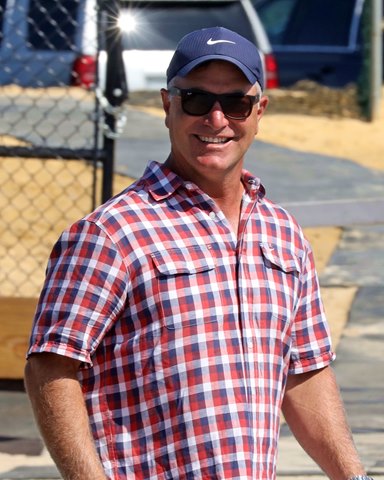 Hip 118 was bred in Virginia by the William M. Backer Revocable Trust and is the sixth foal out of the Mineshaft mare Miss Ocean City, who has already produced graded stakes winner Azar.
The colt's second dam is Madam Lagonza, the dam of multiple grade 3 winner Woodlander and stakes winner Admiral Alex. Madam Lagonza also appears as granddam of Coal Front , a multiple graded stakes-winning son of Stay Thirsty who joined the Spendthrift Farm stallion roster in 2020.
"I am the biggest fan of Uncle Mo in the country," said Al Pike of Pike Racing, who said it was Frank Taylor of Taylor Made Sales who turned him on to the colt after he RNA'd on a final price of $185,000 at The Saratoga Sale, Fasig-Tipton's select yearling sale. "I guess I owe him dinner. Frank took me to the side and said, 'I think this horse is a really good horse and you'll be happy with him.' Bless his heart he was right.
"He's been a very special horse since we got him.I was a little nervous, he had an accident spooking at the sixteenth pole the other day and he banged into the rail a couple times, got a little stiff, and some people were really concerned about it but ultimately he's a really nice horse and very good horsemen saw him every day and watched him, knew the whole story, and knew he was a good horse. They're going to give him a little time and hopefully we will be seeing him at the big races. He's in good hands."
The Midlantic sale has proven in the past to be particularly fruitful for Petersen. Last year's sale topper, a filly named Gamine, was bought by Lanni on behalf of Petersen for a sale record of $1.8 million. The Into Mischief filly recently lived up to her price tag when she won the Acorn Stakes (G1) in stakes-record time by 18 3/4 lengths. During the 2018 renewal, Petersen and his team purchased Mucho Gusto for $650,000. The multiple graded stakes-winning colt raced for Petersen through 2019 before he was sold to HRH Prince Faisal Bin Khaled ahead of his 2020 campaign.
For Petersen, the excitement of buying the sales-topper is something that cannot be replicated. He credits his team, which includes Lanni and trainer Bob Baffert, for his success on the racetrack and in the sales ring.
"Of course it is exciting buying a horse for that amount of money but most importantly, I'm excited because Bob is exited. He was excited about buying Gamine and he was excited about buying Mucho Gusto so I'm happy that I'm part of an unbelievable team.
"Having Gamine and having done as well as we have … it's exciting being in horse racing right now. When I had Mor Spirit who won the (Mohegan Sun) Metropolitan Mile (G1) and I got ahead of myself as a new owner thinking, 'Oh my God it will all be fun and they'll all run.' But now, even though it sounds boring, it's one race at a time and don't get too excited. But that's easier said that done."
Petersen said Hip 118 will join the two other juveniles he purchased a the Ocala Breeders' Sales Spring Sale of 2-Year-Olds in Training at Baffert's barn. As for his other Midlantic sale topper and budding record-breaker Gamine, Petersen said he's just enjoying the ride.
"I don't know where she is going to go next. Bob said she was happy and did really, very well. Where she will go next I don't know. I don't think Bob necessarily makes plans. He lets the horse talk to him. If she looks like she's ready to go he'll let her go. Gamine will tell him. I'm just happy to win. I'm lucky to have the best horse trainer in the world on my side."