When Extravagant Kid broke out of the starting gate November 7 in the Breeders' Cup Turf Sprint at Keeneland, it marked the second "Cup" start for David Ross, a Virginia businessman, President of the Virginia HBPA, and Colonial Downs' all-time leading owner. His Perfect Officer finished third in the same race in 2011.
Ross was hoping to follow the recent success of what Breeze Easy LLC's Four Wheel Drive did in 2019 when he parlayed a stakes win at Colonial into a victory in a Breeders' Cup race later that year — the Juvenile Turf Sprint. Ross's 7-year-old Kiss The Kid gelding won the Da Hoss Stakes in Colonial's 2019 "Racing Revival" season.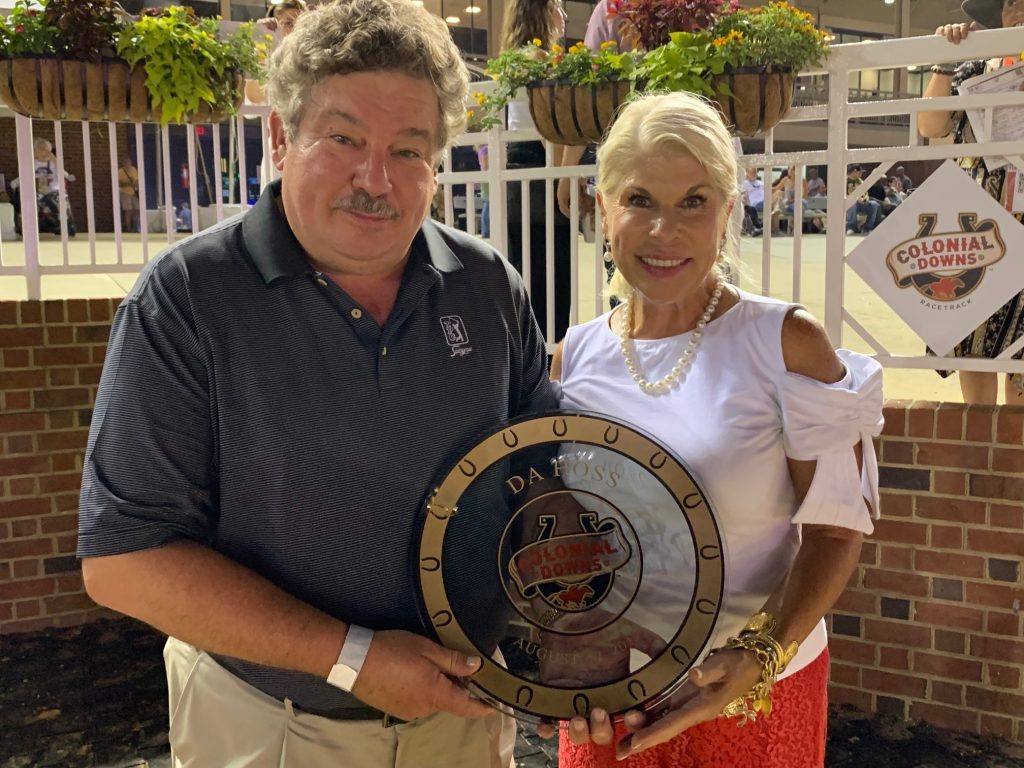 Heading into the "Cup" race, his sprinter had 14 wins from 45 career starts and earnings of $902,210. The Florida-bred had won six stakes including the Sunshine Millions Sprint in January and most recently finished second in a pair of Grade 2 stakes — the Woodford at Keeneland and the Twin Spires Turf Sprint at Churchill.
Extravagant Kid competed in a full field of 14 in the "Cup" Turf Sprint and finished a solid fourth, driving at the wire, just one length behind the winner, Glass Slippers. Sent off at 18-1, Ross's charge raced off the pace, was caught in the four path in the turn and went six-wide in the upper stretch to rally valiantly. The come from behind effort provided a $50,000 payday and pushed Extravagant Kid's bankroll even closer to the $1 million mark ($952,210). 
"I thought our horse ran well and was given an impressive ride after having to run from the #14 post position," said Ross. "He had to run that added distance to still finish essentially 'even' with the third-place finisher, Leinster. A better post may have resulted in a win or perhaps a place."
He felt Extravagant Kid was well suited for almost any variable in the "Cup" stakes. "We knew he wouldn't be the favorite but he has an enormously good running style and a strategic ability to be able to stalk the pace or stay a little bit off the pace. He has that burst of energy that can bring him home."
When Colonial Downs reopened in 2019 after a six-year absence, Extravagant Kid provided a key meet highlight by winning the Da Hoss Stakes. "We could not have been happier to send him to Colonial and spend a few days there," said Ross. "To see him run so well in the Da Hoss and win so convincingly was special. Sheldon (Russell) gave him a perfect trip to get that victory. He recorded one of his best speed figures in that race."
A Pittsburgh area native, Ross was the leading owner at Colonial for seven straight years, from 2005-2011. He has won a total of 137 races at the New Kent track and was even leading owner last year in its return after six years of dormancy. Overall, Ross — whose current stable name is DARRS, Inc. — has made 2,302 starts, reached the winners circle 425 times and amassed earnings of $14,351,132.
Reminiscing on "Cup" week, Ross could not even dream of being in his current position when he got into the business. "We've gone from running in lower level claiming races early on and getting an understanding of how that part of the business works, to breeding and acquiring horses that have an ability to run at higher levels. Our focus has been on the turf and it's great to see Colonial, which may have the best turf course in the country, back in action and using that great surface again."