What are the odds that two Virginia-based horse owners could see their charges square off against each other — in Dubai? The longshot proposition happened March 27 when Larry Johnson's True Valour and David Ross's Extravagant Kid competed in the $1 million Al Quoz Sprint at Meydan Raceourse in Dubai. The six-furlong straight turf race was part of the $12 million Dubai World Cup under card. Extravagant Kid won the stakes and True Valour finished sixth.  
Johnson's True Valour is a 7-year-old Irish-bred horse he purchased last July for $225,000 at the Fasig-Tipton Sale for Horses of Racing Age in Lexington, Kentucky. At the time, he had won a Group 3 stakes in Europe and both a Grade 2 and 3 in the U.S..
"He was by a well-regarded stallion named Kodiac, so I was interested in his current and long-term racing potential, and stud value as well," said Johnson. "Graham (Motion) took over training after the purchase and based on his prior form, which was long on the turf, we were disappointed with his initial performance in a Grade 2 at Pimlico on Preakness Day. He didn't seem to be performing as well as he had trained."
Based on pedigree, the decision was made to switch to a shorter distance and the move paid immediate dividends. True Valour won a 6 1/2-furlong wide open turf allowance at Woodbine then went on to record a solid third in Aqueduct's Turf Sprint Stakes November 28. Most recently, he was runner-up in the Grade 2 Joe Hernandez Stakes at Santa Anita on New Years Day.
"We started thinking about Dubai after he got beat by less than a length at Santa Anita," said Johnson. "We gave him a month off to do basically nothing because he traveled quite a bit over his last five starts. He started back training and did well, so we decided to nominate him to the Al Quoz. We ended up getting invited and accepted," he added. "True Valour is a pretty professional horse and can handle just about anything."
Johnson said all owners receive first class airfare and hotel but with the current pandemic, he chose to watch remotely instead. "I wish I could have gone but with current Covid restrictions and masking, I decided to take a pass and watch from home."
Johnson owns Legacy Farm in Bluemont, which he purchased 20 years ago. At the time, it encompassed 175 acres but Johnson has since further developed it and added more fields, run-in sheds and most significantly, a 3/4-mile synthetic racetrack.
"It's been a terrific benefit for us and a big help in getting young horses ready," noted Johnson. "We're able to get them to where they're ready to go to the track, ready to be breezed, and adjusted and acclimated to the starting gate."
Johnson hired former steeplechase rider Jonathan Smart to manage the farm a year and a half ago. Smart rode for a dozen years on the NSA circuit and won a number of big races. "Through a relationship Graham Motion had with him, I was able to hire Jonathan and he's done a great job getting horses ready after the winter layoff and with rehab horses too."
As an owner, Johnson has accumulated 375 wins from 2,584 starts. He also has 361 seconds and 345 third place finishes. His horses combined have earned $12,387,854. "This has been a labor of love for the last 20 years he said. "I enjoy living in Virginia and now with the Certified Residency program, it's economically viable to raise horses here."
Asked what gives him the most satisfaction from all the horse-related aspects he participates in, Johnson declared it a tie between breeding and raising a horse that goes on to compete successfully, particularly a stakes caliber one, and to be able to breed and raise a commercial sales yearling that attracts a substantial price in the marketplace.
"It's a different outcome and a different process," Johnson said of each. "There's equal excitement between running in a race and watching your horse come into a ring. Both only last a few minutes and you're either really disappointed or elated. But when you're elated, it's very rewarding."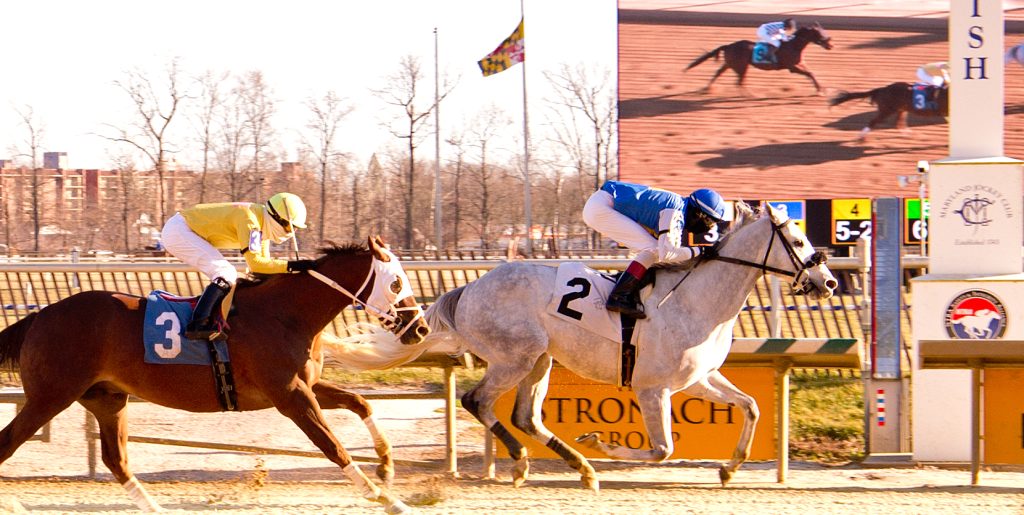 Sir Rockport is a horse he bred in 2012 and even at age 9, the son of Rockport Harbor continues to provide Johnson with breeder's incentive bonus checks for each win. He isn't a stakes caliber horse but one that holds a special place still. From 71 career starts, he has earned $339,432 and has 16 wins. Amazingly, 12 of those have come in the past two years.
"He's an old warrior. I think I sold him at Timonium for maybe $15,000," Johnson recalled. "I have him in my stable mail so I can keep up with his races. He's a tough old horse and is still out competing in mid-level claimers. A barnful of horses like him wouldn't be the worst thing in the world."
Johnson has plenty to keep him busy besides his horses. He is CEO of a litigation consulting firm, which takes up most of his time, and he also owns the West End Wine Bar & Pub in Purcellville, which he has had for five years now. The restaurant is in a historic 1900's house that Johnson restored and converted into a high-end fine dining establishment that features an old-style English pub in the lower level.
"The restaurant was on a good trajectory before Covid," said Johnson. "The last twelve months has been challenging to say the least though. We've had to close a couple times because staff tested positive but we're looking forward to warmer patio weather soon and vaccinations being out there."
Johnson is also optimistic about horse racing's future in the Commonwealth. "The Certified program has been terrific," he said. "I had some initial involvement working with Debbie Easter and staff when we were struggling to come up the kind of incentives needed to keep farms open here and make them financially viable. The program has done wonders. It has reinvigorated farms in Virginia. And the return of racing at Colonial Downs is terrific. Last year was so difficult and unexpected between the weather, Covid, then the shutdown. I'm looking forward to this year with an increased number of race days and purses back to the 2019 level if not even a little higher. I'm going to run a bunch of horses at Colonial whether they are Certified or not," added Johnson. "Overnight purses are great and the stakes program is great. Virginia racing is in top form now and great opportunities lie ahead."