(WOODSTOCK, VA —- 10/20/2021) —- Shenandoah Downs completed its sixth annual pari-mutuel meet in Woodstock this past weekend with record purse distribution over 127 races contested over the ten-day season.
A total of $1,526,557 in overall purse monies were doled out over the five-week campaign, including eight Virginia Breeder's Stakes worth a combined $684,225. The two richest days were October 1 and 2 when respective 2 and 3-year-old Breeders Trotting and Pacing finals were held. Between combined stake and overnight purse totals, $398,300 and $451,837 (a single day record) were distributed respectively.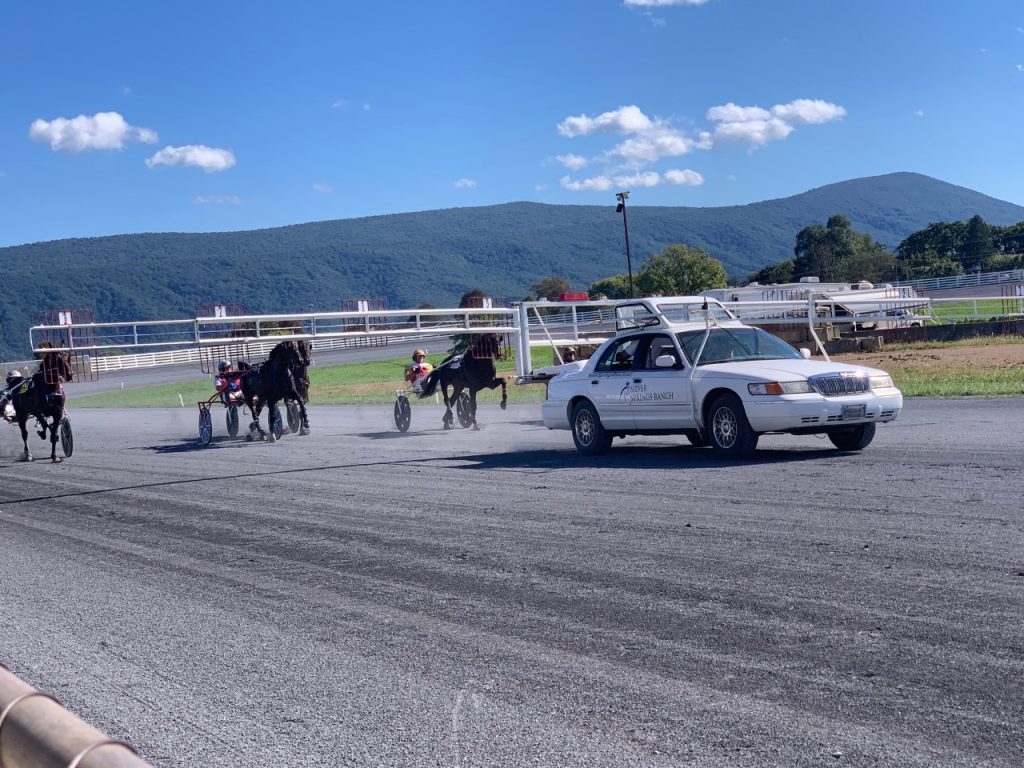 Horsemen continued their strong support of the Shenandoah meet — cards of 18 races each were contested on September 25 and October 2 while a 15-race program was held on October 9. 
Fastest pacing mile of the meet belonged to Danilo Premovic's Shane Adam who scored a 1:53 1/5 winning effort on September 18. The 9-year-old Western Hanover gelding is trained by Jennifer Sansone and was driven by Fern Paquet Jr., the meet's leading reinsman. Shane Adam, who won two of his four starts in Woodstock, has earnings of $513,024 and a life mark of 1:50.0. The Shenandoah track record is 1:52 1/5, authored by John's Dream in 2016.
Megan Roberts and Graham Grace Stables' Judge Bob triggered a 1:56 1/5 trotting mile — the meet's fastest — on September 25. The 6-year-old Great George Two gelding took that mark in an Open Trot with Jonathan Roberts in the bike, then came back on closing day to win over a sloppy track in 1:59 3/5. Judge Bob has a life mark of 1:54 2/5 and has bankrolled $246,037. Gee Whiz George has the Shenandoah trot mark of 1:55 1/5 which was set in 2019. 
Horse of the Meet honors went to Shantae Gant's Vulcan Hanover who went 5-for-5 during the meet. The 4-year-old Donato Hanover gelding trotter is trained by Michael Whitaker — who competed in Woodstock for the first time — and was driven by Billy Carter in all five triumphs. Vulcan Hanover also raced at the Shenandoah County Fair meet which preceded the Downs season, and was 3-for-4 there. Overall, he won seven straight in the Valley and took his best clocking of 1:56 4/5 on the October 8 card.
There was a three-way tie for top trainer honors with Whitaker, Stacey McLenghan and Marna Shehan all finishing with ten wins each. Gerry Longo and John Wagner were next with nine each. Brandy Wine finished in third place with seven. Wagner led all trainers in purse money earned with $352,817 while Shehan was second with $158,095. 
The battle for top driver title was just as keen. Paquet Jr. successfully defended his 2020 championship, reaching the winner's circle 18 times while bagging an impressive .426 UDRS. Billy Carter finished second with 17 wins followed by Corey Braden with 16, Tyler Shehan with 14 and John MacDonald with 12. Shehan finished with the most purse earnings, $174,394, followed by Paquet Jr. with $173,705. MacDonald had the highest UDRS of .508.
Two firsts were recorded on the meet's final Friday program, October 15. Sierra Seidner won her first race ever as a trainer with Benjamin Seidner's Gias Boy and in the very next race, driver Danarius Dortch won his first race ever aboard Cornelius Cavett's Dancin Eyes.
On closing weekend, Memorial races held to remember two prominent, long time Virginia horsemen who passed away recently. Winston Lineweaver's remembrance race was held October 15 and Ron McLenaghan's race was held the following day. Family and friends gathered in the winners circle for both and a blanket was presented to each winner — Corey Braden's Talk Show Chica and Lomangino Standardbreds' Thaneeya. 
The 2022 Shenandoah Downs season is expected to increase in length, from five weeks to as many as eight. Details in the coming weeks will be available at shenandoahdowns.com.