The following appeared in the Daily Racing Form was written by Marcus Hersh. Chess Chief, bred by Morgan's Ford Farm, was making his 30th career start. With the stakes win, the 5-year-old Into Mischief gelding's bankroll rose to $810,338.
Something – a dazzling spell, a sense of lightness and well-being – must descend upon the 5-year-old horse Chess Chief whenever the horse trailer in which he's riding crosses into Orleans Parrish and makes its way onto the Fair Grounds backstretch.
In 20 starts outside New Orleans, Chess Chief never has won. Zero, zilch, nada. But at Fair Grounds, his beloved Fair Grounds, Chess Chief ran his record to five wins from 10 starts with the slimmest of scores over Happy American in the $100,000 Tenacious Stakes on Sunday.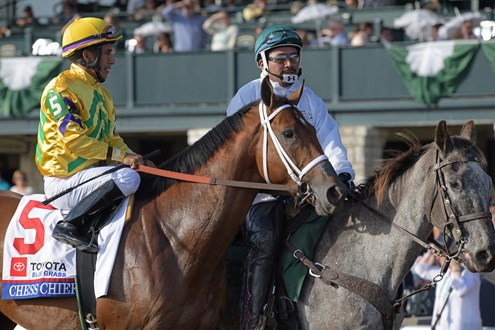 Chess Chief got a sweet ride from Reylu Gutierrez and was home by a head-bob over Happy American, who came flying up the inside after lagging in last much of the Tenacious under James Graham.
"I was worried. That horse really came running in the lane. What a battle," Gutierrez said.
Pirate's Punch, who disputed splits of 23.75 and 47.20 with Ebben and Warrior in Chief, both of whom faded out of contention, gamely held third. Chess Chief was timed in 1:43.39 over a fast dirt track and paid $22.20.
Chess Chief broke well from post 10 but wound up pulling a stalking trip that found him in heavy traffic for much of the backstretch run.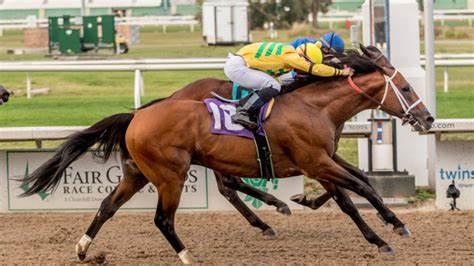 "It was tight on the backside; I had to point my way into the clear," Gutierrez said. In the homestretch, Chess Chief loomed on the far outside as Happy American, finishing with a flourish, hit holes on the inside, looking like a winner at the sixteenth pole. In live action, it appeared Happy American had gotten his head down on the wire, but it was Chess Chief who had the fortunate bob at his favorite racecourse.
Dallas Stewart, born and raised in New Orleans East and long ago a valet at Fair Grounds early in his racing career, trains Chess Chief for the Estate of James Coleman Jr. Chess Chief, a 5-year-old son of Into Mischief and Un Blessed, by Mineshaft, won the Grade 2 New Orleans Classic this past March and was dropping in class Sunday from a pair of Grade 1s and a Grade 3.
"He ran against the best trying to win a Grade 1," Stewart said. "Maybe we'll try again next year."