The following appeared at Harrisonburg's Daily News-Record and was written by Ian Munro.
MAUZY — Fifth-generation Rockingham County farmer Matt Lohr stopped for a moment and pointed at the two-story white home on the other side of the small valley between the inclines on his farm.
He was gesturing to the home he grew up in, and a moment later, turned to face the home his father was born in. It was clear the land he was standing on off Valley Pike north of Lacey Spring is chock-full of Lohr family roots.
Lohr's newest job as Virginia's secretary of agriculture and forestry will have him trying to preserve and grow the same farming ties that unite and strengthen Virginians.
"It's a dream come true," Lohr said Sunday morning of the appointment by newly sworn in Gov. Glenn Youngkin.
As a kid, Lohr started out in FFA and became a national officer, and leadership roles haven't been far off since.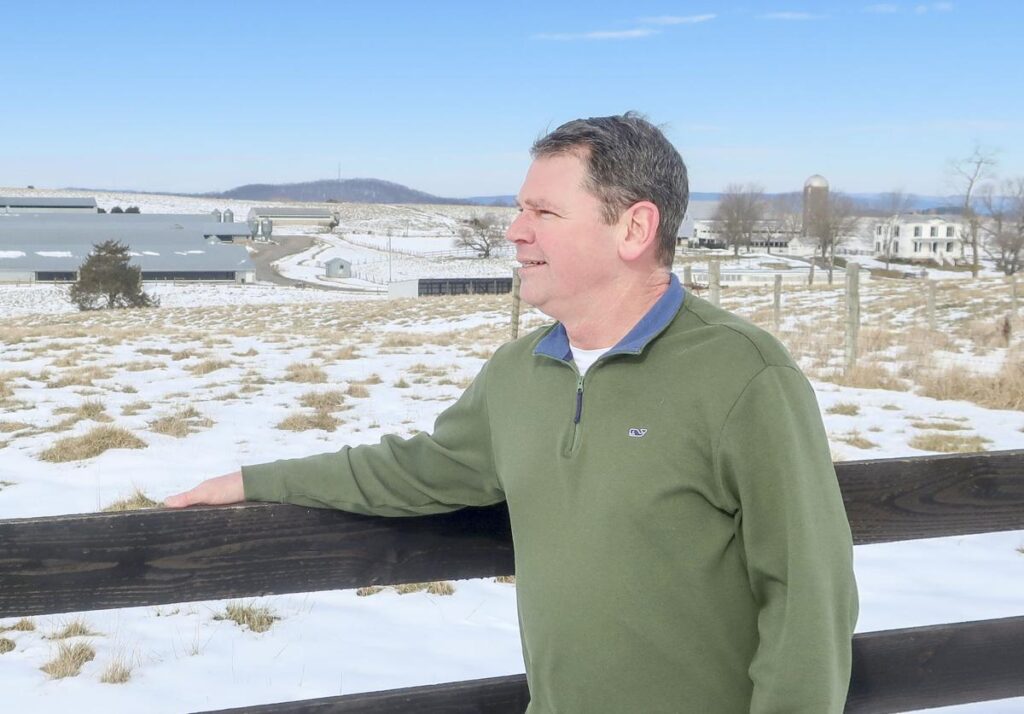 Over the years, Lohr held numerous other high-profile positions, including as a House of Delegates representative between 2006 and 2010, commissioner of the Virginia Department of Agriculture and Consumer Services and head of the U.S. Department of Agriculture Natural Resources Conservation Service.
"I really developed a passion for wanting to serve and to help be a leader in the agriculture community," Lohr said. "And so I've been so blessed through the legislature and through the ag commissioner and my time at NRCS to have all those life experiences that really have, I think, prepared me for this role right now."
Many issues face the agriculture community in Virginia, and he is familiar with those as a farmer himself. Rockingham County is the state's largest agriculture producer, and agriculture is the state's largest industry, with a $70 billion impact.
In his role, Lohr will oversee three agencies: the Virginia Department of Agriculture and Consumer Services, the Virginia Department of Forestry and the Virginia Racing Commission, which handles horse racing.
One agriculture issue Lohr is seeking to address is how to ensure the stability of Virginia's dairies.
The root of the problem is the economies of scale of the industry in which cow herds of around 500 are needed for viability, while dairy farmers in the Shenandoah Valley have smaller herds and are essentially crowded out by larger farms, according to Lohr.
"The dairy industry is certainly on the front burner," he said.
Between 2008 and 2019, Rockingham County lost just over 25% of its Grade A dairy farms, according to Virginia Department of Agriculture and Consumer Services data.
Though Lohr raises crops, livestock and poultry on his farm, he does not operate a dairy, so he understands the importance of experts for a variety of issues, including the ones he is familiar with, he said.
"I'm not an expert on every aspect of agriculture, so being able to bring the right people together and really dig in and listen" is critical, he said.
Lohr said he has spoken with Eric Paulson of the Virginia State Dairymen's Association about potential dairy reforms based on successes in other states.
Preservation of farmland is another issue Lohr wants to focus on, and he has experience with such efforts both from his time as part of the USDA and at his farm.
Residential growth in cities and communities like Harrisonburg is causing spillover into previously rural and agricultural areas as developers seek to meet and profit from housing demand.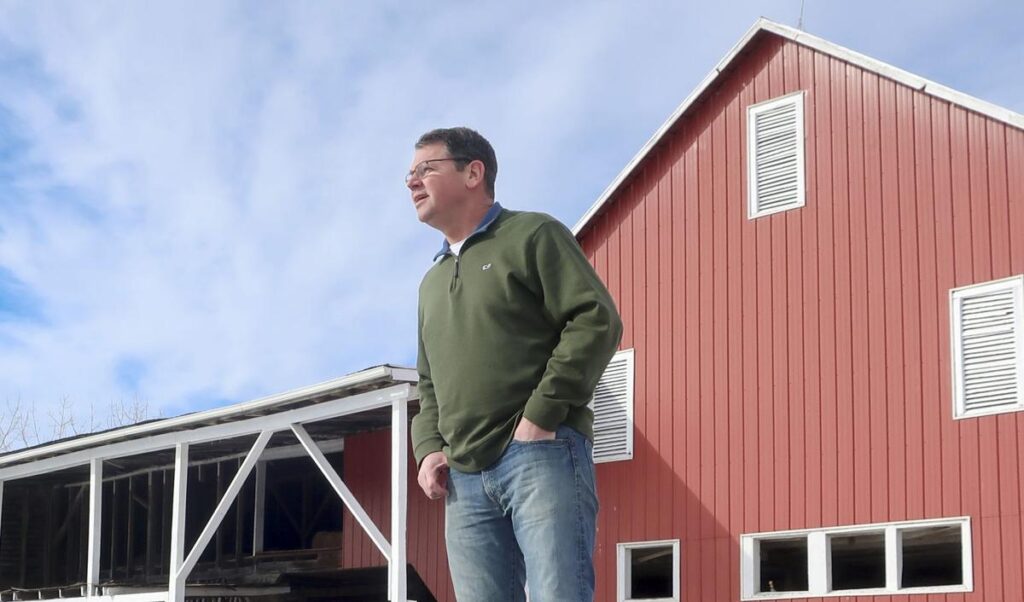 Lohr said finding a balance where farms can be profitable and maintained, while making sure housing is available, is key.
Shrinking revenue, mounting debt, increasing running costs and tax burdens are factors that can convince farmers to sell their land to developers. Additionally, according to Lohr, it is vital that a child or neighbor expresses interest in taking on the farm.
"So, to me, I think one of the key solutions to this development issue is making sure that there's opportunities for profitability for that next generation to come back," he said.
Part of that includes cutting unnecessary regulation, which Youngkin has tasked state secretaries like Lohr to find.
Lohr has spoken with his agency leaders to find red tape for cutting, while another component includes providing Virginians with more good-paying jobs, another priority of the Youngkin administration, according to Lohr.
Four out of five Virginia farmers rely on income that comes from off the farm, according to Lohr.
"Farmland preservation and profitability is definitely going to be a major initiative that we're going to continue," he said.
Lohr's 250-acre farm cannot be developed into any use other than agriculture in the future, he said.
"There's programs out there that will provide money to the farmer through cash and tax credits to basically give up the the rights of that land to ever be developed," Lohr said.
While working at the NRCS, Lohr said the department would allot roughly half a billion dollars annually to such grants to preserve vital farmland.
"The point is there's money out there through the state and federal government to try to help compensate farmers who are willing to say, 'I don't want to develop this land,'" Lohr said.
Lohr also discussed budget requests for fully funding best management practices to meet state environmental goals without overburdening farmers who already face increased costs from running their operations.
Youngkin expressed his desire to provide the funding in his first speech to the General Assembly last week.
Though there's much to do, the first weeks of Lohr's new role will be spent keeping up with the General Assembly, which is in session.
"We've got the first two months done with legislative session and everything that's coming before us, and then we can start working on … the governor's priorities," Lohr said.
There's a large number of bills being discussed by state representatives about how to handle hemp products, he said.
"I know there's a lot of interest here in the Valley from farmers who are wanting to dig into hemp production," Lohr said, "which is certainly something we're going to deal with."
As a state secretary, Lohr is part of weekly meeting with the other secretaries of the commonwealth and Youngkin. Lohr said he plans to try and be home every weekend and at least one or two nights a week as his youngest son, who will live on the farm with Lohr's parents, is still in high school. The Valley Pike Farm will be kept running by family and others who have helped Lohr keep the operation going in the past.
Though the staff in Lohr's new office may be smaller by roughly 10,000 co-workers than his time at the NRCS, he understands the gravity of his role.
"So the scope of the job is very different because [I was] running an entire federal agency across the country, where now I get to focus on Virginia," Lohr said. "For me, that's much more rewarding to focus on what's happening here in the commonwealth."