By Mark Mathews Editor, Independent Messenger
Updated Apr 25, 2022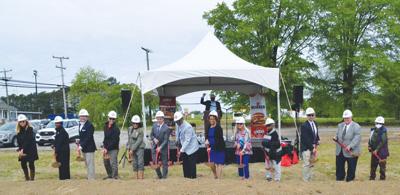 Local representatives picked up a shovel approximately 15 months after the announcement of Rosie's Gaming Emporium coming to Emporia. They broke ground at 700 West Atlantic St. Thursday morning.
Rosie's is expected to open its doors by the summer of 2023. The company is expected to generate $1 million annually in tax revenue. The 21,000 square-foot site will employ 100 people with an average salary and benefits package of $47,000.
"We look forward to Rosie's boosting our economic development and being an integral part of the community," Emporia Mayor Dr. Carolyn Carey said. Rosie's will be providing jobs and an outlet for entertainment. This will be a game-changer, and the best is yet to come."
Peninsula Pacific Entertainment Chief Operating Officer Aaron Gomes said the local Rosie's will provide 10,000 feet of gaming space. Customers will find 150 of the hottest new Historic Horse Racing (HHR) slot-like games inside. As with all Rosie's Gaming Emporium sites, the Emporia Rosie's will feature a dynamic kitchen restaurant and stage bar featuring live entertainment.
The HHR games are not the only opportunity to place a bet. If horse racing is going on in Saratoga, New York, Belmont Park, or other sites, Rosie's will carry them on the television screens throughout the site. Customers have the opportunity to place wagers on the races. The betting angle led to strong opposition from many people in the city. Patricia Paige, a New Kent County Board of Supervisors member, said her community had similar resistance before Rosie's was up and running. She's a firm supporter of the company.
"They have done everything they said they would do, and beyond," she said. "They are more than our community partner, they are our community family."
The community support given by Rosie's impressed Paige. The five Rosie's locations have donated more than 3,000 hours and $2.5 million for worthy causes. It was an attractive piece of the operation for the Emporia City Council members when they unanimously voted to bring Rosie's to the community.
Will the Emporia Rosie's bring business from outside the community? Paige said she went through the New Kent Rosie's parking lot to see if the customer base was local. She discovered most of the vehicles were from North Carolina, Maryland, and other parts of Virginia away from New Kent. Gomes said to expect a similar turnout at the Emporia location.
"We anticipate we will bring in thousands of visitors weekly from surrounding counties across the line in North Carolina to Emporia where they will stay, eat, and support other local businesses."
Emporia City Manager William Johnson said people always tell him there is nothing to do in Emporia. He believes Rosie's will help change that perception, at least for the adults in the immediate future. Johnson thinks the impact will reach deeper into the city.
"With the new money we're going to create something for our youth, as well as our senior citizens," Johnson said. "We must continue to support the new businesses and our existing businesses for this community to thrive."
The new business creates immediate employment as construction gets underway, followed by jobs created when the gaming emporium opens its doors in the summer of 2023.