When horses line up Saturday for the 154th running of the Belmont Stakes, Virginia Thoroughbred owner, breeders and trainer Jill Gordon-Moore will not be in attendance. On 17 occasions in the past 50 years though when a horse was vying for a Triple Crown championship, Moore was at Belmont Park cheering for the contenders and was fortunate enough to witness the last five Triple Crown winners cross the wire in New York.
Moore's amazing run started with her first in-person Belmont in 1973 when Secretariat broke a 25-year Triple Crown drought and she hasn't looked back since. She was there to see Seattle Slew in 1977 and Affirmed a year later, then had to wait 37 years to see the next one. American Pharoah scored in 2015 and Justify most recently in 2018. In between, she saw a dozen contenders come up short — California Chrome, Big Brown, Smarty Jones, Funny Cide, War Emblem, Charismatic, Real Quiet, Silver Charm, Sunday Silence, Alysheba, Pleasant Colony and Spectacular Bid.
Moore, a Past President of the Virginia Thoroughbred Association and former Board member of the Virginia Equine Alliance, grew up in Pennsylvania with five brothers and was always around ponies and horses. She tried a traditional education path but changed gears after just one year of college. "I found out from a friend of mine that you get paid money to ride horses fast at the racetrack," she joked. "It was no contest from that point."
Moore left school and relocated to Delaware Park in 1969. "From there on, I worked for some incredible people and learned so much. There weren't many girls around then so that closed a lot opportunities but opened up a lot of other ones."
After leaving Delaware, she spent 10 years in New York where she got to work for her mentor, Mack Miller. Moore galloped horses in the morning then performed duties on the front side in operations and marketing and was even hired to produce television pieces on trainers and jockeys for legendary on-air racing personality Harvey Pack. She traveled all over the country with horses during that time too. "I always consider that I went to the University of Belmont Park. That was my higher education after one year in college."
After galloping horses for 12 years, she switched gears again. "I decided to hang up my tack before it got hung up for me," she said. "I saw too many of my friends get hurt. I decided I wanted to work on a farm instead."
Spending time with Miller got her interested in pedigree and the breeding aspect of the business. "Horses that came through his barn were exceptional and he used to quiz me on their breeding."
Through a friend of a friend, Moore landed a job in Maryland at Sunset Hill Farm, opened a farm in Pennsylvania after, then was hired by Audley Farm in Berryville, Virginia where she spent seven years.
"The land was so good in that area that Ned (her husband) and I bought a small farm on the back side of Audley and have been there for 21 years since."
At times, they have had as many as 20 horses on site but currently are down to 10. "Being so small, we have to do all the work ourselves," said Moore. "We put in all the sweat equity and that's how we made the equation work. Ideally, we'd like to phase out even a little more but nothing happens in a hurry."
The racing fan in Moore though has led to wonderful Belmont Day memories. Of the five Triple Crown winners she has seen, Moore did not hesitate when asked if one stands out from the others. 
"Secretariat's," she quickly replied. "The whole building vibrated that day. It was the weirdest sensation. After he crossed the finish line, all hell broke loose. It was an atmospheric afternoon. It was a race that just knocked your socks off. It gave you goosebumps and you still feel them years after. I watched that horse gallop a lot and knew he was something special. He was an awesome creature to look at and just had an aura about him."
Moore was based at Belmont Park until 1982 so her commute to see Seattle Slew's and Affirmed's Triple Crown triumphs was non-existent.
"I worked as an occasional freelancer exercise rider for Billy Turner (Seatle Slew's trainer) and was good friends with his wife Paula. I sat with her during the race and just remember the smiles on everyone's faces afterwards. Smiles, smiles and more smiles. I went back to the barn after the race," she added. "There was just a sense of excitement being around that horse. The next morning, Billy pulled his shoes off and turned him out in the round pen. I have pictures of him with his back feet up above the six-foot pen. He was an intense horse though. You just got that vibe around him.
"Affirmed was intense in a different way," Moore said, referencing the '78 champ. "You knew he was going to get it done but he was generally laid back. I remember seeing him stand at the gap one morning while he was waiting for the harrows to pass by. His head was down, his lip was drooping and his eyes were closed. It almost looked like he was asleep."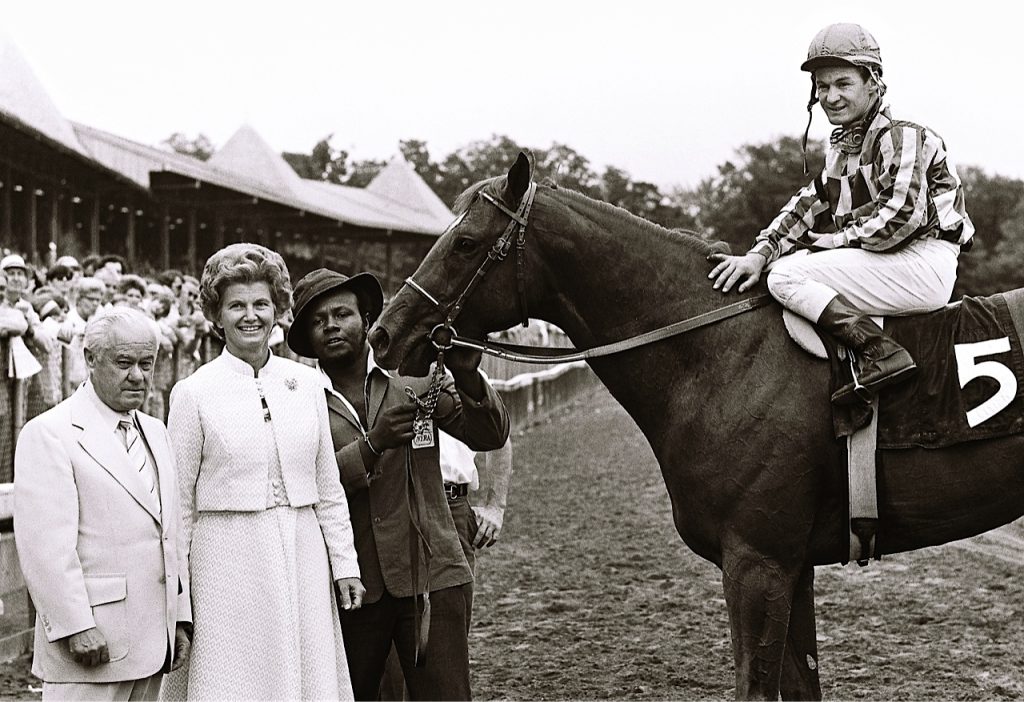 Once Moore left New York, she had to plan out road trips to Belmont every time a Triple Crown hopeful was slated for the June renewal. "I figured I better keep my record intact as an excuse to keep going back to New York and visit friends. It was one of those things that became a thing."
American Pharoah's Belmont win came after a 37-year gap in Crown champions. "There was such a buildup to that race as everybody knows. I got lucky — I knew a friend who had a box in the front row so I was able to join her. The noise from that race was just amazing. The minute the horses broke from the gate, which was right in front of our seats, people started screaming. And the screaming only got louder and louder for the entire 1-½ miles. That was really exciting. That win took the pressure off. Some people thought there might not be another Triple Crown winner."
Three years later, lightning struck again with Justify. "That was just a very, very good horse race," shared Moore. "A lot of people were happy to see a really good horse run and win, but it didn't have the intensity of American Pharoah's race. It was nice though to see what a good horse can do. And I got my lucky seat out front again!"
After 80-1 upset winner Rich Strike won the 2022 Kentucky Derby May 7, Moore called Robin Richards — her traveling companion who also is a past VTA President — and told her to mark down the June 11 Belmont date for a potential road trip to New York. That trip has been rescheduled for 2023.