By Tom LaMarra
Fille d'Esprit had a couple of stakes wins on her resume, but her victory in the $150,000 Seeking the Pearl Stakes at Colonial Downs Aug. 16 had special meaning for one of her owners who traveled from Las Vegas for an afternoon of racing that featured the fourth leg of the 2022 Mid-Atlantic Thoroughbred Championships Series (MATCH).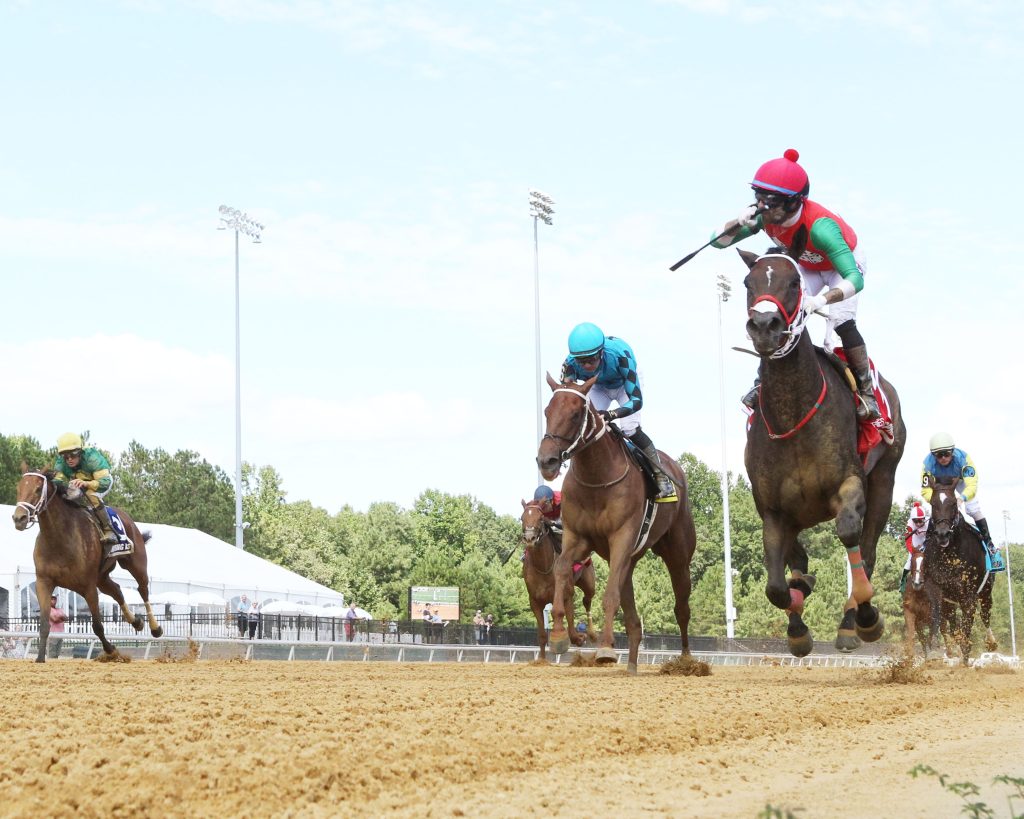 The 6-year-old Maryland-bred mare by Great Notion was claimed by Carl Ianotti's CJI Phoenix Group and No Guts No Glory Farm for $10,000 in August 2020 and since then has won eight races, three of them stakes, despite a setback that forced her to miss almost eight months of racing from December of 2020 to August 2021.
Ianotti turned 65 the day before the Seeking the Pearl and also recently had his last radiation treatment. He was overwhelmed after Fille d'Esprit, with regular rider Xavier Perez aboard, rallied along the rail from sixth on the far turn to win the seven-furlong stakes that attracted a strong field including graded-stakes winner Caribbean Caper, who entered the race undefeated in five starts.
"I'm a cancer survivor," Ianotti said. "My wife has been very supportive as have John and Gina Robb (of No Guts No Glory Farm), and the horses have been the best therapy for me. As for this horse, what can I say? She's a blessing from God."
Perez, who rides most of the horses trained by John Robb, sent Fille d'Esprit early from post position one and then elected to sit behind a wall of horses battling for the lead through the fast fractions. Fille d'Esprit had to check slightly as a horse was backing out of contention but she regrouped, took the inside route and eventually pulled clear to win by 1 1/4 lengths over Kalypso, who closed from sixth early in the race.
"It all worked out in our favor," Perez said.
Fille d'Esprit, with 10 wins in 19 starts, now has 22 points after three MATCH Series starts and is eligible for bonus money. She is tied for first with Kaylasaurus in the Filly and Mare Sprint–Dirt division with one division leg remaining for 2022.
Kaylasaurus shipped to Colonial Downs the day before the Seeking the Pearl in anticipation of her fourth series start but was scratched the morning of the race by veterinarians. David Bushey of Bush Racing Stable, one of four partners in the mare, said she would be evaluated and a decision made thereafter.
"She was doing great with two really nice works going into (the race)," he said. "While we are disappointed she couldn't compete, the horse always comes first for us."
Pennsylvania-bred Kaylasaurus was claimed for $25,000 last November and since then her record in stakes is two wins, two seconds and a third in six outings.
Chesapeake Stakes
The Scherr Boys' Necker Island crossed the line first in the $150,000 event at six furlongs, but after a 10-minute examination by stewards of the final sixteenth of a mile he was disqualified and placed third for interference with third-place finisher Factor It In, who was placed second. That gave the victory to second-place finisher Jalen Journey, who was claimed in his previous start for $50,000 by Built Wright Racing, which is owned by trainer Norman Cash.
Jalen Journey, ridden by Angel Arroyo, finished a neck behind Necker Island. It was his first start in the 2022 MATCH Series.
"He has been working great–he had a bullet work a week ago (in Kentucky)," Cash said. "We claimed him for $50,000 and figured the only place to go is a stakes (to keep him from being claimed). It took him four or five races to get in shape this year (for Steve Asmussen) and we figured we would jump in and get a horse that looked like he is on the way up. He has a ton of back class.
Jalen Journey, a 7-year-old ridgling by With Distinction, won for the 10th time in 22 starts and cleared the $600,000 mark in earnings.
The result of the six-furlong Chesapeake had little impact on the standings in the 3-Year-Olds and Up Sprint–Dirt division. Beren, who remains the leader with 17 points after two starts, was entered in the Chesapeake but his connections in July indicated he most likely would compete in a Pennsylvania-bred stakes Aug. 22 at Parx Racing, where he is based and where the final round of MATCH competition will be held Oct. 3.
Threes Over Deuces, who is tied with two others with 10 points but is eligible for bonus money after three starts, also scratched from the Chesapeake.
Thoroughbred Aftercare Alliance Old Nelson
Merriebelle Stable's Didia, a winner of two Group I stakes and a Group II stakes in her native Argentina, is now two-for-two in the United States at Colonial Downs after a come-from-behind score in the 1 1/16-mile Old Nelson.
Ridden again by Vincent Cheminaud for trainer Ignacio Correas IV, Didia, a 4-year-old Orpen filly, went from eighth to first in a tight pack in the stretch to finish a neck ahead of Alma, with In a Hurry 1 3/4 lengths back in third. She won an upper-level allowance race at Colonial Downs in her U.S. debut.
"We've always had high expectations for her but that doesn't always (translate into performance)," Correas said. "But she is doing things the way we want. It's a different way of racing in America–there are things they need to learn. But this was a great spot for her."
Didia isn't eligible for MATCH Series bonus money, which overall totals more than $400,000 this year. Stuart Janney III's In a Hurry, with her third series start, now is eligible for bonus money and picked up another 5 points to solidify her position in second in the division with 17 points.
William Pape's Deciding Vote, who rallied from far back early to finish a close sixth, didn't get a big piece of the $150,000 purse but picked up 5 bonus points for her fourth series start and 1 point for her finish position. The 5-year-old Mr. Speaker continues to hold the lead in the Filly and Mare Long–Turf division with 26 points and is now the overall MATCH Series leader heading into the fifth and final leg.
Timory Ridall's Tic Tic Tic Boom, who finished eighth but not that far back, also picked up 6 points overall in the Old Nelson and secured third place in the division with 15 points. She is trained by Alan Bedard at Parx, where the final leg will be held.
Buckland Stakes
Mark Grier's Eons, who won both of his MATCH Series starts, rallied well for fourth in the 1 1/8-mile $150,000 Buckland and now leads the division with 23 points after three starts. Should he compete at Parx in October, he would earn 5 bonus points on top of points for finish position and could be in contention for the overall title.
The Buckland also had an international flavor as the winner, HPG Thoroughbreds' King Vega, was making his fifth U.S. start after beginning his career in Great Britain. Trained by Graham Motion and ridden by Angel Suarez, King Vega, who normally comes from off the pace, found himself on the lead soon after the start and coasted home by 1 1/2 lengths over Militarist, with English Tavern another 1 1/2 lengths back in third.
"It was not the plan at all to be on the lead at all," said Suarez, who is based at Delaware Park but often rides at other Mid-Atlantic racetracks. "I'd like to thank the owners and Graham Motion for letting me ride. The idea was to be fairly close and then catch up, but Plan B worked out pretty good."
English Tavern picked up 5 points and his total of 12 points puts him in second in the division, but he needs to start at Parx in October to be eligible for bonus money. Beacon Hill, fifth in a dead heat in the Buckland, now has 10 points and is eligible for bonus money.
The nine-race card at Colonial Downs generated total pari-mutuel handle of $3.94 million, one of the highest of the 2022 meet.