WOODSTOCK, VA —- 9/11/2022) —- Shenandoah Downs will open its seventh season of pari-mutuel harness racing on Friday September 16 at the Shenandoah County Fairgrounds in Woodstock and continue an 8-week "Harness The Mountain Magic" campaign — its longest ever — through November 6. Each of the meets from 2016- 2021 were a total of five weeks in length.  
The season's first five weeks will feature race programs every Friday at 3 PM and Saturday at 1 PM. During the final three weeks — beginning October 22 — the schedule will shift to a Saturday and Sunday format with cards at 1 PM.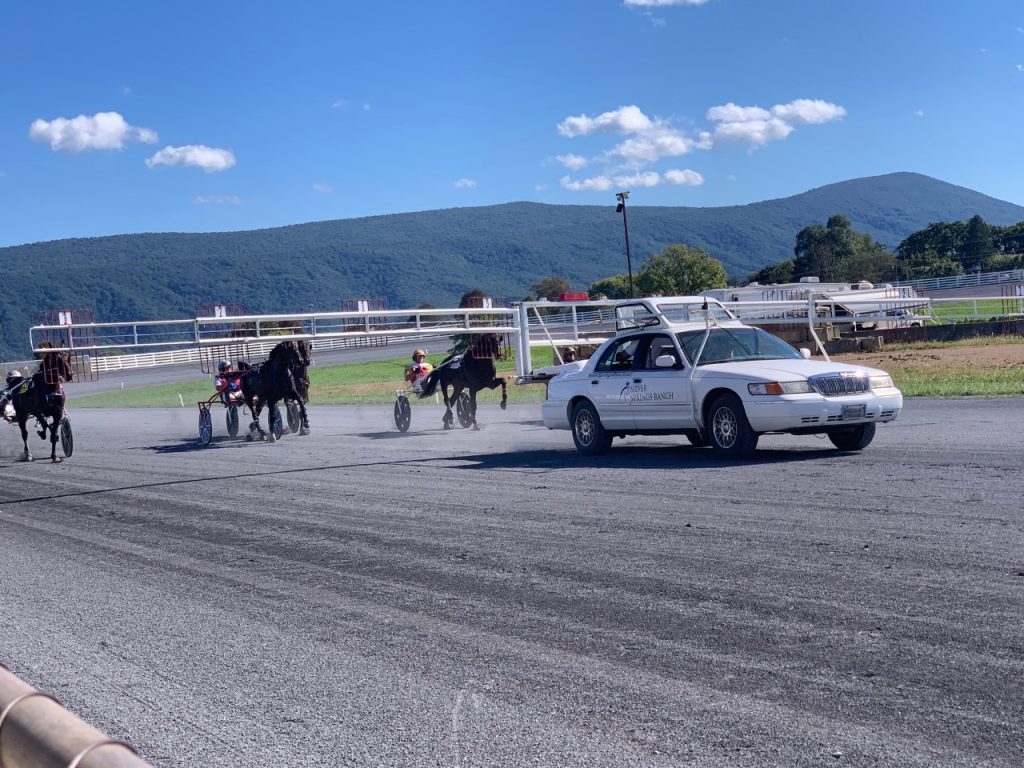 Meet highlight is the 25th running of the $640,000 (est.) Virginia Breeder's Championships which will close out the season on Sunday November 6. Two and three-year-old pacers and trotters of both sexes will compete in eight divisional championships, each worth a minumum $80,000 purse. The "Day of Champions" event has been conducted at Colonial Downs from 1998-2014, at Oak Ridge Race Course in 2015 and at Shenandoah Downs since.
Friday "Happy Hour" cards will feature two-dollar draft beers and one-dollar hot dogs. Saturday programs will commence at 1 PM and feature a different promotion each week. On opening Saturday September 17, the first 600 fans will receive a free commemorative long sleeve t-shirt. When recipients wear their shirt on return visits throughout the meet, they will be entitled to exclusive "T-Shirt Club" offers that include free programs, a free hot dog, and two mystery betting voucher promos.  
The Virginia Harness Horse Association (VHHA) will sponsor the popular "Own a Horse for a Day" promotion on four separate occasions this fall including opening weekend. A total of 32 fans — eight each time the promotion is conducted — will receive the unique chance to "own" a horse in a $5,250 race. Winners will visit their respective horse and connections in the paddock and collect the amount of purse money their horse earns in the race. One lucky "owner" — during each of the four promotions — will walk away with $2,625 which is 50% of the purse.
Fans attending both opening weekend cards can enter the "Own a Horse" promotion. Four winners will be drawn from Friday's opening day crowd and another four will be selected at random on Saturday.
Harness racing social media icon Heather Vitale will be at Shenandoah Saturday providing live updates of all the action through her social media channels.    
Parking and admission are free and the races are family friendly. Wagering is available on every race.
On the track, horsemen will enjoy purse and bonus enhancements courtesy of the state's Historical Horse Racing (HHR) robust revenue stream. Average daily purse distribution for overnight races will be $75,000 per day. Horses that finish sixth thru eighth will receive a $100 stipend.

Purses for Breeder's Fund races, including eliminations and finals over the last three weekends, will total $824,000.
In addition, horses that are 100% owned by a Virginia resident will get a 50% bonus on overnight races, and drivers/trainers that are Virginia residents will get a 50% bonus on overnights. In 2021, a total of $56,000 in bonus monies were doled out along with $16,000 in stipends.
More information is available at shenandoahdowns.com and vhha.net. ​
-30-