Local Favorite Betsy Brown Collects a First & Second 
Owner Pam Wagner reached the winners circle four times from eight divisional 2- and 3-year-old title races Sunday in the $699,300 Virginia Breeders Championship Day that closed out the seventh season of pari-mutuel harness racing at Shenandoah Downs. 
Wagner had wins in the afternoon's final three races with Jas Bluestone in the 3-Year-Old $87,200 Colt Trot, with Lloyd's Loves in the $89,475 2-Year-Old Filly Pace and with Connie's All In in the $85,400 3-Year-Old Filly Pace. Her husband John trains the latter two while Victor Kirby conditions the former. Earlier in the card, her Big N Bad Brad prevailed in the $84,000 3-Year-Old Colt Pace.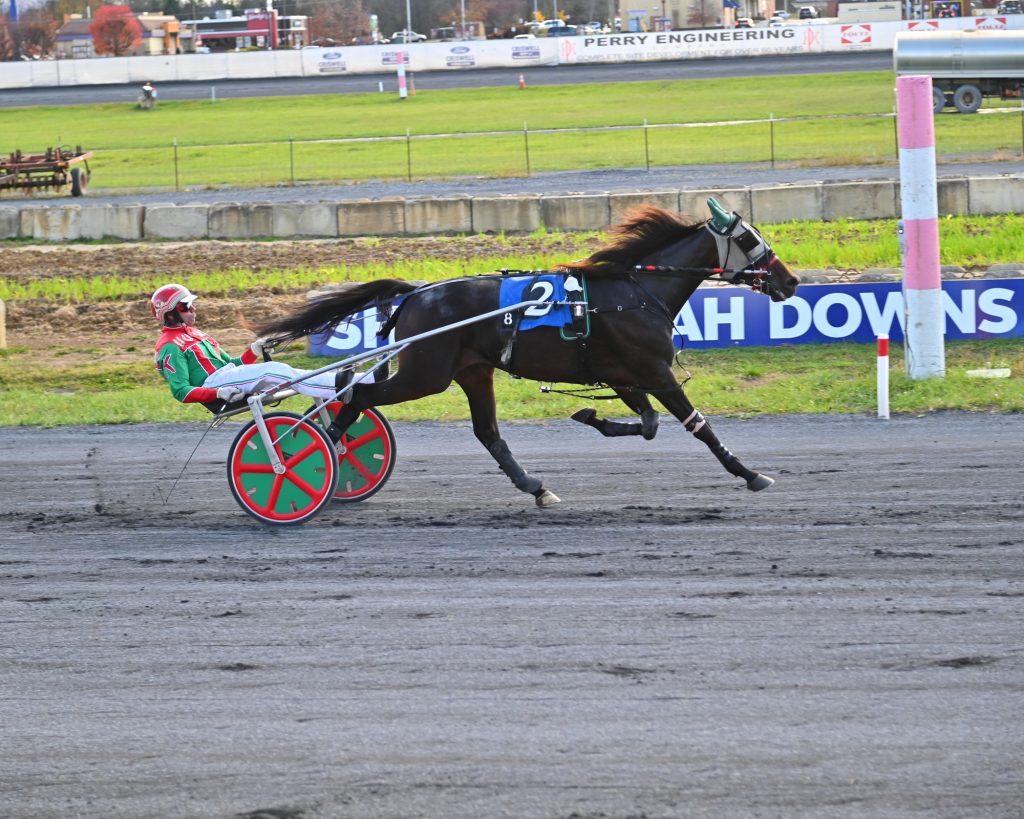 Jas Bluestone, runner-up to Big Daddy D in the 2-Year-Old Colt Trotting final, turned the tables on Jane Dunavant's Dusty Winner gelding as a 3-year-old on Sunday. The Anders Bluestone gelding trailed Big Daddy D by eight lengths at the half but by the third fraction, was just one length behind and continued to surge in the final turn. Jas Bluestone crossed thee lengths the best in 1:58 2/5 with Victor Kirby in the bike. The 2021 champ held on for second and Claudia Von Ostwalden's Long Ranger took third.
Lloyd's Loves took advantage of a well-placed pocket journey behind Caviart Farms' Caviart Leeloo in the freshman filly pace. Todd Warren piloted the Rusty's All In filly to a three-quarter length victory after a perfectly timed move in mid-stretch to pace beyond the front stepper. The winner crossed in 1:55 4/5 while another of Wagner's entrants — Morgans All In — came on for second with Corey Braden aboard. Caviart Leeloo, a Marna Shehan trainee, held on for third.
Wagner's natural hat trick was capped off with Connies All In's wire-to-wire effort in the non-betting finale. The Rusty's All In sophomore filly pacer beat 2021 divisional champ Caviart Carmel who finished second, 1-1/4 lengths behind the victor. John Wagner drove Connies All In — who broke stride in her prep two weeks ago and finished seventh — to her eighth win of the year. Wagner's Janets For Real finished third.
Bid N Bad Brad took advantage of a break by heavily favored Anthony's All In — 2021 2-Year-Old Colt Pace champ — and coasted home to a 5-1/2 length win in Sunday's sophomore clash. Sent off at 1-5, Anthony's All In broke at the quarter and was still struggling to recapture the gait at the half. Big N Bad Brad and reinsman Fern Paquet Jr. took the lead over from KJ Osmar approaching the third marker and breezed from that point, crossing in 1:57.0. Elwood Tignor and Deborah Mulligan's Cool Breeze held steady for second and Debbie Warnick's Leroys Skipn Skool finished third.
Local Woodstock favorite Betsy Brown had a win and second on Sunday's program respectively with Ellen's Wish and Terrys Watching. She kicked off the unseasonably mild day with a 9-1/4 length coast-to-coast triumph in the $84,200 3-Year-Old Filly Trot with Todd Warren driving. 1-9 betting choice Shes All Woman — the 2021 divisional champ — went off stride at the start and was never a factor. Brown's Charlie De Vie filly, who she trains and co-owns with 14-year-old Morgan Marston, never faced a challenge as a result and crossed in a lifetime best 2:00 1/5. Robert White's Antares Star was second and Daniel Chansky's Mydaddyhasabeard took third. 
Warren helped provide Brown with another sizeable purse check in the $90,600 2-Year-Old Colt Trot with runner-up Terrys Watching, who finished just behind winner K J Alexander. The race was turned upside down early when heavily favored Prime Hall Caviar — undefeated entering the race — shot to the front and cut initial panels of :28 2/45 and :56 2/5. Even though the Armed Dangerously gelding triggered a third panel in 1:27 1/5 and led at the top of the stretch, his lead was fading. The winner and runner-up both surged by in mid-stretch and at the wire, KJ Alexander was 2-1/4 lengths the best in 1:59 2/5. The victor is co-owned by Scott Woogen and Pam Wagner. Corey Braden had the winning drive.
Warren notched another Breeder's Championship driving win aboard Jimmy Viars' Miraclepowerfull in the 2-Year-Old Colt Pace. The Bullville Powerful chestnut gelding put together a three-race win streak during Shenandoah's fall meet but took third in his Breeder's elimination race. In Sunday's $91,000 final, he reverted to form, crossing quarter panels in :28 3/5, :58 4/5 and 1:29 2/5 before hitting the wire in 1:57 2/5, one-fifth short of his prior best time. Wagner's Center Of It All was second, one length off the pace, and Mark Wright's Base Stealer finished third.
Caviart Farms' Caviart Gwen entered the $87,325 2-Year-Old Filly Trot with a robust $61,535 in purse earnings from various Red Mile stakes but had just one win in her nine race portfilio. The Father Patrick filly took care of business Sunday, wiring the field in 2:01.0 with Tyler Shehan in the sulky. Cary Grady's Miss Norissa, winner of the prep by one length, finished second, 1-1/2 lengths behind, while Jane Dunavant and Thomas Davis's Starlight Lounge finished third. 
Pics courtesy of Quenton Egan.