(WOOSTOCK, VA — 03/01/2023) —- The Virginia Harness Horse Association (VHHA) announced $500,000 in Virginia-Certified bonus awards were distributed among 67 two-and three-year-old horses that qualified for the residency program in 2022.
Thirty awards, totaling $200,000, went toward 2019 foals while 37, totaling $300,000, were earmarked for 2020 foals. This year, 2023 foals will compete for $400,000 in reward dollars while 2020 foals will vie for $300,000 as the Commonweath's incentive programs continue to escalate.
Top bonus earner of the 67 was Jane Dunavant's Big Daddy D, a 2019 foal who hit the board in 15 of 19 starts and amassed purse earnings of $117,262. With five wins and 9 runner-up finishes, the Dusty Winner gelding earned a $27,106 Certified award check for his owner.
Next in the same foal class was Scott Woogen's KJ Hunter who reeled off four wins in a row at Monticello to close out his 2022 campaign. The Huntsville gelding took a mark of 1:52 2/5 at Tioga Down July 10. Overall, the Gary Messenger trainee had 14 top three finishes from 18 starts, purse earnings of $39,265 and bonus winnings of $16,527.
Robert White's Antares Star received the third highest award, $15,142, despite finishing the year without a win. The daughter of Glidemaster, a filly trotter, made the most of her high profile outings— she finished second in both the $84,200 Virginia Breeder's Filly Trot at Shenandoah Downs and in the $100,000 Delaware Standardbred Breeders Fund Final at Harrington.
Dunavant's trotter Cotton — another Dusty Winner gelding — followed with $13,044 from $32,490 in purse earnings and 19 starts including a victory in a Virginia Breeders Colt/Gelding Trot Elimination.
Rounding out the top five was Ellwood Tignor's Cool Breeze who bankrolled $43,962, much of which came from a runner-up in the $84,000 Virginia Breeder's Colt/Gelding Pace.
Graham Grace Stables' Call Me Goo, a 2020 foal, had four quality trotting wins from Maryland Sire Stake competition to score a $22,347 Certified bonus award, tops among that foal class. The Googoo Gaagaaa mare went 4-for-7 with purse earnings of $67,237 and a 1:56 3/5 seasonal best time.
Leon Harris's Prime Hall Caviar, who thrived in Woodstock at both Shenandoah Downs and the Shenandoah County Fair, was next with a $20,429 bonus payday. The Armed Dangerously gelding trotter won six straight races heading into the Breeder's finale where he finished third.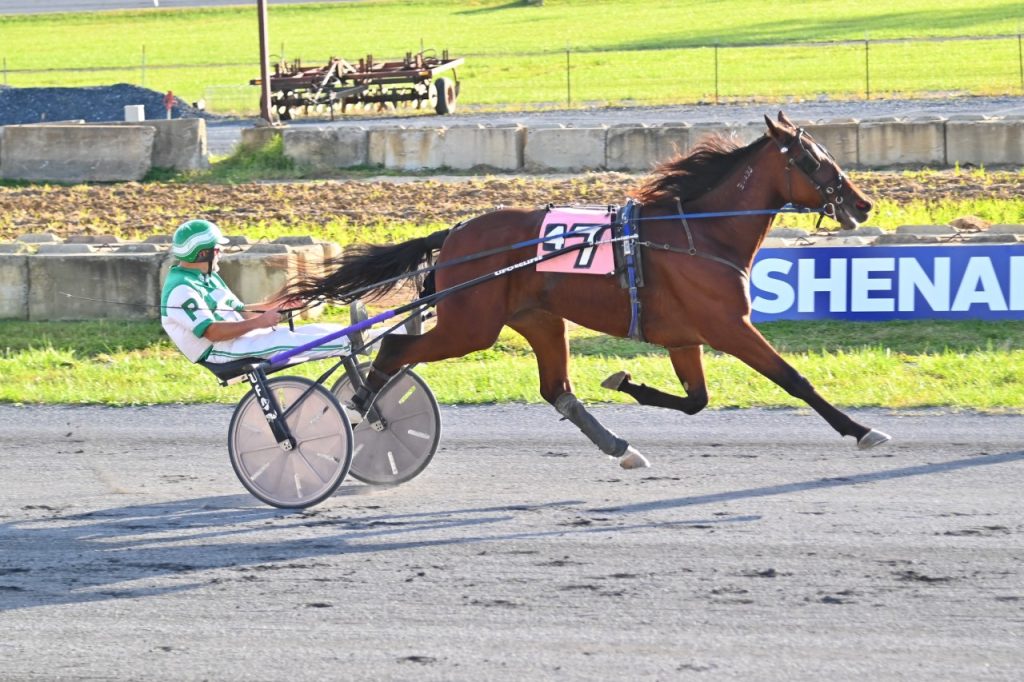 Jimmy Viars' Miracle Powerful prevailed in the $91,200 Virginia Breeder's Colt Pace, the biggest of his five wins last year, and garnered a $19,356 reward. The Bullville Powerful pacer won three straight in Woodstock heading into the Breeder's series. His 2022 bankroll was $56,842.
Jane Dunavant's third top five Certified award came with Starlight Lounge, who earned a $18,891 bonus and despite lacking a victory last year, placed in four key races with a purse of $20,000 or more. The Dusty winner trotting mare also finished third in the Virginia Breeder's $87,325 final November 6.
Rounding out the leader board was Betsy Brown's Terry' Watching, runner-up in both the $90,600 Virginia Breeder's 2-year-Old Colt Trot November 6 and the $75,000 Maryland Sire Stake final at Rosecroft October 13. The Charlie De Vie gelding trotter earned $53,200 in purse monies from 9 starts and a $17,521 bonus.
The Virginia Standardbred Residency program started with foals of 2019 who met the residency requirements noted at vhha.net. To become eligible, horses must reside in Virginia for a period of six consecutive months prior to turning two.
During the horse's two and three-year-old racing seasons, points are awarded based upon purses earned in pari-mutuel and non-pari-mutuel races. One point is awarded for every dollar earned with a cap of $5,000 in earnings per race.
As an incentive to compete in Virgina, points are doubled on all overnight races in the Commonwealth. Shenandoah Downs will host racing for 14 weeks in 2023 — seven weeks in spring and another seven in fall.
At the end of each year, points are totaled for all horses participating in the program. The total money available is divided by the total number of points, thus giving a monetary value to each point.
More details on all the VHHA incentive programs can be viewed at vhha.net. Racing applications for the 2023 spring meet in Woodstock are due by March 3.
-30-
---