Originally Posted on 4/7/2023 on Winchesterstar.com, Written by Mickey Powell
MILLWOOD — Horse breeder Amy Moore remembers her first foal, Forte, as being a lovely but shy colt when he roamed her pasture in Clarke County.
His shyness is long gone now. Forte (pronounced for-TAY) has become a celebrity racehorse. Moore, owner of South Gate Farm in Millwood, never expected that, but, as his original owner, she hoped he would shine.
Since his racing career began last year, Forte has won six of seven races. The most recent was the Florida Derby on April 1. Following that race, a television commentator proclaimed him a superstar.
His racing earnings so far total about $2.4 million.
Forte is favored to win the Kentucky Derby on May 6. Moore plans to be there.
"I'm very proud of him," she said.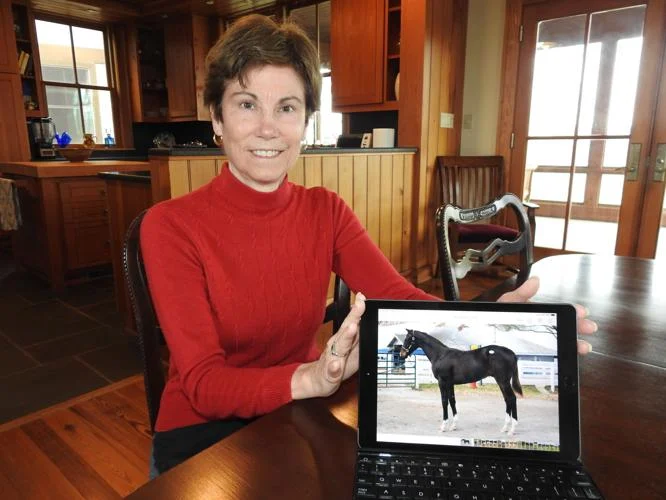 A dark bay colt, Forte was born Feb. 3, 2020, after Moore took his mother, Queen Caroline, who she still owns but no longer lives at South Gate, to a farm in Kentucky to be bred with his sire, Violence.
"He was a beautiful colt," said Moore, adding "there's a lot of beautiful horses who can't run like he can."
Moore brought Forte to South Gate in May of that year. He remained there until she sold him the following November. He eventually was bought by his current owners, Repole Stable & St. Elias Stable, ventures of New York businessmen Mike Repole and Vincent Viola.
Smiling, she remembered Forte frequently hiding behind his mother until he gradually overcame his shyness after being weaned.
Both Queen Caroline, 10, and Violence, 13, are champions. Queen Caroline last raced in 2017, but she's still considered active. Violence retired in 2013 after being injured, according to racing trade publications.
Moore described Forte, in terms of his racing strengths, as being "a very good combination" of his parents.
But she attributes Forte's success largely to efforts of his trainer, Todd A. Pletcher, who in 2021 was elected to the United States Racing Hall of Fame, and his jockey, Irad Ortiz Jr., who guided him to all six victories so far.
"Fast horses are courageous," Moore said, "and they lay it on the line during a race."
Under Pletcher's and Ortiz's guidance, she said, Forte has become "a very balanced and athletic horse."
In breeding horses, though, "you never know they can run like that until they actually go out and do it," she said.
At the Florida Derby, Forte came from behind to achieve victory by a length in the final seconds. His winning time was 1:49.37.
Moore said the race was "heart-stopping."
Forte's current owners already have reserved the right for him to run in races after he turns 4, Moore added. She doesn't yet know if he actually will.
"Many successful horses retire at the end of three or four years," she said.
Nevertheless, if his racing success continues, "Forte looks to follow in the hoofsteps of Virginia's greatest Thoroughbred, Secretariat, on the 50th anniversary of his Triple Crown run into the history books," said Jill Byrne, vice president of strategic planning for the Virginia Equine Alliance.
The Kentucky Derby, the Preakness Stakes and the Belmont Stakes make up the Triple Crown series for 3-year-old Thoroughbreds.
Secretariat, who was foaled in Caroline County in 1970, was the ninth Triple Crown winner. He died in 1989, yet he still holds the fastest time in all three races. He's regarded as being one of the best racehorses ever.
Whether he ultimately achieves such fame, "Forte's prominence on the national scale has been a wonderful way to bring attention to Virginia's horse industry," said Byrne. She mentioned that the industry statewide — from racing, to breeding and to farm ownership — has seen a strong resurgence in the past few years.
"Impactful breeders and farm owners like Amy (Moore) … are the lifeblood of Virginia's horse industry," she said.
Moore, a retired Washington, D.C., lawyer, has been riding horses since she grew up in Raleigh, North Carolina. She finds it exhilarating.
"There's no feeling like the speed of being at full gallop," she said. Cars go faster, she acknowledged, but when riding in them, "you're not feeling the muscle" strength that horses have.
Seeking a tranquil place in the country to live, Moore heard about Clarke County from a colleague who retired there. She then bought South Gate, a 126-acre farm, in 2015 and moved there in January 2016.
"But I wanted the farm to be a business," Moore recalled, and other than law, "horses were the business I knew."
"I could have raised cattle, I guess," she continued, laughing. "But I didn't know anything about cattle. So horses were it!"
Moore currently owns 10 horses. Three are in training to be racehorses.
Asked if she believes they'll acquire the same talent as Forte, she said, "I certainly hope they do."
At the moment, she's focused on watching Forte achieve stardom.
By way of her first foal, "I've reached the pinnacle in my first shot," Moore said. "You don't dare dream about that … in a lifetime of breeding."
She doesn't regret selling Forte. That's what horse breeders do.
"I can't start thinking about keeping the best and selling the rest. Nobody would buy them," she said with a laugh.
— Contact Mickey Powell at mpowell@winchesterstar.com