The biggest horse racing event of the year is this coming Saturday May 6 — and for the first time ever, there are 14 different places that Virginians can wager the Kentucky Derby! Fans can bet the "Run for the Roses" at any of the six Rosie's Gaming Emporiums in New Kent, Richmond, Hampton, Dumfries, Collinsville & Vinton, at the VA-Horseplay OTBs inside Breakers Sports Grille in Henrico & Buckets Bar & Grill in Chesapeake, at the Virginia Gold Cup Steeplechase Races in The Plains, at the Shenandoah Downs Harness Races in Woodstock, and online via four partner sites—Twinspires.com, TVG.com, Xpressbet.com & NYRABets.com.
Favored Forte Avoids Unfavorable Draw in Kentucky Derby; The son of Violence will start from post 15.
Originally Posted on Bloodhorse.com on 5/1/2023, Written by Byron King
After watching two of his horses draw the disadvantageous inside post in the Kentucky Derby (G1) the past two years, Hall of Fame trainer Todd Pletcher expressed a measure of relief that Forte secured post 15 for the $3 million race May 6 at Churchill Downs after post positions were drawn May 1.
Though post 15 leaves Repole Stable and St. Elias Stable's Forte well out in the track to begin—a position from which he may need to work to avoid losing ground around two turns in the 1 1/4-mile contest—posts in the middle or outside in the Kentucky Derby are considered desirable. There is a run of over a quarter mile to the first turn.
Forte, a son of Violence , is the 3-1 morning-line favorite in the 149th Kentucky Derby, matched against 19 other fellow 3-year-olds in the first leg of the Triple Crown. He is the most accomplished horse to run in the Kentucky Derby since champion Nyquist brought an unbeaten record into the 2016 race and prevailed.
Three horses are alternates in the prestigious race, known as the "Greatest Two Minutes in Sports," in need of scratches to draw into the field.
With such a large field—most stakes races are capped at 14 starters—there is often a scramble for position as the field compresses to the inside of the racetrack, which can result in horses that are not in the leading cluster getting shuffled back.
Forte, last year's Eclipse Award-winning 2-year-old male and 2-for-2 this year with victories in the Fountain of Youth Stakes (G2) and Florida Derby (G1), typically closes from the middle or rear of the pack.
Irad Ortiz Jr., unplaced in six prior Derby mounts and who was aboard Pletcher's two recent rail-drawn starters—Known Agenda (ninth in 2021) and Mo Donegal (fifth in 2022)—rides.
Pletcher's two other starters in Saturday's race, Whisper Hill Farm and Gainesway Stable's Blue Grass Stakes (G1) winner Tapit Trice and Spendthrift Farm's Louisiana Derby (G2) winner Kingsbarns also avoided extreme inside posts, securing posts 5 and 6, respectively. Horses from post 5 have won 10 runnings of the Kentucky Derby, most of any post. Always Dreaming was the most recent winner from that position in 2017.
"We're just trying to avoid a really poor post 1 or 20 or something like that, which is pretty straightforward, and hopefully get some tactical position in the first turn and be able to save a little bit of ground and go from there," Pletcher said.
Pletcher seeks his third victory in the Derby, having won it in 2010 with Super Saver and seven years later with Always Dreaming. He has started 62 horses in the legendary race, most by any trainer. Should his trio all compete, this will mark the 12th time he has run three or more horses in a given Derby year.
He had hoped to also run Spendthrift Farm's Major Dude in Saturday's race, but opted to enter him in the $500,000 American Turf Stakes (G2T) on the Kentucky Derby undercard when it appeared the 3-year-old would be a Derby also-eligible.
Pletcher calls this year's lineup the strongest he has run from an odds perspective. Tapit Trice is the 5-1 second choice in the morning line and Kingsbarns is the co-fifth choice at 12-1.
Mike Repole of Repole Stable, a co-owner in 2022 Belmont Stakes (G1) winner Mo Donegal, added of Forte's draw, "Honestly, we wanted anything between 4 and 16, just get us in the middle of the pack where we have no excuse."
Others were seemingly not as fortunate. Two of trainer Brad Cox's runners drew the innermost posts, with Gary and Mary West's Hit Show landing the rail and the Coolmore-affiliated Verifying post 2. His other two runners, Jace's Road and Angel of Empire , drew posts 12 and 14, respectively. Albaugh Family Stable owns Angel of Empire and co-owns Jace's Road with West Point Thoroughbreds.
Not since Ferdinand in 1986 has a horse won from the inside post position. The only horse who has won from post 1-3 since then is Real Quiet, the 1998 Derby winner who broke from post 3. Since 1987, the win rate for posts 1, 2, or 3 is just 0.95% (1-for-105).
Jeff Ruby Steaks (G3) winner Two Phil's , trained by Larry Rivelli for Patricia's Hope, Phillip Sagan, and Madaket Stables and ridden by Jareth Loveberry, starts from post 3.
Loveberry is among a group of jockeys riding in the Derby for the first time. Hall of Famer John Velazquez, a three-time Derby winner who is aboard Reincarnate (post 7), is the most experienced rider in Saturday's Derby with 24 previous mounts.
Rivelli said he originally wanted to be outside with Two Phil's.
"But the way the race drew, I think the 3 post will be perfect for him. I think the 6 (Kingsbarns) and the 2 (Verifying) have speed and we'll just sit right behind," he said of his horse, who typically stalks the pace.
The two Japanese-trained horses in the body of the field, Derma Sotogake and Continuar , are among those outside in posts 17 and 20. Individuals seated at the Continuar's table at the post-draw event grimaced when his name was announced with the outside post following the random pill draw.
Another Japanese horse, Mandarin Hero , is the second also-eligible. Cyclone Mischief is the first also-eligible that would get into the race with a scratch. King Russell is the third also-eligible and least likely to gain entrance to the Derby.
Post positions can change with scratches, typically resulting in outside horses moving closer toward the inside.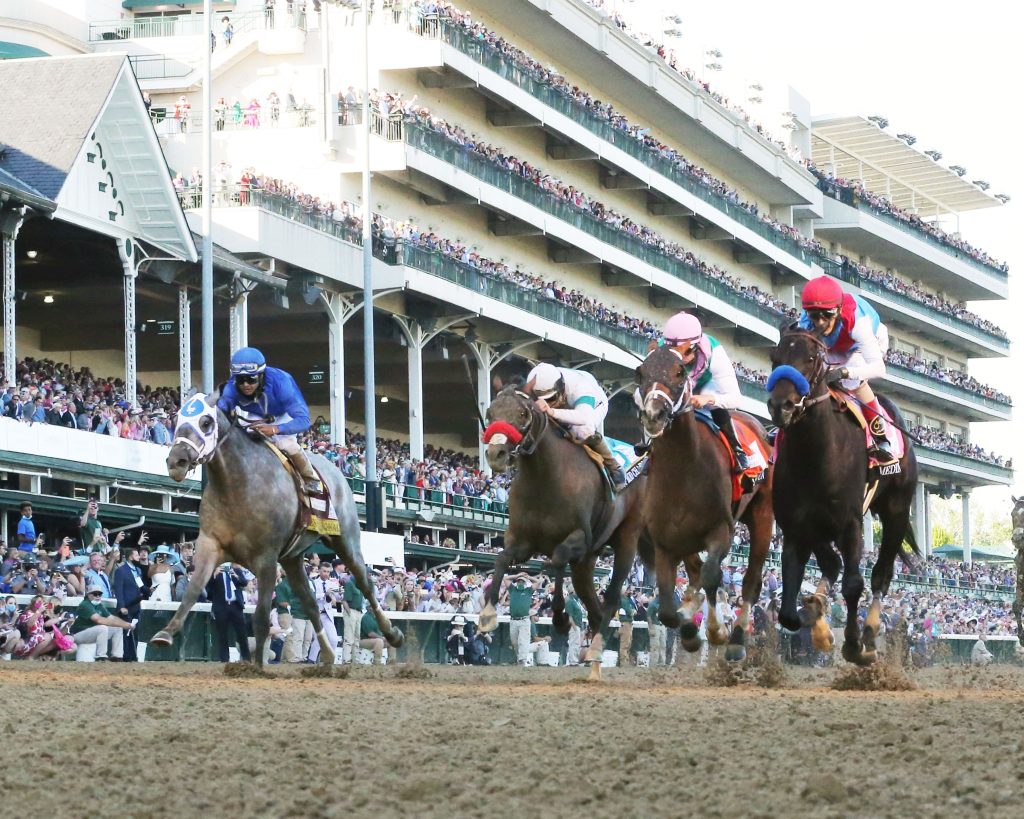 Through 2019, Churchill Downs used two starting gates—a standard 14-horse gate and an auxiliary gate for the remaining runners—with a small gap before the two. Then in 2020, Churchill Downs introduced a continuous 20-horse starting gate. Not as wide as the two prior positioned together, the continuous gate is positioned on the racetrack to not leave those breaking on the inside as close to the inner rail.
"Well, I'm glad we got a new starting gate," Cox said. "I don't think it affects the (inside) as much. But down inside is not where you want to be, you'd rather be out in the middle somewhere. But overall these horses are doing well. They'll have to work out trips. It's up to the jockeys to get the big trips and see what happens."
Cox called post position "overrated—bottom line. People are going to argue with me on that but it's about getting the trip. It's more about breaking well and getting good position."
Tyler Gaffalione on Verifying may use more of his mount's early speed to secure a forward position from post 2. Verifying pressed the pace in the Blue Grass before being caught by Tapit Trice.
The latter has a history of breaking slowly and disliking dirt kicked in his face when trailing horses—perhaps leaving him in a challenging position with three-quarters of the field outside him if he is away slowly.
The three also-eligibles are in need of withdrawals from the race before scratch time at 9 a.m. ET on Kentucky Oaks Day, May 5.
Last year, a scratch allowed Rich Strike to draw into the race the morning before the Derby. The overlooked colt, breaking from the far outside post in the field of 20, upset the Derby at 80-1 odds, running down Epicenter in the closing yards.
Sun Thunder (post 13) and Rocket Can (post 18) will race with blinkers on.