If Approved by Voters this Fall, Rosie's Gaming Emporium Will Create up to 150 New Well-Paying Jobs in Manassas Park; Generate Millions in New Tax Revenue That Could Bring Down Property Taxes, Help Fund Schools – More Information Can be Found at: www.manassasparkwins.com 
Manassas Park, VA – June 22, 2023 – Churchill Downs Incorporated (CDI), the iconic host of the Kentucky Derby and owner of Colonial Downs Racetrack in New Kent, Virginia, and Rosie's Gaming Emporiums across the Commonwealth, announced today it is collecting signatures to initiate a voter referendum to allow pari-mutuel wagering at a satellite facility in Manassas Park in accordance with the state code of Virginia.
Per Virginia law, localities that have not already approved pari-mutuel wagering require a voter referendum before a pari-mutuel facility can be located in their community. To place a referendum on the ballot, signatures from at least 5% of qualified voters must be submitted to, and certified by, the General Registrar. The local Circuit Court will then officially decree that the referendum will appear on the ballot.
The petition to initiate the signature drive was submitted to the Prince William County Clerk of Circuit Court by Michael Carrera, who has been a resident of Manassas Park for over a decade. Carrera, a government business analyst, is also serving his second term as a member of the Manassas Park City Council. Carrera stated, "I am excited that Churchill Downs has selected the City of Manassas Park for expansion. The major benefit will be increased tax revenues that will assist with additional city services and property tax reduction. Churchill Downs has been a strong community partner across the Commonwealth, and I look forward to welcoming them to Manassas Park".
Also commenting on the campaign effort, Laura Hampton stated, "As both a city council member and a life-long Manassas Park resident, I am excited by the job growth, the shopping center revitalization, the increase in city tax revenue and other opportunities this nationwide business will offer our city".
Manassas Park City Council member Darryl Moore stated, "Churchill Downs and Rosie's Gaming Emporium will bring much needed revenue and create new jobs. I am supportive of their efforts to locate in our city".
And, Manassas Park City Council member Yesenia Amaya said, "As a councilwoman, I support the implementation of pari-mutuel systems as they promote fair competition, generate revenue for local economies, and provide an engaging and socially interactive form of entertainment."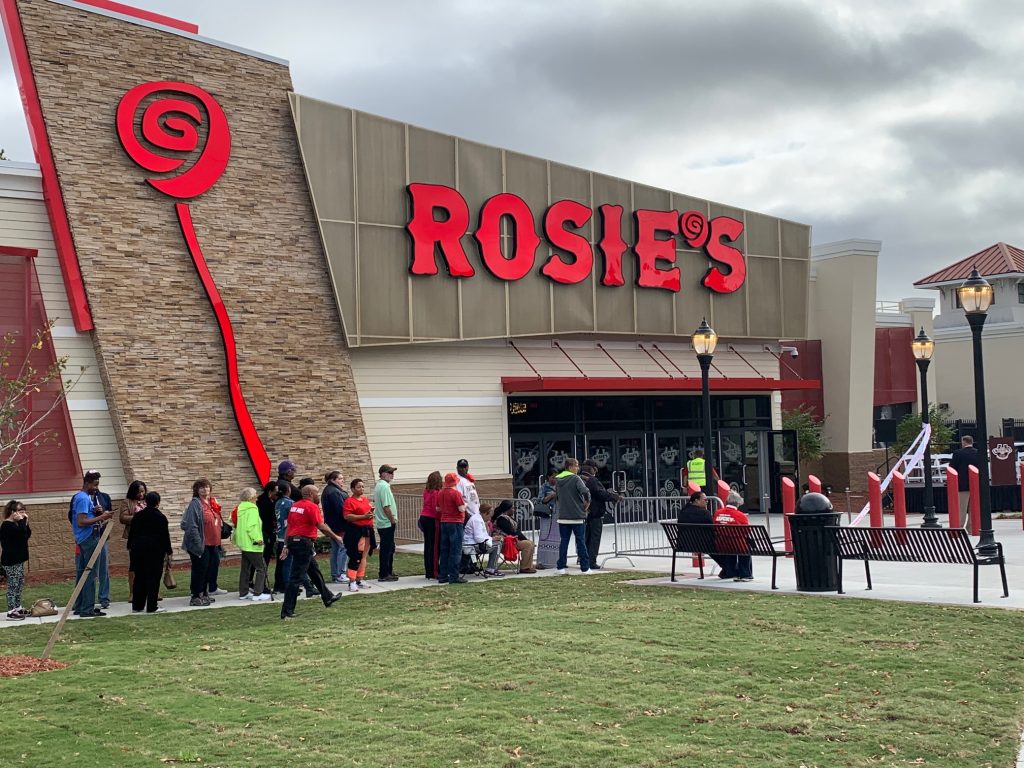 Speaking on behalf of Churchill Downs about the beginning of the ballot access effort, Jack Sours, Corporate Vice President of Gaming Operations for CDI in Virginia, noted, "Manassas Park is exactly the kind of Virginia locality in which we look to operate. We want to bring good jobs, new tax revenue and a lot of fun to the city! We look forward to letting Manassas Park residents know more about our company, our facilities and all we can do to help make their community a better place to call home in the months ahead. We also know the city is seeking ways to increase revenues so it can lower property taxes and invest in redevelopment of the downtown area. The revenue we generate can help make that happen and we are committed to making further contributions towards that effort. We are true partners in all the communities in which we operate, and we look forward to playing that same role in Manassas Park if voters give us their approval this November!"
CDI is proposing to locate the Rosie's in the Manassas Park Shopping Center on Centreville Road. The facility would create up to 150 new well-paying jobs and generate an estimated $1.5 Million + in annual tax revenues for the city. More information about the project can be found at www.manassasparkwins.com
About Churchill Downs Incorporated
Churchill Downs Incorporated (NASDAQ: CHDN) has been creating extraordinary entertainment experiences for nearly 150 years, beginning with the company's most iconic and enduring asset, the Kentucky Derby. Headquartered in Louisville, Kentucky, CDI has expanded through the development of live and historical racing entertainment venues, the growth of the TwinSpires horse racing online wagering business and the operation and development of regional casino gaming properties. More information is available at http://www.churchilldownsincorporated.com.
About CDI in Virginia
CDI is a proud business operator in Virginia, employing more than 1,000 team members in the Commonwealth and paying over $30 million in annual salaries, wages, and benefits. Rosie's Gaming Emporiums® in Richmond, Hampton, New Kent, Vinton, Dumfries and Collinsville offer innovative historic horseracing (HHR) gaming technology and full card simulcasting. Colonial Downs Racetrack in New Kent County hosts live thoroughbred racing on two nationally renowned surfaces – Secretariat Turf Course, the widest turf course in North America at 180 feet wide and a 11/4-mile dirt track, second in length to only the world-famous Belmont Park.
###