Charlottesville to host second steeplechase race in 2023 National Series
Portion of proceeds will benefit Habitat for Humanity of Greater Charlottesville

Tickets on sale now – Prices increase September 15!
Special Tailgate Food Package now available
WHAT: Albemarle County's signature steeplechase racing event, the Foxfield Races return with the second steeplechase race of the National Steeplechase Association's 2023 series. The Fall Races are normally a tradition for friends and families, and Foxfield will once again partner with Habitat for Humanity of Greater Charlottesville, which will receive a portion of proceeds from tickets sold and additional philanthropic support from Foxfield's corporate sponsors, with a special focus on their Southwood neighborhood. Habitat for Humanity of Greater Charlottesville received $50,000 in both 2021 and 2022.
TELL ME MORE: Foxfield, which most recently hosted the Spring Races event on April 29, has been hosting nationally recognized steeplechase races in the heart of Virginia for over 40 years, giving residents and visitors alike the opportunity to witness spectacular horse racing and enjoy the beauty of the countryside. In 1977, Mariann de Tejeda generously purchased the property for the Foxfield Racing Association and designed and built the race course. Today, the bi-annual races host upwards of 17,000 attendees and feature a strong field of horses and riders, free fun for friends and family of all ages, vendor village, local food trucks, truck touch and more.
WHEN & WHERE: Sunday, October 1 | 2215 Foxfield Track, Charlottesville Va.
TICKET INFORMATION – PRICES INCREASE FRIDAY, SEPTEMBER 15
Tickets are on sale now with various pricing options available. For information on the schedule, pricing, parking and to purchase tickets, visit foxfieldraces.com.
General admission tickets start at $45 now through Thursday, September 14 (prices increase to $55 on September 15)
Free admission for children age 12 and under
A Family Ticket Package is available for the first time ever! For information on the schedule, pricing, parking and to purchase tickets, visit foxfieldraces.com.

JUST ANNOUNCED! SPECIAL TAILGATE FOOD PACKAGE NOW AVAILABLE
The Market at Tiger Fuel has curated a special food package of their most-loved catering items for your Foxfield race day tailgating experience – order here by Saturday, September 16 and save! The package serves 10-12 people and includes:
Sandwich meal or wrap platter (includes chips or cookies)
Choice of fruit, vegetable or fruit & cheese platter (18 inch)
Choice of cold side item (half pan)
Order of deviled eggs (24 halves)
Case of Aquafina water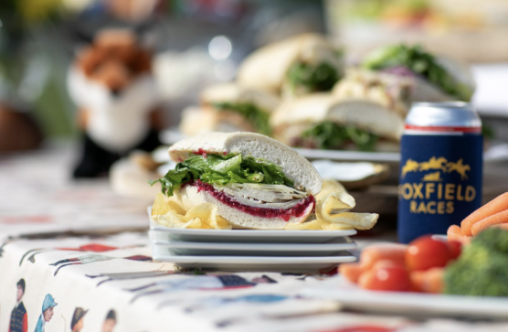 WHAT'S THE RACE DAY EXPERIENCE LIKE?
Gates open at 9:30 a.m. and the first race begins at 12:30 p.m. (races run rain or shine).
A Vendor Village, Truck Touch, food trucks and a Children's Tent will all be open beginning at 10 a.m. The Children's Tent will feature:
Engaging in the races is the main event! Enter Foxfield's FREE TO PLAY game in the Stable Duel App. Learn about each horse, rider, and trainer. Pick 10 horses for your stable. Top winners share the $2,500 prize. Make certain to pick up a race program or head to foxfieldraces.com.
For the full schedule, visit foxfieldraces.com/schedule/.
CORPORATE 500 PARTNERS
As one of the top sporting events in Virginia, the Foxfield Races offer a unique opportunity for business entertainment, sponsorship, advertising, and promotions. Foxfield 500 Corporate Sponsorship offers an elevated experience to welcome corporate groups to race day in a fabulous tent by the finish line while sponsoring a race and supporting Foxfield and their philanthropic partner. For more information, please contact Kelsey Cox kelseycox@Foxfieldraces.com. The 2023 Fall Races Corporate 500 Partners include: Flow Audi of Charlottesville; Virginia National Bank; Virginia Eagle Distributing; Faulconer Construction Company; Brown Advisory; Tiger Fuel; and Marsh McLennan Agency.