Grinding Speed Wins 3rd International Gold Cup Oct. 24 at Great Meadow
Grinding Speed wrote another chapter in his storied career at Great Meadow when he captured his third International Gold Cup victory this past Saturday to complement a pair of spring Gold Cup triumphs.
The 9 year old Grindstone gelding charged to the top spot in the 3 1/2 mile marathon contested over timber fences with only four jumps to go. Personal Brew set the pace early, mid and in the near late going with a front running journey over nine other contenders. After catching a brief breather mid race, Grinding Speed and Dakota Slew came on with a rush with a mile left to pass the fading leader and waged a three horse battle with Straight To It to the wire.
Regular rider Mark Beecher delivered the win again Saturday for trainer Alicia Murphy and owner Michael Wharton. In five starts this year, Grinding Speed has three wins and a runner up finish and a bankroll of $124,550 and with the big 2015, is all but assured of being named NSA Champion Timber Horse.
"He's a versatile horse", said owner Wharton. "You can pretty much put him anywhere in any situation and he'll succeed. He ran on the front end in the slowest Gold Cup last spring and then today, he came from behind in what seemed like a very fast race."Saturday's "Cup" finished in 7:15, a full three seconds faster than the 2014 fall edition. "Mark (Beecher) gave him a breather midway through like he always does," added Wharton, a lawyer whose practice is based in Annapolis, Maryland. "Mark said he knew Grinding Speed had a lot left after that break but was surprised at how much horse he actually had left. It looks like he is definitely a horse for the course."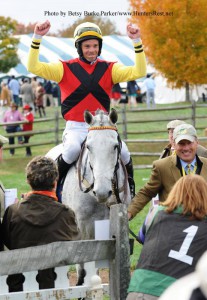 Grinding Speed, a Maryland bred out of Cozelia by Cozzene, earned his 10th life victory and fifth in six Great Meadow starts. Dakota Slew finished second, 1 1/4 lengths behind, and Straight To It was a neck farther back and took third. The place finisher was ridden by Darren Nagle for Richard Valentine and the show jumper had Sean McDermott up top for trainer Jack Fisher.
It doesn't qualify as an "American Trilogy", but Diplomat got to the winners circle for the third time in the U.S. this year and second since being claimed by the Flying Elvis Stable, in last Saturday's $50,000 David L. "Zeke" Ferguson Memorial Steeplechase Stakes (Gr. III) at Great Meadow. The 2 1/8 miles stakes highlighted the under card of the annual fall International Gold Cup Day of five steeplechase and four flat events.
Diplomat, sent off as the 2-1 second favorite in a field of seven, was making his 7th start this year since being imported from England after his 2014 campaign. The 6 year old son of Kitten's Joy, who was bred by Ken & Sarah Ramsey, didn't come on until the stretch when rider Bernald Dalton led a late surge past four frontrunners. Diplomat crossed six lengths ahead of the consistent runner-up Gustavian in 4:11.0.
This is the running style our horse needs to duplicate every race now," said Diplomat's co-owner Adam Newman who claimed the horse three starts ago. "He was last through most of it today, saved some energy and just came home big. In his last three starts, he's got to the front and did win the race we claimed him in at Saratoga, but tired late in the other two. We had our eye on him through the whole Saratoga meet and were really surprised he was in for a tag" (on September 2nd).
Newman, who with his younger brother makes up the Flying Elvis Stable, collected his first ever graded stakes win. "My father was into thoroughbred racing with his brother for decades as an owner, so we grew up in the business," said Newman. "With Diplomat, my brother and I purchased our first steeplechase horse and as it turns out, it's probably the best bred horse we've ever owned. I know this doesn't happen often," added Newman when referencing the big victory so soon after purchasing his first steeplechase horse. "I'm not a big fan of claiming, and it doesn't seem to be a big part of the steeplechase game, but we waited for the right moment and got the right horse."
Diplomat is trained by Kate Dalton and with the win, sports a 2015 bankroll of $125,000. The name of Newman's stable came about through random brainstorming with his brother. "With a steeplechase horse, we wanted something with the word soaring, jumping or flying in it. And one of my favorite movies is "Honeymoon In Vegas", where a bunch of Elvis impersonators end up skydiving." And that's how the Flying Elvis Stable came to be.
Gustavian, a 9 year old Giant's Causeway gelding, earned his 21st "in the money finish" by finishing second and Able Duty, who was making his first start since winning the 2014 "Zeke" Ferguson Stakes, was third.
Complete St. and Renown, two horses that captured Virginia Equine Association (VEA) events in September, rolled to victories on the flat at Great Meadow Saturday afternoon during the 78th running of the International Gold Cup program.
The annual fall renewal featured five steeplechase events, four flat races that all attracted full fields, a crowd of 30,000, actress Meg Ryan, and two Keeneland- bound Virginia breeders whose respective horses, Tonalist and Sticksstatelydude, will compete in this weekend's Breeders' Cup Championships. All the flat races in addition to the Grade 3 David "Zeke" Ferguson Memorial Steeplechase Stakes were presented by the Virginia Horsemen's Benevolent & Protective Association.
Complete St. won the featured $35,000 Old Dominion Turf Championship in a similar come from behind fashion she showed in winning the $60,000 Brookemeade Stakes September 26th at Laurel. The 5 year old came from mid pack in a field ten Virginia-breds Saturday and with a well timed stretch move that saw her pass Hooping, Gumper, Slavic Aura and Pride Of The Fleet, earned her second straight triumph. She crossed in 2:09 3/5 in the 1 1/4 miles race. Rider Richard Boucher delivered the big effort for trainer Lilith Boucher and owner Harlan Crossman.  Complete St., bred by the Mede Cahaba Stable and Stud LLC, is a St. Averil mare out of Complete Number, by Polish Numbers.
"She can adapt her running style to accommodate whatever you ask of her," said rider Boucher when comparing her two most recent victories with back to back stakes wins Complete St. earned in 2014 when she ran near the front throughout. "I was concerned heading down the backside because we were getting outrun and the times were pretty quick. I wasn't sure how the horse would react on the rolling terrain because she's more of a racetrack mare," added Boucher. "Through the turn though, she had lots of run left in her. We went inside down the stretch and without an inside rail, faced no obstacles and got a nice win."
Renown on the other hand was third at the quarter fraction of his $45,000, 1 1/2 miles open flat race, took control shortly after and led the rest of the way, finishing the 1 1/4 miles race in 2:38 2/5. The 4 year old Champ Elysees gelding beat runner-up Bishops Castle by 2 1/2 lengths with Jack Doyle in the irons again. The Great Britain-bred is trained by Elizabeth Voss for the Merriebelle Stable LLC.  Renown dominated an allowance race September 20th during the VEA's inaugural Virginia Downs event at Great Meadow by going gate to wire and beating eight other challengers by 5 3/4 lengths.
Ack Feisty, one of two wins trainer Neil Morris's stable had Saturday, surged past Collinito in the stretch of his $40,000 allowance flat, then held off fast closing No Wunder to win by 3/4 lengths. Darren Nagle directed the lightly raced 3 year old Birdstone gelding to his second straight win, though that last victory was 4 1/2 months ago at Belmont.
"I bought him at a sale in July and he developed issues shortly after," said Tennessee based owner Jill Johnston, explaining the extended time between starts. "We treated his problems and thought this would be a nice race to hit on his way down south for the fall and winter. It's actually the first time I've seen the horse in person since I bought him, so it's quite a thrill."
The New York-bred, who is out of Patagonia Tango, by Storm Boot, made his first start outside the Empire State. "I buy horses primarily to compete in jump races", added  Johnston. "That is the plan for Ack Feisty though I'd probably be stupid to not consider another flat race this year after his performance today."
The most exciting finish of the day, which came in another $40,000 allowance flat, saw Candy Man Can, Surf Classic, Mutasaawy and Max Crown finish in a thrilling blanket photo, with barely a neck separating finishers one thru four. Upset winner Candy Man Can, who paid $36.80 to win, kicked off the four race flat program in grand style as jockey Ross Geraghty guided the 4 year old Lemon Drop Kid gelding for trainer Morris. The finish was so close that it took several minutes before stewards could declare the race and order of finish official.
Virginia-bred Max Crown, 6th in the recent Bert Allen Stakes, led the 11 horse field coming out of the final turn and finished 4th. Surf Classic, a regular Fair Grounds competitor, raced among the top three for the first mile and just missed in taking second. Mutasaawy, another Neil Morris horse fresh off a claiming win at Belmont, earned third with a late rally. The winner, who rebounded from a pair of recent 7th and 13th place finishes, got his first life win in start number 16. The Florida-bred is owned by the Noble Stables and is out of Snow Cone, by Cryptoclearance.