Colonial Downs will host its second season of live thoroughbred horse racing under ownership of the Colonial Downs Group in 2020!
The New Kent track, located halfway between Richmond and Williamsburg, came back to life again last summer after a six year hiatus. As a result, the entire Virginia horse racing industry has a new sense of momentum and optimism courtesy of the comeback season. The industry has been fueled by a new revenue stream — 2,100 historical horse racing (HHR) terminals that have been placed at Rosie's Gaming Emporiums at the track itself in New Kent and in Richmond, Vinton and Hampton.
The HHR machines allow players to wager past horse races on slot machine-like terminals that have various themed games. Payoffs are still determined through pari-mutuel pools. Colonial Downs originally opened in 1997 and held thoroughbred races through 2013 and standardbred (harness) races through 2014.
In 2020, an 18-day season will begin July 27 and continue thru September 2. Racing will be held every Monday, Tuesday and Wednesday at 5:30 PM. Highlights of the meet include the 18th running of the Grade 3 Virginia Derby on Tuesday September 1. The turf stakes race, which carries a $200,000 purse, has been won by champion horses like Kitten's Joy, Gio Ponti and English Channel. Derby Day also features a trio of under card stakes — the Virginia Oaks, Rosie's and Kitten's Joy. A slate of Virginia-bred stakes and Certified races will also be carded throughout the six week stand.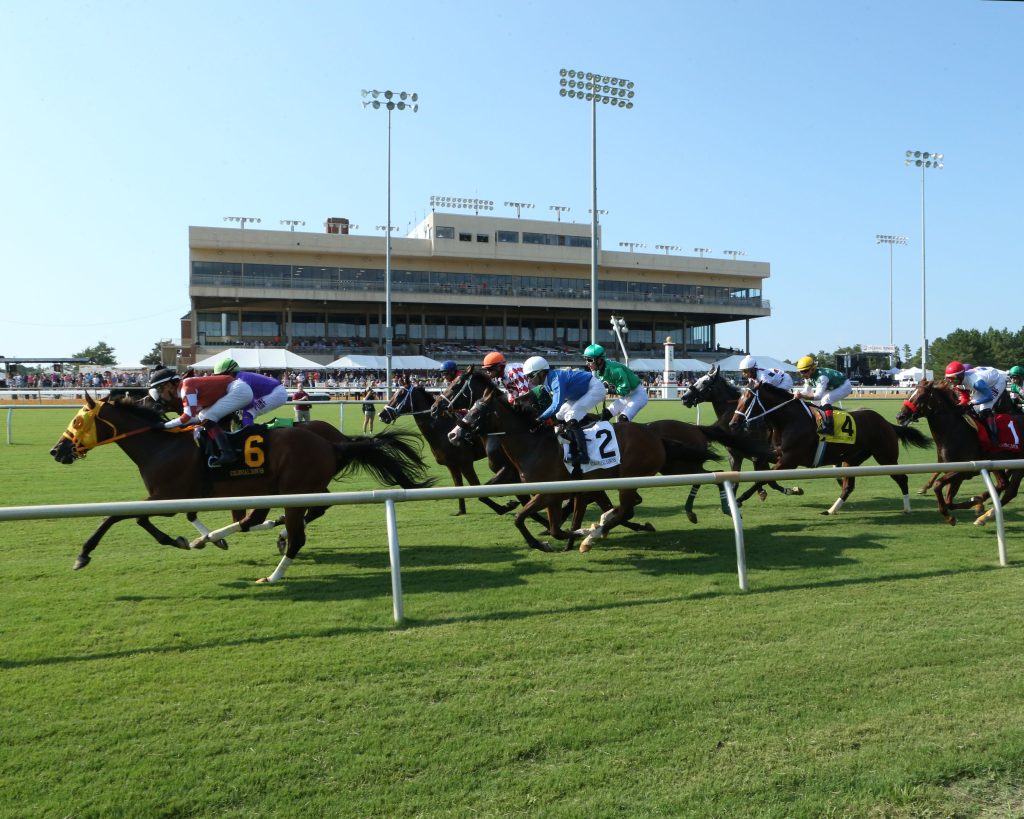 The two track surfaces at Colonial Downs are second to none. The Secretariat Turf Course is 1 1/8 miles around and is 180 feet wide. The outer dirt oval is 1 1/4 miles long and is second in length only to Belmont Park's, which is 1 1/2 miles around. Over 80% of the races in 2020 are expected to be held over the grass surface.
Colonial Downs operates four "VA Horseplay" Off Track Betting Centers that are in existing bar/restaurants. Originally opened by the Virginia Equine Alliance (VEA) as Virginia Bets OTBs, Colonial took over ownership and management of them in April, 2019. The four continue to offer live simulcast wagering from up to 20 tracks daily. Locations are:
*HENRICO – Breakers Sports Grille – 9127 W. Broad Street – Henrico, VA 23294
*RICHMOND – Ponies & Pints – 110 N. 18th Street – Richmond, VA 23223
*CHESAPEAKE – Buckets Bar & Grill – 228 N. Battlefield Blvd – Chesapeake, VA 23320
*COLLINSVILLE – The Windmill OTB Sports Grill – 2360 Virginia Avenue – Collinsville, VA 24078
For more details on Colonial Downs, visit colonialdowns.com. See you at the races!