The following appeared in the Richmond Times Dispatch June 24th.
By the time Colonial Downs shut down in 2014, Virginia's 10 off-track betting centers had already disappeared. With Thoroughbred horse racing set to return to the track next year, the new owners of Colonial Downs envision a reinvigorated betting industry that could extend far beyond New Kent County.
Eventually, Colonial Downs wants to return to operating 10 satellite facilities, the maximum allowed under state law. The company will start by taking over the four off-track betting locations that have opened within the past few years: two in the Richmond area, one in Chesapeake and one in Henry County outside Martinsville.
Colonial Downs hasn't revealed a detailed plan for off-track betting, saying its next move will depend on regulations being drafted by the Virginia Racing Commission. But the off-track betting facilities of the future could look far different than those of the past.
Like the main facility in New Kent, the off-track betting sites are expected to have historical horse racing terminals, the slots-like gambling machines the General Assembly recently legalized to create a major new revenue stream for Colonial Downs and the horse industry.
The racing commission is expected to set a cap on how many machines will be allowed at each satellite facility, which could decide whether the off-track betting sites resemble mini-casinos or sports bars with a few gambling machines tucked in a corner.
"We are in the early stages of mapping out what the OTBs will look like and where they will be located," said Mark Hubbard, a McGuireWoods communications consultant working with Colonial Downs.
D.G. Van Clief Jr., the racing commission chairman, said it's too early in the process to reveal specifics about how many machines the commission will allow.
"It's obviously a key question," Van Clief said. "Ultimately, we hope that this effort is going to yield the optimum number of machines that will do a very good job of supporting Colonial Downs' business plan while at the same time serving the commonwealth as a whole in the most appropriate way."
For now, Colonial Downs will be limited to New Kent and eight other cities, counties and towns where voters have passed referendums allowing off-track betting. Those localities are the cities of Richmond, Hampton and Chesapeake; Henrico, Henry, Brunswick and Scott counties; and the town of Vinton in Roanoke County.
New Kent officials supported the gambling legislation passed by the General Assembly, but the localities that have approved off-track betting didn't seem to be involved in the push.
The racing commission, which could vote on the regulations next month, has not yet distributed draft regulations to the localities where historical horse racing machines could be installed.
Van Clief said the racing commission is planning extensive consultations with Gov. Ralph Northam's office and the localities involved.
"That process is just now getting underway," Van Clief said.
Tad Berman, a Richmond horse racing enthusiast who has said he's worried the push to reopen Colonial Downs is focused too heavily on gambling, said he suspects people who live in those communities are unaware of what may be coming.
"They're going to be surprised when they wake up one day and there's 300 slot machines around the corner," Berman said.
Officials in Richmond and Henrico said they're aware of the legislation but are waiting to see what the racing commission proposes before weighing in.
The two satellite betting facilities in the Richmond area are Breakers Sports Grille, in a Henrico shopping center off West Broad Street, and Ponies & Pints in Shockoe Bottom.
The others are Buckets Bar and Grill in Chesapeake and The Windmill in Henry County.
The four satellite facilities are owned by the Virginia Equine Alliance, a coalition of state horse racing groups. Colonial Downs will buy out the off-track betting licenses by paying the VEA $2.5 million a year for five years, according to a recently finalized revenue-sharing deal.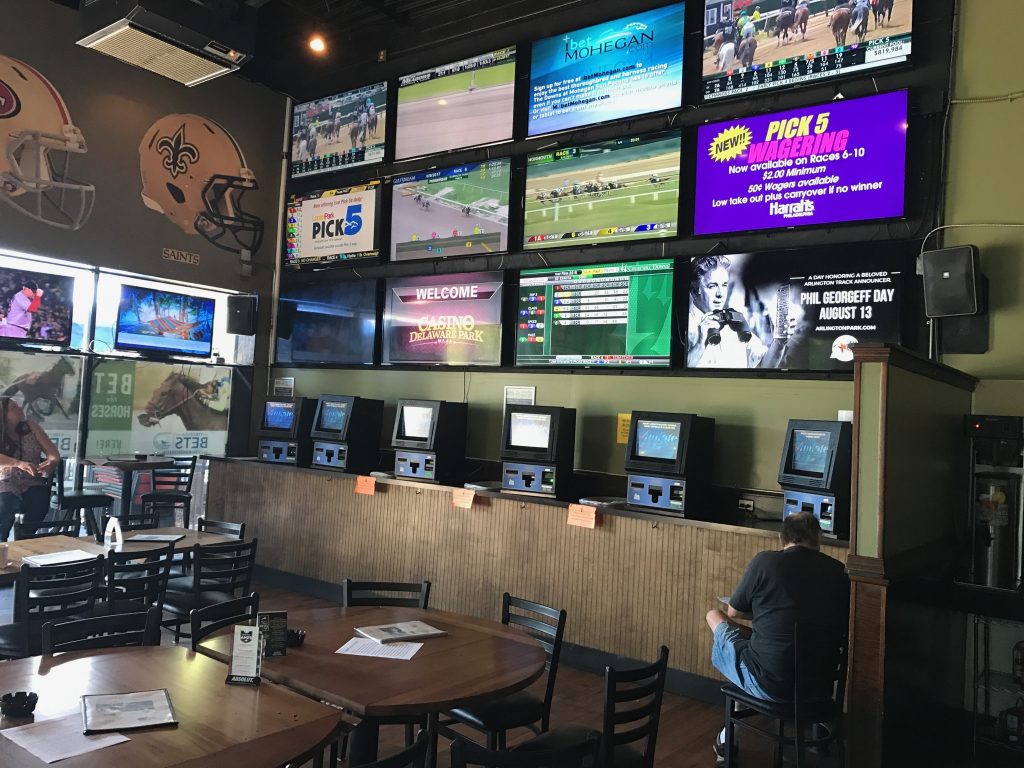 The four off-track betting sites, which let players place pari-mutuel wagers on races being run at out-of-state tracks, saw roughly $638,000 in total bets during the Belmont Stakes race weekend this month as Justify won the Triple Crown.
Jeb Hannum, the VEA's executive director, told the racing commission this month that having off-track betting in TV-filled sports bars has helped draw a wider audience.
"Especially on these big weekends, we're seeing a lot of younger people come out and a lot of people that normally haven't had any exposure to racing or wagering," Hannum said.
Virginia racing officials have said they're looking to Kentucky — one of a handful of other states that have legalized historical horse race wagering — as a model for the regulatory framework they're preparing.
Kentucky's 1,755 historical horse racing terminals handled nearly $99 million in bets in May alone, according to a Kentucky Horse Racing Commission report, resulting in a monthly net commission of about $6.2 million for the machine operators.
Historical horse racing will be the financial backbone of the Colonial Downs operation, generating an estimated $161.9 million of the $203.7 million in revenue the company expects to take in by 2022. An economic analysis released by Colonial Downs did not specify how much of that revenue it hopes to generate from the satellite facilities.
Most of the money wagered through the historical horse racing machines will go back to the players as payouts, but 4 percent will be reserved as a commission. Colonial Downs will get to keep most of that cut, but the equine alliance will get 6 percent of the first $60 million in revenue, and 7 percent of any revenue above $60 million. According to the equine alliance, that could produce $6 million to $22 million annually to support the state's horse industry.
A portion of the revenue will be reserved as state and local taxes.
The racing commission has estimated that each machine could produce $150 in revenue per day.