The following appeared on richmond.com January 22 and was written by Holly Prestidge.
Three nickels. A whopping 15 cents.
Those were my "winnings" upon leaving Rosie's Gaming Emporium after venturing out with my husband on a childless Friday night a few months ago.
He, on the other hand, left with $150.
"Your decimal point is in the wrong place," he quipped, holding $130 more than he started with.
This was our second trip to Rosie's, the gaming center that opened in July 2019 in a former Kmart building at 6807 Midlothian Turnpike. With 700 slots-like historical horse racing games to choose from — plus an area for simulcast horse racing, where folks can wager on races at tracks all across the country — the place is open from 8 a.m. to 2 a.m. Sunday through Thursday, and from 8 a.m. to 4 a.m. Fridays and Saturdays.
In addition to Richmond, three other Rosie's locations opened last year across Virginia, in Vinton (Roanoke County), New Kent County and Hampton Roads. Two more — one in Danville and another in Dumfries (Prince William County) — have voter approval but have yet to open.
Let me be clear: We're no high-rollers. We're not even low-rollers. We have no roll. But Rosie's was something of a novelty, something fun to do on a weekend when we didn't have a child tagging along.
So for anyone who's never been, but maybe thought about it, here are some questions you might have about the Rosie's experience in Richmond.
I've never been to Rosie's — is it a casino?
Casinos are not legal in Virginia, though gaming is a hot-button issue right now in the General Assembly. Legislators are considering — among other gaming issues — legalizing casinos as a way to boost Virginia Lottery profits that have dropped as unregulated (and, some say, illegal) "skill" games pop up across the state.
Unlike casinos, there are no table games or slot machines at Rosie's. But we did experience sensory overload the first time we walked through the doors.
After a purse check by the security guard — that's required if you're bringing purses or other bags into Rosie's — we wandered onto the main floor, where hundreds of games spread out as far as the eye could see. Each one was lit up with flashing lights and sounds, and showed dollar amounts that signal how much you might win if Lady Luck so chooses.
In addition to all the 700 games, the cavernous room includes a gift shop filled with Rosie's merchandise, a large sit-in diner and a full bar with televisions. There are ATMs scattered throughout, as well a Virginia Lottery kiosk and a backdrop for photos and selfies.
Where do I start?
You could literally take 10 steps into the room, sit down at the first game you see, put your cash in and start playing. However, the first thing we did was visit the player's club to the right, where we signed up for an account and received Rosie's cards. (First-timers get mailed coupons for free cash to play — at the moment, it's $25.) The cards also keep your credit balance as you play and provide a way to earn more rewards and promotions. Signing up requires basic information, such as your street address and email address.
I don't know anything about horse racing — can I play the HHR games?
Absolutely. While the slots-like games are based on horse racing algorithms, you don't need to know anything about horse racing to play. You simply pick a game, insert money and/or your players card, and play.
Games start at 20 cents per play and go up to $15 per play — in other words, the high rollers. We agreed to cap ourselves at $20 each for the night — not high rollers.
However, if you are curious about the races on which each game is based, there's information that flashes at the top of each gaming machine that not only shares the race information, but also specifics, such as the jockey's win percentage, the trainer's win percentage and the horse's chances from its starting position.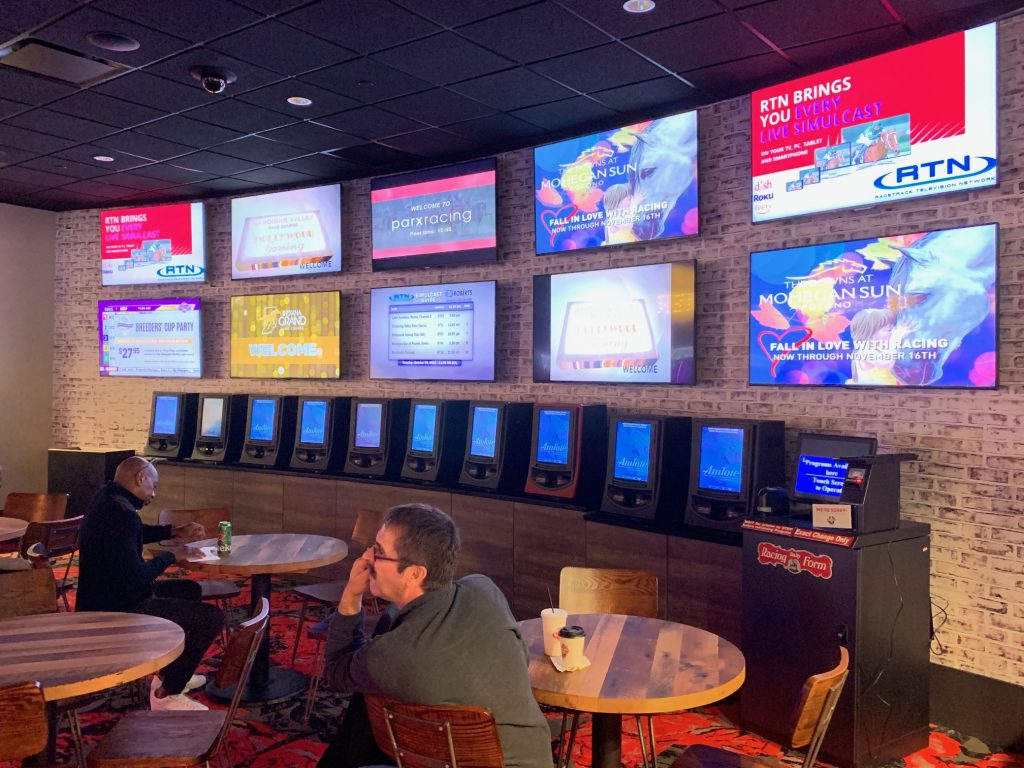 And that dollar amount on each machine? That's the jackpot. It's based on the number of people waging bets on that particular horse race, which means the jackpot dollar amounts are always changing.
What's the largest jackpot won so far at the Richmond location?
A woman won $162,482 last summer.
Who can play?
Rosie's is for adults only — ages 18 and older. Even if you're not gaming, children are not allowed.
How do I play?
If you can hit an elevator button, you can play the HHR games. The games are designed to mimic slot machines, with patrons simply hitting buttons to play. However, we happened to notice that some folks were both hitting buttons and touching the screen. Turns out some games require the latter — now we know.
There's no time limit at the machines, so if you find one you like, you can camp out if you choose, though it seems people move around all the time.
I played 50-cent games. My husband did, too, though he occasionally upped the bets as high as $2.50. On our first trip to Rosie's, we also left with more than we started with (and, yes, it was my husband who raked in nearly all of the $113 we won). But we ended up splurging on dinner after, so really, we both won.
Our combined $40 wages, however, were but a drop in the bucket for Rosie's.
In December, for example, patrons wagered $66 million at Rosie's in Richmond — that's down from $70 million in October and November, and $71 million in August and September.
What else can I do at Rosie's besides play games?
For starters, you can eat and drink. The sit-in diner offers burgers — there's an Impossible Burger, too, for the vegans — plus pimento grilled cheese, a shrimp and crab roll, and a chicken sandwich prepared one of three ways. All sandwiches come with Rosie's seasoned "world's greatest fries" — and a lot of them — and gluten-free buns upon request.
The menu also offers three types of flatbread pizzas (with gluten-free crusts upon request) and three different salads. Then there are the doughnuts, which seem an odd item, but they're apparently very popular. In fact, a few times during the day, free doughnuts and coffee are pushed around on a doughnut cart and given out to patrons.
The full bar in the middle of the room offers beer and mixed drinks, with multiple televisions and tables for hanging out. The bar area is also where you'll catch comedy shows and Las Vegas-style celebrity impersonators scheduled throughout the year. Next up in Richmond: the likes of Cher, Madonna, Selena, Whitney Houston, Lady Gaga and Prince, with performances Saturday nights in Richmond Feb. 8 through March 21. The shows are free.
Will servers bring me free drinks while I'm playing, like in Vegas?
No, they're not free, but you can order and enjoy adult beverages (or soft drinks) while you play. Although Rosie's is open until 4 a.m. Fridays and Saturdays, last call for the bar is 1:30 a.m., and there's no bar service after 2 a.m.
Can I smoke while I'm gaming?
Yes, there's a designated smoking/gaming area inside, where patrons can smoke as they play.
Where do I cash out my winnings?
When you're done playing, the machines spit out slips of paper that you can take to an automatic kiosk to collect your winnings. But if you prefer a real person handling your money, cashiers are located at the back of the building.
What if I need help while I'm playing a machine — or I want to order a drink?
There's a call button on every machine that turns on a light atop the machine that signals Rosie's staff for help. Though you may not need it. During our excursions, we noticed that there was no shortage of Rosie's associates milling around the floor, eager to answer questions, take drink orders — or clean up after patrons. I promptly lost a small to-go box from dinner by setting it on a machine as I fumbled around with my stuff and wasn't paying attention. We didn't need those two doughnuts anyway.
I have credits on my Rosie's card — can I use them for anything else besides playing games?
Credits can be used to purchase food in the diner or items from the gift shop, or — a popular holiday idea — buying gift certificates for others. Gift certificates can be purchased from the cashiers.