The following appeared in facquier.com and was written by Betsy Burke Parker.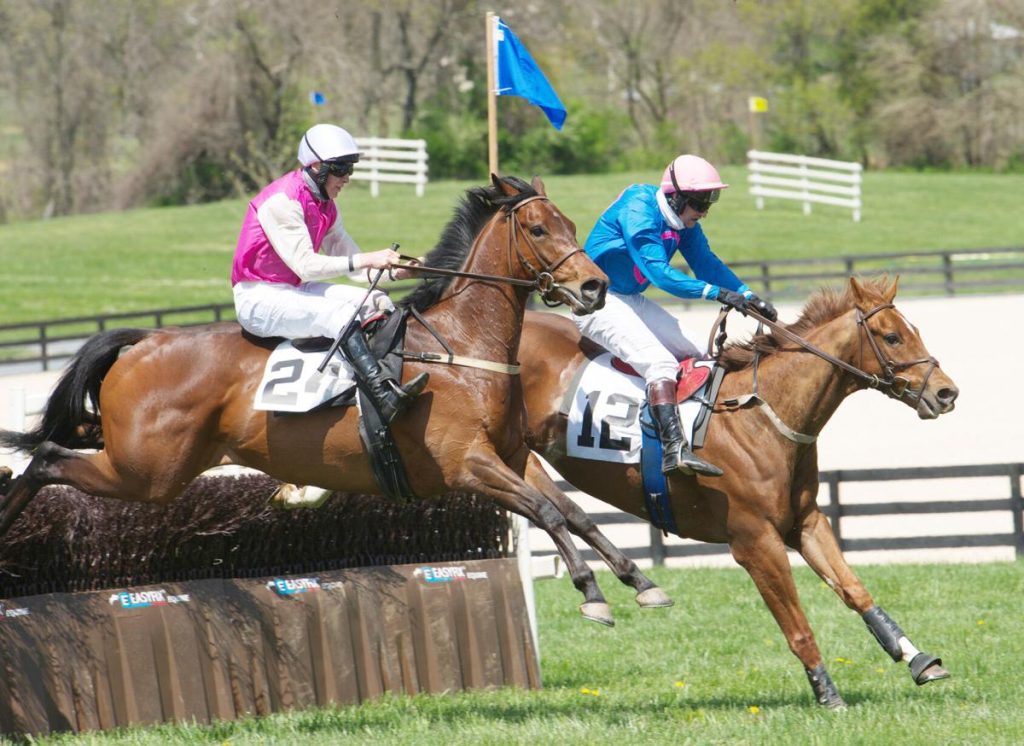 New EasyFix fences debut at April 18 Loudoun Hunt Point-to-Point
Jockey Eddie Keating doesn't think he's much of a historian, but he knows he made history Sunday.
Keating steered the first horse over the first hurdle in the first race contested over American steeplechasing's brand new jumps; he finished first place in the first race held at Leesburg's historic Morven Park since 2010.
Keating partnered Gill Johnston's Lost Story to win the Loudoun Hunt Point-to-Point opener April 18, going wire-to-wire in the first division of the maiden hurdle.
Steeplechase recap shows play on Mondays
The National Steeplechase Association meets are slowly opening back up to spectators to attending the races, but until the circuit returns to normal, NSA is offering free livestream and a weekly recap show online.
Starting with My Lady's Manor April 10 and continuing through the June 26 Iroquois, all 12 meets will be streamed live via the NSA website. The video feed can also be accessed from NSA's Facebook page.
The livestream starts as the horses go to the post, show the entire running of each race, plus replays. Between races, updates on upcoming races and recaps of the day's events will be shown.
The NSA will also broadcast a new recap show, Jump Racing USA, featuring replays, commentary and interviews. The show airs Monday evenings at 7 p.m. Hosts will be Megan Connolly, Joe Clancy and Tom Law.
Find more at nationalsteeplechase.com/jump-racing-usa.
Lost Story's was the first race ever run over the brand-new EasyFix jumps, plastic and rubber simulated brush "hedges" that provide a challenging jump racing test but provide more inherent safety to both horses and riders, say EasyFix designers.https://e5ea1a9f1185f87acf64ca63d8b19131.safeframe.googlesyndication.com/safeframe/1-0-38/html/container.html
From the sidelines, the 4-foot-tall obstacles look pretty much like the "National Fence" which debuted on the American circuit at the Fairfax races in 1972. They're still twigs of plastic "brush" affixed to the top of a banked, green take-off roll. But, inside, the new jumps are safer because of their design, said EasyFix developer Bill Price, with one-piece construction and no metal frame like the old jumps.
"I found no issues with the new jumps," said Keating, 30. A native of Wexford, Ireland, Keating has ridden, and won, on the American steeplechase circuit since 2018. "I would happily say it was a successful day.
"The horses handled (the slightly different appearance of) the new fences smoothly. I was very happy with how the day went."
Keating followed up the opener a race later with E Squared Stables' Mr. Singh, and won on the turf with Bill Price's Boss Man. Keating had won two races at the Maryland Grand National meet Saturday, and one at My Lady's Manor April 10, to take the early lead on the National Steeplechase Association jockey table.
Graham Watters, who also won two hurdle races and one on the turf at Loudoun, explained that steeplechase horsemen have had several months to practice over EasyFix fences since they've been available in the sport's three centers – Unionville, Pennsylvania, Camden, South Carolina and The Plains, Virginia. But, Watters said, schooling isn't the same as racing. It took a real, legitimate day of racing – Loudoun had five full-field hurdle races – for horsemen to gauge how EasyFix would work.https://e5ea1a9f1185f87acf64ca63d8b19131.safeframe.googlesyndication.com/safeframe/1-0-38/html/container.html
"The meet was very well run, and (it) was nice, safe jumping ground," said Watters, 30 and a native of Navan, Ireland. "The new hurdles jumped very well, and my horses (hurdle winners Withoutdestination and Animal Kingston) had no issues negotiating them."
National Steeplechase Association president Al Griffin reported that the new EasyFix fences "were jumping even better than expected. It looks like the horses are jumping better and better through the day" as horses and riders learned what to expect.
Loudoun Fairfax Hunt joint-master Donna Rogers said her club was honored to provide the venue for the EasyFix debut. "It is so important for horsemen to have the chance to race at a point-to-point over these new fences before the NSA circuit starts up next week. It was the perfect opportunity to introduce the design."
The Fairfax Hunt, now merged with Loudoun West, played a key role in the last steeplechase innovation nearly 50 years ago, in 1972 being the first racecourse to utilize the then-new National Fence designed by longtime Fairfax master and Virginia steeplechase Hall of Famer, the late Randy Rouse. "It's fitting we're part of the change this year," Rogers added.
Virginia brings home Maryland Grand National trophy for the first time since 1956
Mike Smith's Le Chevalier became the first Virginia-owned, Virginia-trained winner of the prestigious Maryland Grand National Saturday, winning the $30,000 timber stake by an easy six lengths from Royal Ruse (Skylar McKenna.)
The 12-year-old veteran is trained near Upperville by Julie Gomena for his Middleburg-based owner. Amateur McLane Hendriks had the call.https://e5ea1a9f1185f87acf64ca63d8b19131.safeframe.googlesyndication.com/safeframe/1-0-38/html/container.html
The steeplechase circuit shifts to the National Steeplechase Association sanctioned circuit this week, Saturday, April 24, at both the Maryland Hunt Cup and the Queen's Cup in Charlotte, North Carolina. Racing returns to Virginia for the May 1 Middleburg Spring Races and the May 9 Middleburg Hunt Point-to-Point, both at Glenwood Park, before the Virginia Gold Cup, May 29 at Great Meadow.
Complete Loudoun results and more photos are at centralentryoffice.com. Complete NSA results are at nationalsteeplechase.com.
Horse Briefs
Ashland Bassets win field trials
At the weekend's Basset Spring Field Trials at the National Beagle Club in Aldie, the Warrenton-based Ashland Bassets were the high-score pack of the week-long event. Ashland Jade earned the prize as high-point hound and won the featured stake class. Master and huntsman Mary Reed reports that the judges also gave notably high marks to Ashland Avatar throughout the trial.
Dressage returns to Homestead
Homestead Farm in Catlett hosts its first dressage show of the season Saturday, April 24. Riders may perform tests from the intro level through FEI, freestyle, eventing, western dressage or gaited dressage. Find complete details at homesteadhorsefarm.com.
Virginia owner Ross wins group 1 stake in Dubai
Virginia businessman David Ross, president of the Virginia Horsemen's Benevolent and Protective Association, won the group 1, $1 million Al Quoz Stakes in Dubai last week with Extravagant Kid. Ross claimed the Kiss the Kid gelding three years ago for $75,000. He has now won 15 races and purse money exceeding $1.6 million.
"What an unbelievable race," Ross told a racing journal after the 16-1 win. "He really liked the venue (in Dubai.) As an 8-year-old, what about that?"
Ross, a commercial and industrial developer and founding partner of Atlantic Realty, lives in Great Falls.
Great Meadow International returns this summer
The Great Meadow International three-day event comes back to The Plains this summer, Aug. 19-22. Divisions are still being decided, but officials hope to open to socially distanced spectators like they were able to last summer. Get on the list for tickets and find out more at greatmeadowinternational.com.
Arena polo series starts in June
The popular Twilight Polo series at Great Meadow in The Plains begins June 5, with weekly evening games and weekend play. COVID rules will determine if matches are held in the enclosed arena or on the field, but spectators are welcome. Log onto greatmeadow.org for details.
Racing has an enormous economic impact on Virginia
According to a newly released study, Virginia's thoroughbred industry generated an estimated economic impact of $542.1 million in the Commonwealth in 2019.
"What we're finding is that jobs are coming back; horse racing related expenditures are up; and tax revenue to the state is increasing," said Jeb Hannum, Virginia Equine Alliance executive director. "These are all very positive signs that the racing industry is moving in the right direction and benefiting the Commonwealth's agribusiness and related businesses. Racing was at a low point in 2014 after the closure of Colonial Downs. The General Assembly took a number of steps, most notably the passage of Historical Horse Racing machines in 2018, that provided the revenue to re-open the track and fund the revitalization of the industry. The study points to the enormous strides the industry has made since 2014."
Annual horse-related expenditures by Virginia horsemen were about $239.44 million in 2019, with state tax revenue $26.5 million. More than 5,000 jobs are supported by the racing and breeding industries.
"The industry is an important part of our agriculture economy, especially in rural parts of Virginia," said Bettina Ring, Virginia Secretary of Agriculture and Forestry.  "A successful horse industry means that more farms remain economically viable, which in turn makes it easier to maintain and conserve productive farmland."
Apprentice announcer being sought for steeplechase
The Temple Gwathmey Steeplechase Foundation has launched a contest to discover new racing announcer talent for upcoming steeplechase seasons.
While the Virginia circuit's stalwart race-caller Will O'Keefe said he does not have imminent plans to retire, he "does believe it is a good time to begin grooming a replacement."
The legendary race caller will mentor the winning candidate.
Applicants should send digital recordings that highlight their race calling ability. Candidates may use any race of their choosing; mute the original race call; and call the race with their own style in their recording.
The winning candidate will be offered a paid race calling position, to call some races and provide color commentary for the day. Pay will increase as responsibilities increase.
Second and third place applicants receive cash prizes.
Pairs of race callers are invited to submit an entry as a team.
Submit entries to: anorman@tgsteeplechasefoundation.org by May 7.
Sandstone show schedule released
Sandstone Farm in Millwood will host jumpers and combined test series through the year. Combined test dates are May 29, July 17, Aug. 7 and Sept. 11. Jumper shows are May 30, June 20, July 18, Aug. 8, Sept. 12 and Oct. 17. Details and entries are at sandstonefarm.com.