The Rose would include hotel, 50,000 square feet of gaming space
Aug 2, 2021 Updated Aug 2, 2021 on insidenova.com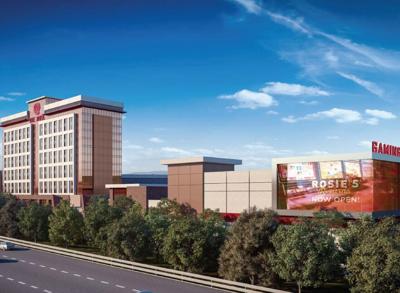 After several months of delay, Colonial Downs Group Inc.'s proposed $389 million gaming resort in Dumfries appears to be moving forward.
During its meeting Wednesday, the Town Council will consider a resolution authorizing Town Manager Keith Rogers Jr. to advertise a public hearing on the company's rezoning and conditional-use permit applications for The Rose.
Colonial Downs, which runs a Rosie's Gaming Emporium in Dumfries, announced in February plans for The Rose. Plans include a 50,000-square-foot gaming space, a 250-seat sports bar, eight other bars and restaurants, 7,000 square feet of event space, 200 hotel rooms and a 1,500-seat theater.
Colonial Downs also said the project would have 79 acres of public recreation space, which could include sports fields and an outdoor amphitheater.
The company is seeking to rezone 93.5 acres at the Potomac Landfill from residential and neighborhood business to planned mixed-use development and obtain a conditional-use permit for the project.
A company spokesman has said Colonial Downs plans to finalize the purchase of the landfill in the first quarter of 2022.
In April, Philip Peet, president of Potomac Landfill Inc., sent a letter to the Virginia Department of Environmental Quality saying the sale of the property had been delayed and the facility will continue to process waste through the end of the year.
In the letter, Peet said the delay was caused by Colonial Downs being unable to bring the resort's development plan in line with Virginia Department of Transportation requirements before a Dumfries Town Council meeting in June. It was not immediately clear Monday whether those issues have now been addressed.
Colonial Downs originally said it wanted to close the landfill and break ground on the resort by August, with an opening in January 2023.
The company must file a plan to close the landfill with DEQ and must monitor the site for 10 years for any needed mitigation.
Colonial Downs opened its gaming emporium in January, offering slot-like betting on historic horse races.
The landfill is at the southeast corner of the Interstate 95 and Va. 234 interchange. In February, the landfill announced it had entered an option agreement to sell 100 acres to Colonial Downs for the project.
The proposal for the facility came after the Virginia General Assembly passed legislation last year that allows Colonial Downs to have up to 1,800 historic horse racing machines at its Dumfries location. The Rosie's site that opened in January has 150 machines, although not all have been in service due to social distancing requirements.
The resolution under consideration Wednesday would authorize a public hearing before the Town Council and Planning Commission.
The Town Council meets at 7 p.m. Wednesday at 17739 Main St., Suite 200.
This is a developing story and will be updated.