The following was written by Nick Hahn and appeared at theracingbiz.com website.
The year just completed, 2021, really felt like a breakthrough for Virginia racing in many ways. Colonial Downs completed a banner meet, local horsemen were able to thrive, and racing stakeholders planted some seeds that should bear fruit in the years to come.
Here are 10 stories that mattered in 2021:
10) HOME IN THE COMMONWEALTH
The Virginia Certified Residency Program has become a huge boon to horsemen located on numerous small farms throughout Virginia. One example: Braeburn Farm located in Crozet, was toiling during Colonial's six-year absence from racing but has been resurrected through the benefits of the VEA's program.
To start the 2021 meet, Braeburn training center alumni collected three wins and three seconds in eight starts. Trainer Sarah Nagle and her Big Lick Farm operation, who train at Braeburn, scored twice on Colonial's opening day, with a maiden breaker for Cavalier Cupid, who would also win the $100,000 Keswick Stakes later during the meet, and a score by Puppymonkeybaby, who won the $100,000 M. Tyson Gilpin Stakes. Trainer Patrick Nuesch, the proprietor of Braeburn, also won twice himself during the Colonial meet. The best news: Braeburn is just one of many farms to benefit from the rebirth of Colonial and the arrival of the residency program.
9) THE RETURN OF THE "MAD GENIUS"
After 14 years without a start at Colonial Downs, trainer Michael Dickinson roused the echoes of Colonial's past when he won with Search for Truth and Belle Belisa on the same day, August 10. Those were the first horses he'd saddled in New Kent since July 30, 2007.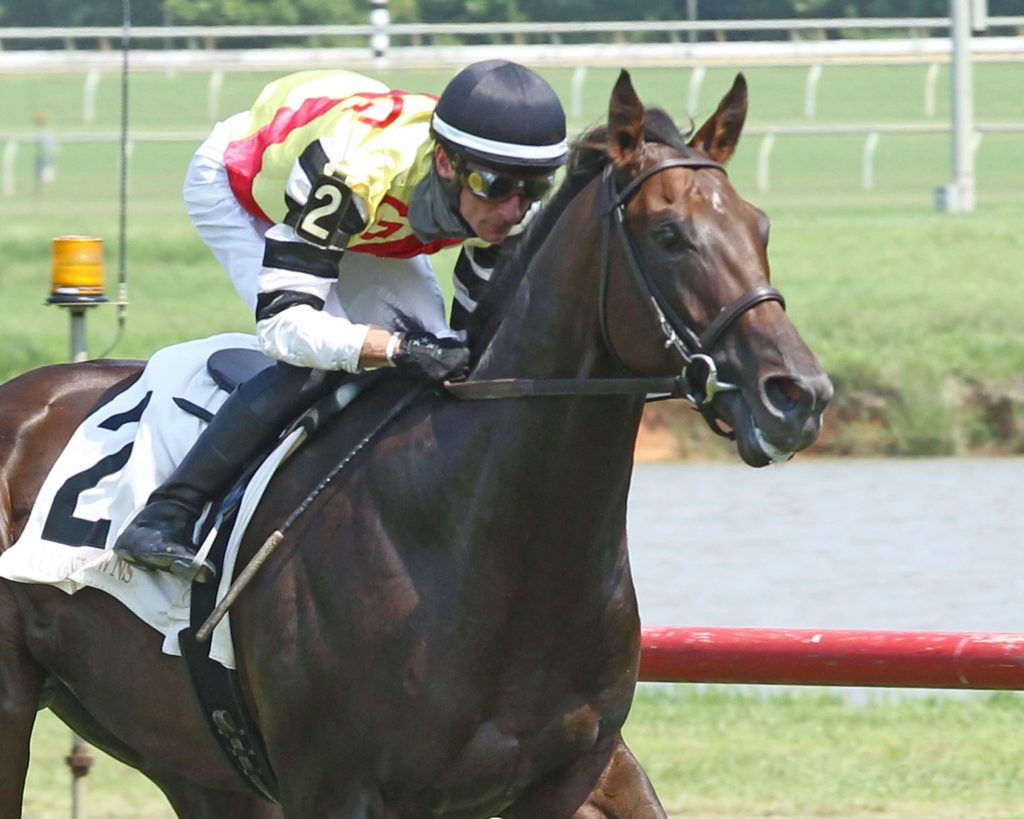 Dickinson, best known for employing innovative techniques in his horsemanship, famously saddled Da Hoss in an allowance race during Colonial's second season, his only start between Breeder's Cup wins in 1996 and 1998. Da Hoss won the allowance over a horse who himself would go on to be a multiple Grade 1 winner, John's Call. Both Search for Truth and Belle Belisa broke their maidens on the Colonial turf, and it was good to see the "Mad Genius" back in New Kent.
8) CASINO DOINGS
The Urban One Richmond casino venture, which included Colonial, failed. Voters in Richmond rejected, by a 51-49 margin, a referendum that would have brought a casino to the southside of Richmond. Voters living close to the proposed casino location backed the proposal but not in the numbers needed to overcome opposition from other parts of the city. Meanwhile, the Colonial Rosie's facilities continued their growth; there are now six, including the newest one in Dumfries. In 2022 the company plans to turn its Dumfries location into a gaming and entertainment resort while also opening a new location in Emporia following a successful referendum there. Colonial Downs also teamed up with PointsBet, an Australian company, and will enter Virginia's sports betting marketplace.
7) EXTRAVAGANT!
The voyage of David Ross's (DARRS, Inc) Extravagant Kid continued in 2021 highlighted by a March 27 win in the $1 million, Group 1 Al Quoz Sprint in Dubai. The 2019 Da Hoss stakes winner at Colonial Downs then turned his quest to stakes races in England, where he finished third in the Group 1 King's Stand Stakes at Royal Ascot.
The journeyhorse has recorded stakes wins at Saratoga, Churchill Downs, Gulfstream Park, and Colonial Downs, and has finished in the money in 40 of his 55 career starts, most recently finishing second in the Janus Stakes at Gulfstream Park on New Year's Eve.
6) A THROWBACK IN THE SHENANDOAH
Shenandoah Downs casts a little "Shenatoga" harness meet to Woodstock's leg of the Shenandoah Valley, welcoming back fans and participants to fill its hotels, restaurants, and shops. People like this meet. The nearby town center offers live music, microbrews, farmers' markets, and shops over a five-weekend meet that follows its four-day opening festival of racing with its longstanding Shenandoah County Fair.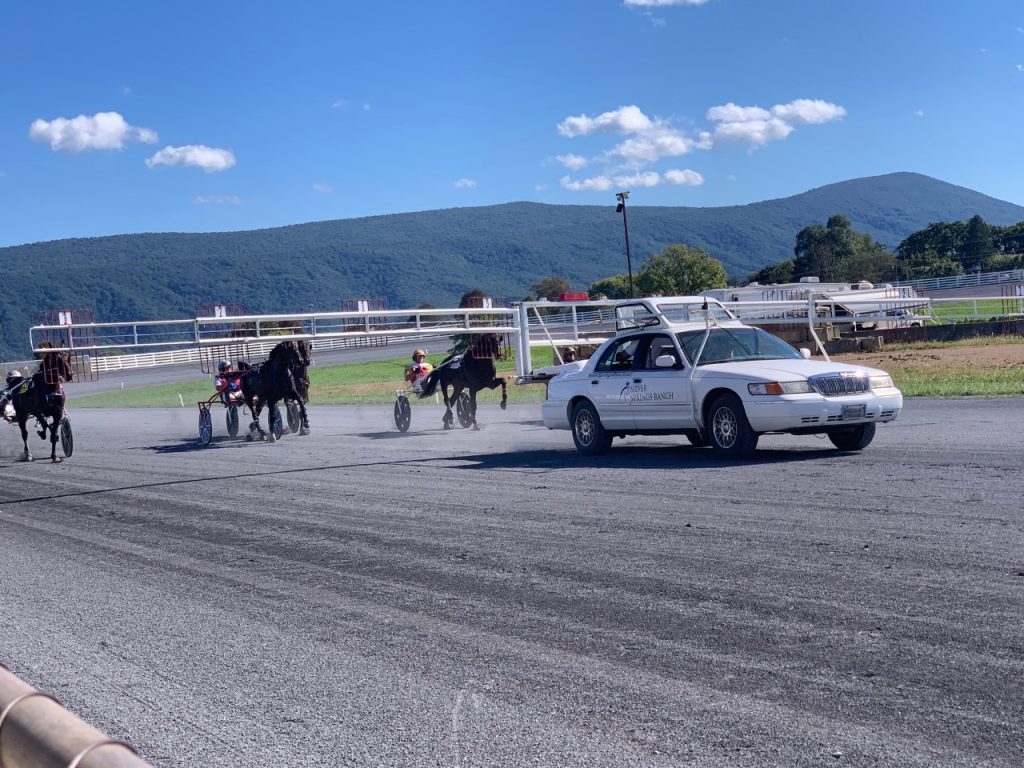 The venue, set between two mountain ranges in the comfortable autumn air, is a complete throwback to harness racing of yore, yet provides plenty of potential upward appeal to the future of Virginia racing.
5) IT'S THE ECONOMY, STUPID!
The Virginia Equine Alliance Economic Impact Study released earlier this year sized up the widespread contributions of Virginia's racing and breeding program to the state's economy. The report provides a better identity of the industry that was previously difficult to measure. The study estimates the racehorse population to be about 5,500, generating 5,300 jobs with a total economic impact of nearly $550 million. This was a tool the industry has needed for some time.
4) AN UNCONVENTIONAL TRIPLE IN THE VIRGINIA DERBY
Wootton Asset gave trainer Graham Motion an unconventional triple in the Virginia Derby. Motion has won the last three runnings of Colonial's signature event, though they have occurred over the last five years. The Derby was run at Laurel Park in 2017, when Motion won it with Just Howard, took 2018 off, and returned to Virginia with live racing in 2019, when Motion scored again with English Bee.
The cancellation of the '20 meet also meant the cancellation of that year's Virginia Derby before Wootton Asset kept the streak going this year. Delivering the win on the French-bred colt for Madaket Stables was jockey Jose Ortiz. who came out of the gate last but relished the firm going that Motion had been seeking. Handle for the Virginia Derby set an all-time Colonial mark of $4,875,792.
3) SAFETY FIRST
Colonial's 2021 meeting once again attained a perfect safety record. On a subject where only bad news is usually reported after an incident, the good news on the 2021 meet at Colonial Downs is that there were no equine fatalities during racing or training.
2) DOWNS AND DIRTY
Colonial had run more races on the dirt than the turf before, but on the August 23 page of the condition book, it was by design. All of Colonial's races the first year of its existence in 1997 were on the dirt, but since the turf course was added in 1998, the grass always was greener. The August 23 card, featuring four MATCH Series contests, included five races on the dirt and four on the turf.
And those dirt races were fast: three of them set track records for the distance, and the other two were less than a fifth off the track mark. Colonial hadn't had so many quality horses at this level of racing on the dirt, so perhaps it was no surprise.
Larimar opened up the dirt blitz breaking a 12-year record at 6 & ½ furlongs (1:16.43) in an optional allowance/claiming race. In the $100,000 Victory Gallop that followed, Cordmaker (1:40.45) at 1 & 1/16 reset a 23-year-old record, that would last for only two races before Saracosa zipped the distance in 1:39.72 in the $100,000 Love Sign Stakes. Cheetara and Just Might just missed the marks at seven and six furlongs, respectively, on a day when the public was re-introduced to "the other Colonial."
1) A BANNER MEET
Colonial's 2021 summer meet rebounded strongly after a plagued 2020 session that faced natural disasters, utility disruptions and of course, Covid. Everything that went wrong for Colonial Downs in 2020 went right in 2021. With no turf racing in Kentucky, horsemen and fans looked for a new venue, and both liked what they saw at Colonial Downs. The usual Colonial loyalists didn't have the backstretch to themselves as much this year, welcoming trainers such Bret Calhoun, Dallas Stewart and John Ortiz to hang a shingle for the first time in New Kent. It wasn't unusual to see former Triple Crown race competitors like By My Standards, Long Range Toddy or Mr. Big News step out on the track in the mornings or the afternoons. The 21-day meet saw several wagering records fall as horsemen competed for purse money that exceeded $500,000 a day.