(WOODSTOCK, VA —- 9/4/2022) —- A four-day harness racing meet at the 105th annual Shenandoah County Fair wrapped up Saturday with a record number of races conducted and record amount of purse monies distributed.
A total of 36 races were contested under sunny skies all four days. A total of $72,000 in purse monies were doled out as 172 horses participated.
Fastest trotting mile of the week was authored by Betsy Brown and Morgan Marston's Believe In Him, who crossed in 1:59 2/5 on Thursday with Brown in the sulky. The 8-year-old Conway Hall mare won for a second time Saturday, finishing in 1:59 4/5. Brown, a Woodstock resident who was recognized in 2020 by Virginia's Assembly for her contributions to the sport, recorded driving wins number 503 – 506 during the Fair.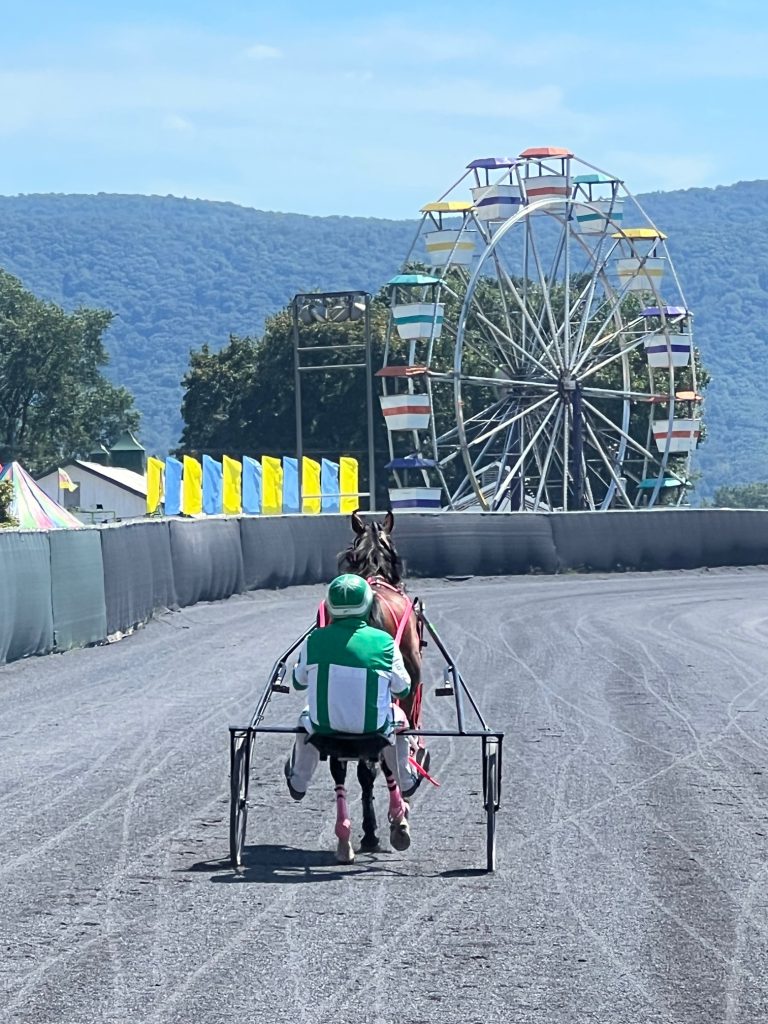 Fastest pacing mile was triggered by Lawrence Cooper and Wilma Foley's Freak On A Leash, who crossed in 1:55 4/5 Saturday with Billy Carter aboard in the Charles Gouchenour Memorial Open Pace. The finishing time was just one-fifth of a second off the all-time Fair track record time of 1:55 3/5, authored by Roger Hammer's R N Nate who ironically competed in the race Saturday and finished second. Freak On A Leash also won Thursday in 1:56 3/5. 
In Thursday's second race, the father-son driving duo of Billy Carter and William Carter squared off against each other professionally for the first time ever.  William, who turned 18 recently and is competing on a "P" license, got the best of his mentor. He piloted his own 5-year-old pacer Benevolence to victory over Billy's 10-year-old Camluck pacer, Surge Seelster, who was second. William, who earned his first driving win at Ocean Downs August 28, came back to win with Benevolence again in Saturday's card.
84-year-old driver David Swaney turned back the clock and reached the winner's circle three times in four days, scoring with Claudia W. Von Ostwalden's Long Ranger twice, and with James Shupe's Heza Scoundrel once. Those were Swaney's first wins of 2022. Since 1991, he has recorded 59 driving wins.
Leading driver during the non-betting meet was Tyler Shehan who reached the winners circle eight times overall and four times during Thursday's card alone. Chuck Perry was next with six wins.
Up in the announcer's booth, legendary race caller Roger Huston was behind the microphone calling action Wednesday thru Friday to the delight of fans who filled the grandstand seats. Huston, who celebrates his 80th birthday September 16, announced career races 182,004 thru 182,031 in Woodstock.
During the Fair meet, eight lucky fans were selected via prize drawings to have a chance to "Own a Horse for a Day" on September 17, when the Shenandoah Downs pari-mutuel season conducts its opening weekend festivities. The winners will each select a different horse in a specific race that day at random, then get a chance to meet their horse and connections in the paddock, take pictures, enjoy complimentary lunch and best of all, keep the purse money their horse earns in a $4,000 race. One of the lucky eight will walk away with $2,000. The popular promotion, sponsored by the Virginia Harness Horse Association (VHHA), will be offered three more times during the Shenandoah Downs meet which runs through November 6. Details are at shenandoahdowns.com.