Breakers Sports Grille –
TJ Maxx Shopping Center – 
9127 W. Broad St.

Henrico, VA 23294; Phone – 804-801-2608

HOURS: Monday – Sunday, 11:00 AM – 11:30 pm
The first OTB operated by the Virginia Equine Alliance  is at Breakers Sports Grille in Henrico. Conveniently located on West Broad Street between Parham and Gaskins Road, Breakers has both smoking and non-smoking areas along with a signature TV wall that displays 10 different simulcast signals at one time. There is plenty of free parking. Breakers now sells hardcopy editions of both the Daily Racing Form and Daily Racing Program.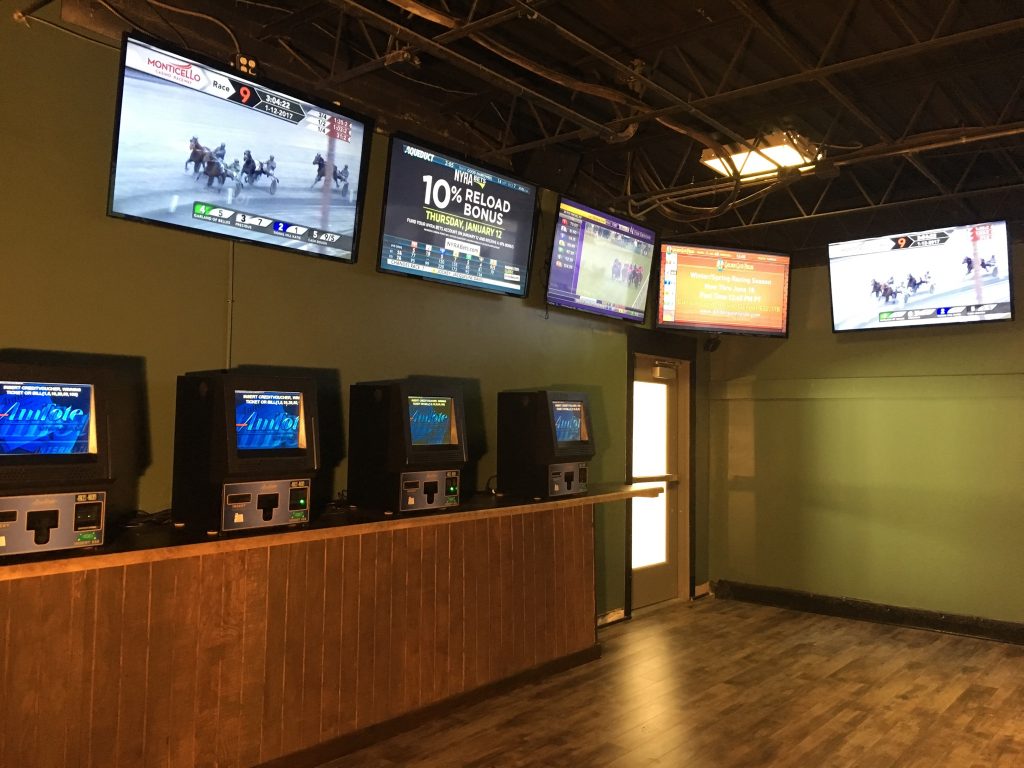 The 2nd OTB in Richmond is located at Ponies & Pints in Shockoe Bottom. The address is 110 N. 18th Street; Richmond, VA 23223. It is open 7 days a week from 11 AM – 11:30 PM and offers simulcasting from up to 20 tracks daily.  The restaurant offers full service dining and the bar has over 40 craft beers on tap! Hardcopy Daily Racing Forms and Daily Racing programs are now available for purchase. The phone number is 804-801-4260.
The third OTB is located in Chesapeake, Virginia at Buckets Bar & Grill in the Great Bridge area.  The exact address is 228 N. Battlefield Blvd – Chesapeake, VA 23320 and it is in the Battlefield Shopping Center (on the right side as you approach the drawbridge). Buckets has a large dining area/lounge (shown here), an OTB exclusive room and an adjoining pool room. Simulcast wagering is available in all three sections. Like the Richmond sites, Buckets is open 7 days and evenings a week from 11 AM- 11:30 PM and offers simulcasting from up to 20 tracks daily. Both Equibase and Daily Racing Form past performance programs are available to purchase via a kiosk. The phone number for  Buckets is 757-842-6767.
A fourth OTB called The Windmill opened March 1st in Collinsville, Virginia (just outside of Martinsville). The site 3400 square foot site is located inside the Quality Inn (or "Dutch" Inn as referred to by locals). It is located on heavily traveled Route 220 at  2360 Virginia Avenue – Collinsville, VA 24078. Phone number of the hotel is 276-647-3721. The Windmill itself is open 7 days a week from 11 AM – 11:30 PM.
The second floor combination sports bar/OTB features 45 televisions. A blend of live horse races from tracks around the country along with sports programming is shown seven days and evenings per week. Up to 20 tracks will be simulcast daily. A combination of ten betting terminals are available for fans to wager the horse racing action — 7 are self bet machines and the other 3 can be utilized as either a manned or self bet terminal. A full menu and full bar are available, along with plenty of guest hotel rooms at a $54 "horseplayer" rate — make sure you reference that when booking a room.